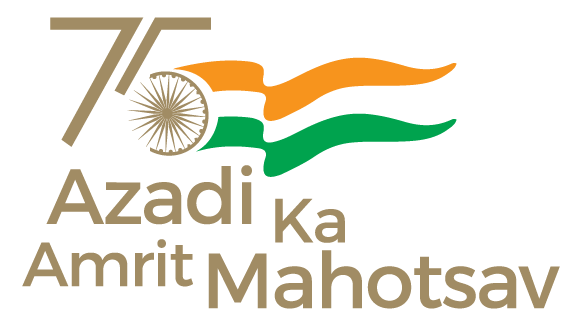 Prime Minister, Shri Narendra Modi today inaugurated the Dr. Syama Prasad Mookerjee National Institute of Water and Sanitation (SPM-NIWAS) at Joka in Kolkata via video conferencing. SPM – NIWAS has been set up at a cost of around Rs. 100 Crore, on 8.72 acres of land at Joka, Diamond Harbour Road, Kolkata, West Bengal. Through this apex institute on Water and Sanitation, the Department of Drinking Water and Sanitation (DDWS) aims to bridge the knowledge and capacity building gap in the field of public health engineering, sanitation & hygiene, through short, medium & long-term courses which are not just related to engineering but also cover aspects of management, health, accounting, law and public policies. The inauguration of SPM-NIWAS was followed by a day-long national conference on 'Drinking Water Quality– Issues & Challenges' organized by DDWS and supported by UNICEF, INREM Foundation, WaterAid.
Union Minister of Jal Shakti chairs concluding session of day long National Conference on 'Drinking Water Quality – Issues & Challenges' at Kolkata

Union Minister Shri Shekhawat reiterates Prime Minister's vision of cooperative federalism

SPM-NIWAS can be utilised for capacity building of field officers: Sh. Gajendra Singh Shekhawat

Secretary, DDWS, Smt. Vini Mahajan urges States to focus on water service delivery
Nobel laureate, Professor Michael Kremer remotely addressed the conference & says if we can provide biological contamination free water, more than 1.4 lakh child deaths can be avoided annually
The concluding session of the conference was chaired by the Union Minister for Jal Shakti, Shri Gajendra Singh Shekhawat. The Union Minister reiterated Prime Minister's vision of cooperative federalism and stated that under Swachh Bharat Mission, Namami Gange, Jal Jeevan Mission, the combined efforts are being recognized around the globe. Shri Shekhawat said "If we work together, we will surely achieve water security and assured service delivery of Water, Sanitation and Hygiene (WASH) services. PHE departments should be ready for a new challenge and expectations of people after supplying water at home." The Union Minister concluded with call of nation building where such basic services like water and sanitation are assured to all citizens. He said "In this effort, the role SPM-NIWAS will be crucial and all State Governments and local bodies must utilize the facilities at institute for capacity building and training of field officials".
Smt. Vini Mahajan, Secretary, DDWS, urged States to focus on water service delivery. She asked participating States to list issues in water service delivery, discuss and come out with action plan for effective implementation of the programme. She said "Testing of water quality on regular basis in labs and reporting of the same in a transparent & timely manner is very crucial for remedial actions at ground level".
Shri Vikas Sheel, AS & MD, DDWS spoke about the Swachh Jal se Suraksha (SJSS) campaign which was started on 2nd October 2022. He emphasized that during the SJSS campaign, water samples from all PWS sources will have to be tested either in laboratory or by Field Testing Kits and remedial action is to be initiated where ever contamination is reported. He specified that the mission's main goal is 'to assure water service delivery' so that move towards "Drink directly from tap" becomes reality.
Professor Michael Kremer, Nobel laureate remotely addressed the conference. Professor Kremer emphasised that, if we can provide biological contamination free water, more than 1.4 lakh child death can be avoided annually. During the conference the Rural water partnership forum (RWPF) and States worked on three water quality issues namely Bacteriological Contamination & Disinfection issues and solutions, Chemical Contamination issues and solutions, and WQM&S Activities – Issues and solutions.
In addition to conference, DDWS has set-up sanitation and miniature models at the Institute towards awareness generation and capacity building through visual depiction. These models include Eco-San Toilet; Septic Tank; Tiger Toilet; Twin Pit Toilet; NADEP Composting Pit; Vermicomposting Tank; Siltation Chamber; Magic Pit; Soak Pit; Water Stabilization Pond (WSP); and Constructed Wetland. In addition to these models, display of the SBM(G) phase I to Phase II journey, ODF Plus components, Solid and Liquid Waste Management, GOBARdhan, SBM(G) Phase II Capacity Building and ODF Sustainability posters have also been exhibited at the Institute.
The conference and was attended by senior officials from Government of India, officers of State Governments and representatives from various development Partners' of Rural Wash Partners' Forum. Conference began after observing a two-minute silence on demise of mother of Prime Minster.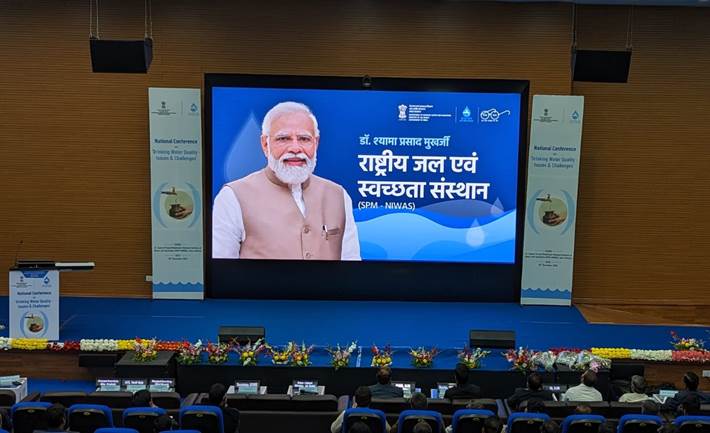 Prime Minister, Shri Narendra Modi virtually inaugurated the Dr. Syama Prasad Mookerjee National Institute of Water and Sanitation at Joka in Kolkata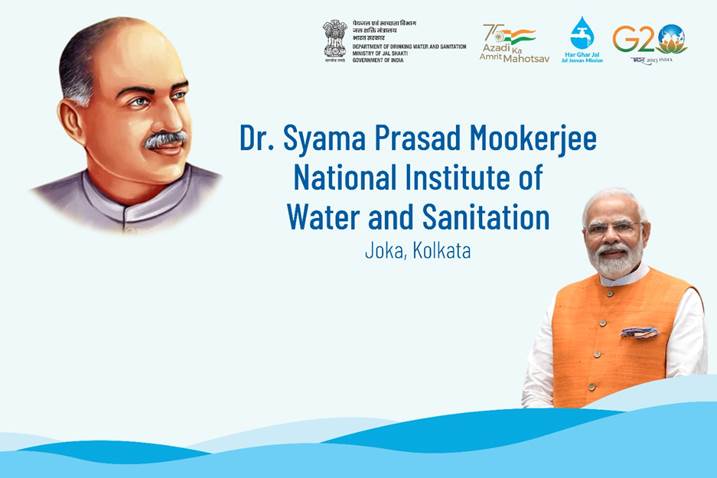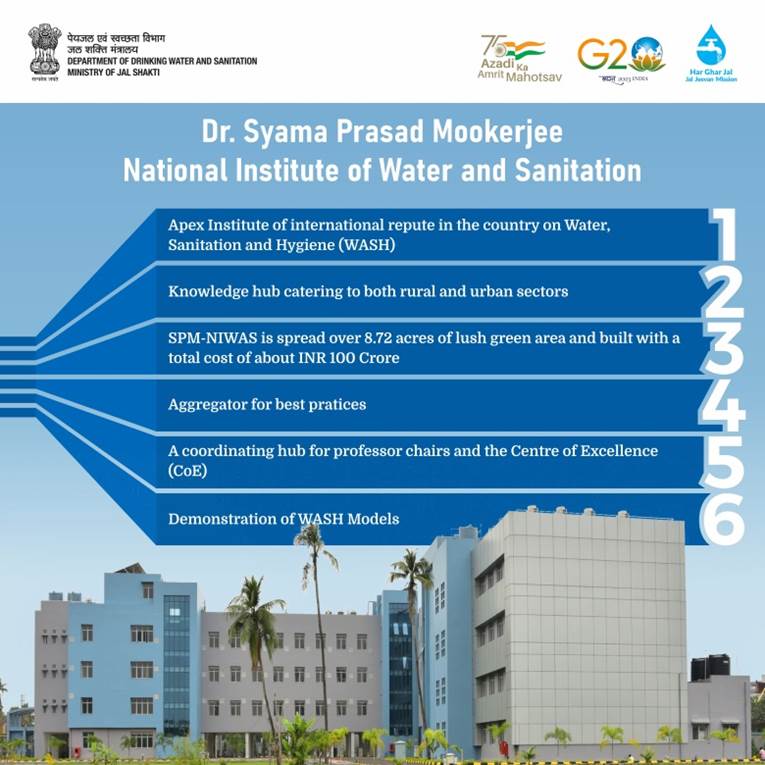 नदी की गंदगी को साफ करने के साथ ही केंद्र सरकार Prevention पर बहुत जोर दे रही है। pic.twitter.com/NSCzsL9WBy

— PMO India (@PMOIndia) December 30, 2022
******
AS