Panaji, 8 March 2022
ICAR-Central Coastal Agricultural Research Institute (ICAR-CCARI) organised a field day involving a rapid fish count programme in Chicalim Bay and fishermen-scientists interaction at Khariwadda on 6th March, 2022 in association with St. Joseph Vaz College (Cortalim), Biodiversity Management Committee (BMC) (Chicalim), Old Cross Fishing Canoe Owners Co-operative Society (Khariwadda) and Goa State Biodiversity Board (GSBB). An orientation was given to students and staff of the college and fishermen in advance. A total of 30 participants including students, researchers, fishermen, scientists and local residents took part in the programme. The gillnets of different mesh sizes (32, 36, 42, 50 mm of 200 m length) were operated for one hour in the Bay and the catch was taken ashore towards the Khariwadda beach.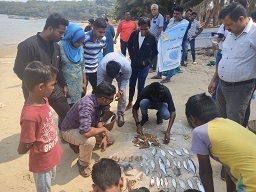 The main objective of the fish count programme is to identify various species of fish in the Bay using a rapid survey using the fishing nets. This kind of rapid assessments are nowadays identified as a better tool to estimate the diversity and ecological significance of the aquatic ecosystems, which will also help to meet the state-level, national-level and global-level biodiversity campaigns and preparation of action plans.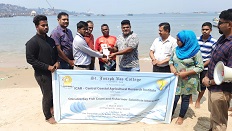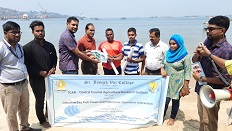 After a thorough taxonomic investigation of the catch at the field level, a total of 47 species were identified in the rapid fish count by the scientific team of ICAR-CCARI. Dr. Parveen Kumar, Director, ICAR-CCARI highlighted the importance of fish biodiversity research in the estuaries and coastal bays. He has also emphasised the need of similar studies in all the estuaries and wetlands of Goa and the Institute will take a lead with the support from fishermen, BMCs, Academic institutions, Directorate of Fisheries, Govt. of Goa and Goa State Biodiversity Board. Dr. Fr. Bolmax Pereira, Asst. Professor (Botany), St. Joseph Vaz College urged the fishermen and students to involve in documenting the biodiversity of Goa coast and assured all support to BMCs and scientists/researchers. Mr. Rui Manuel Cost Araujo, Chairman of the Chicalim BMC explained the activities of the BMC in conservation of the natural resources, utilisation of unutilised/underutilised fallow lands and protection of the coastal biodiversity.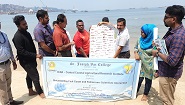 Dr. Sreekanth GB, Scientist (Fisheries Resource Management (FRM)) explained the objective of the fish count programme and how well such activities will lead to documenting the aquatic life in estuaries and bays. Mr. Custodio, the fishermen representative from Khariwadda stated that this is the first time such an activity is carried out in the state of Goa and appreciated the efforts of students, researchers and BMCs. He assured all technical support from the fishermen for such initiatives in future. A compilation of four research posters displaying the fisheries resources of Goa, technical bulletin and extension folders on ornamental fish culture were also distributed among the fishermen, researchers and students. The fish count was co-ordinated by Dr. Sreekanth GB, Scientist (FRM), Dr. R Solomon Rajkumar, Senior Scientist (Livestock Product Technology) and Dr. Trivesh S Mayekar, Scientist (Fish Genetics and Breeding).
* * *
PIB-PANAJI | VK/VG/DR
सोशल मिडियावर आम्हाला फॉलो करा: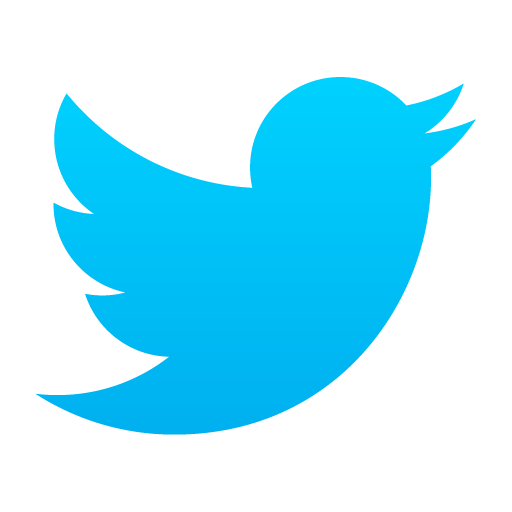 @PIBMumbai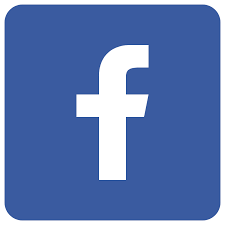 /PIBMumbai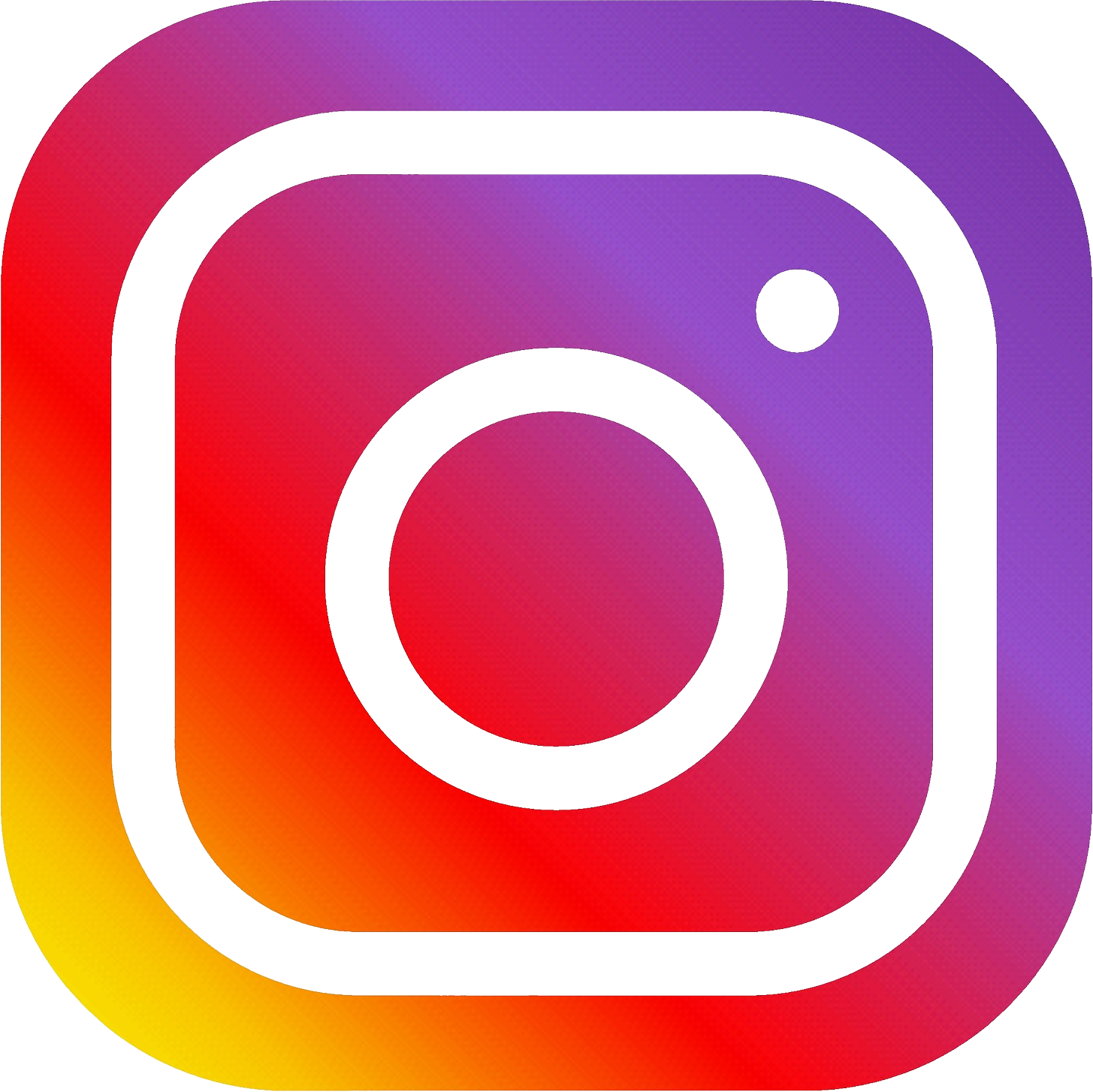 /pibmumbai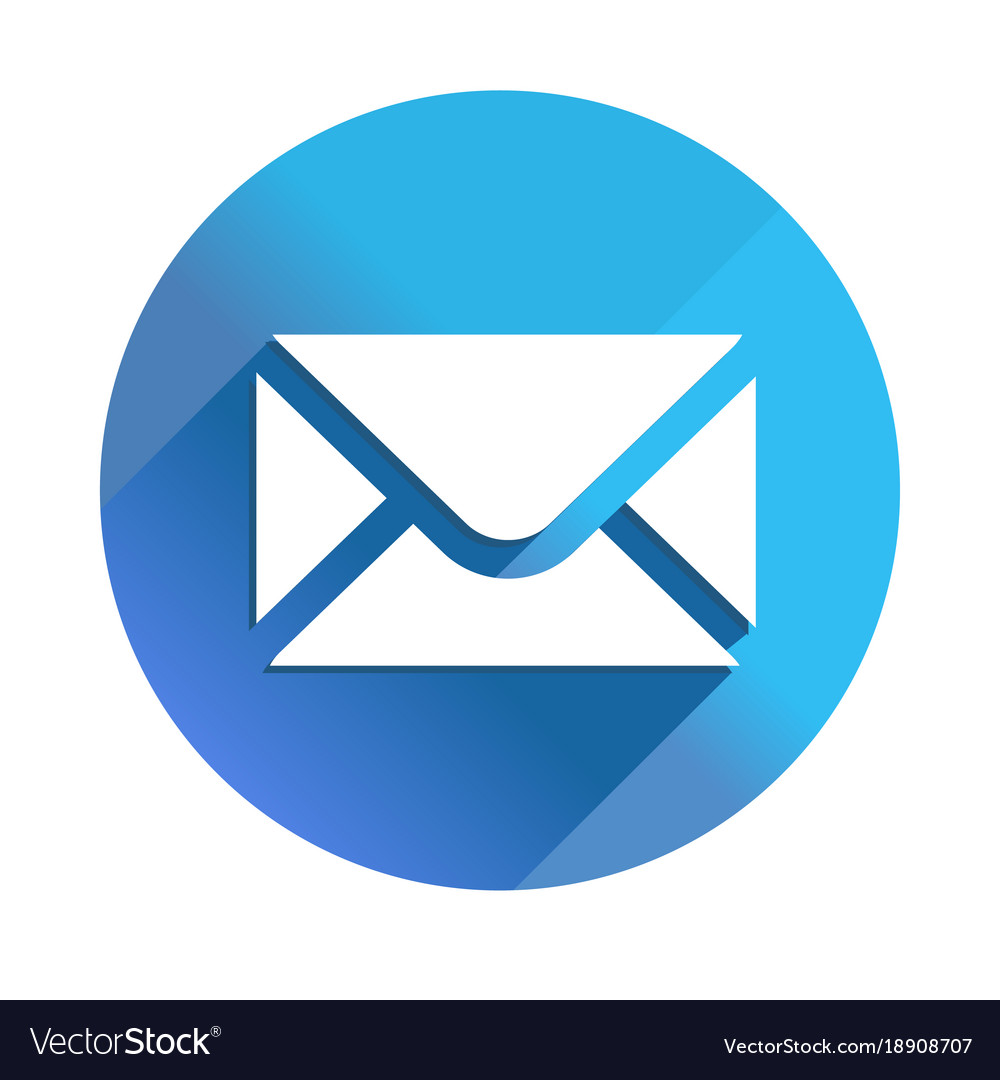 pibmumbai@gmail.com