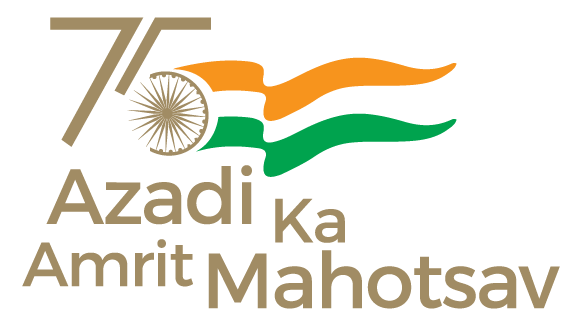 The Rashtriya Sanskriti Mahotsav is back, this time in Mumbai, and it promises to be a visual and musical treat for everyone. The Rashtriya Sanskriti Mahotsav 2023 was inaugurated by Governor of Maharashtra, Bhagat Singh Koshyari, at Azad Maidan and Union Culture Minister Sh G Kishan Reddy last evening at Azad Maidan, Churchgate, Mumbai. The Mahotsav has been organised by the Ministry of Culture, Govt. of India to promote National Unity and integrity through cultural exchange from 11th to 19th February.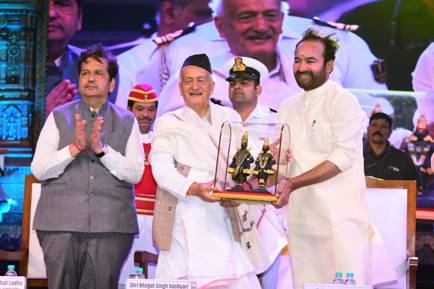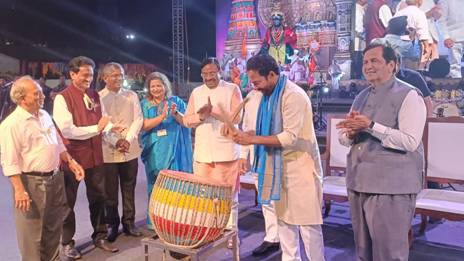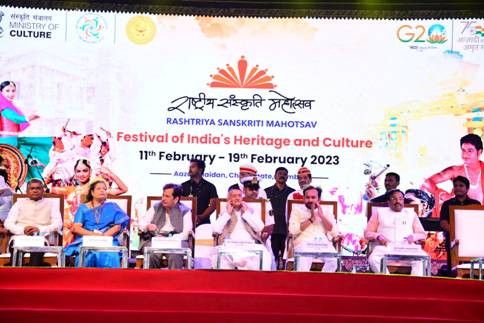 Minister of Cultural affairs, Forest and Fisheries, Govt. of Maharashtra Sudhir Mungantiwar and Minister of Tourism, Skill Development, Employment, Entrepreneurship, Women & Child development, Govt. of Maharashtra Mangal Prabhat Lodha were the guests of honour present for the inaugural function.
Addressing the gathering at the inauguration, the Governor said that the Rashtriya Sanskriti Mahotsav conveys the enduring message of Ek Bharat Shreshtha Bharat, which signifies that despite the numerous diversities in language and cultural expressions, India is united and one. The Governor wished that the Mahotsav become world-famous like the Kumbh Mela.
The Governor said that the government of India  is heralding a renaissance of Indian culture. He cited the institution of the International Day of Yoga as an example of the world taking note of our rich culture and tradition.
The Governor appealed to everyone to keep alive the spiritual and timeless traditions. He has exhorted all Mumbaikars and people from other parts of the state and the country to visit the Mahotsav in large numbers and get a rich taste of the rich craft, art, cuisine and other aspects of our culture.
From April 14, the birth anniversary of Dr. Babasaheb Ambedkar, a special tourist Babasaheb Ambedkar Circuit train will be inaugurated, announced the Union Minister of Culture & Tourism, Govt. of India G. Kishan Reddy.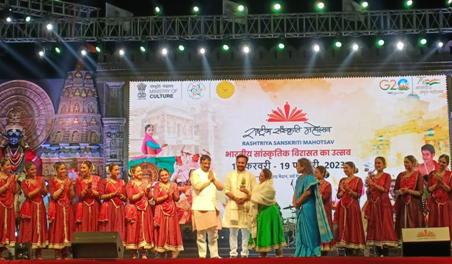 Sharing his thoughts with the audience including citizens, artists and artisans, the Union Minister  said that around 1000 artists will perform during the Mahotsav for the people of Mumbai. The city is a confluence of ancient tradition and modernity, with a rich tapestry of culturally rich tourist designations, institutions, festivals and art forms including dance and cinema. Inspired by Ek Bharat Shreshtha Bharat, the Mahotsav is being held to promote national integration through celebration of India's diversity, through art and culture, the Minister informed.
The Mahotsav will transmit our rich culture from one generation to other, and rekindle admiration and love towards our indigenous culture and art, among our people, said the Minister. "We are also promoting Vocal for Local. The government has undertaken development of our pilgrimage sites on a large scale."
The Minister appealed to all Mumbaikars to visit the festival and get inspiration, knowledge and entertainment, by immersing themselves in various manifestations of Indian culture, all under one roof.
Minister of Cultural affairs, Forest and Fisheries, Govt. of Maharashtra Sudhir Mungantiwar said that India is the most diverse and culturally rich country among world's nations. Recalling the numerous folk arts of the country and of the state of Maharashtra, the Minister observed that culture is instrumental to peace of mind which cannot be achieved by mere wealth. He said that Maharashtra will continue to contribute actively toward the Ek Bharat Shreshtha Bharat initiative of the central government.
Joint Secretary, Ministry of Culture, Government of India, Ms. Amita Sarabhai said the Mahotsav aims to connect the cultures of different states with each other and with the common citizen through the 3 Cs of craft, culture and cuisine.
The audiences at the inaugural function were enthralled by classical kathak performances by Tejaswini Sathe and her troupe. The talented group of dancers took the audience on a journey through the vibrant, rhythmic, and expressive form of classical dance. Celebrity singer Mohit Chauhan presented a melodious rendition of several songs in his performance titled 'Tumse Hi, 25 Saal Ka Surila Safar' (A musical journey of 25 years).
The Minister also visited  stalls of exhibition set up by Central Bureau of Communication of Ministry of Information & Broadcasting at the venue of RSM, on the theme of forgotten and lesser known heroes of freedom struggle. He also attended a music concert by famous musician Mohit Chauhan.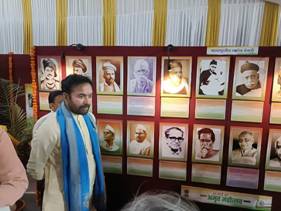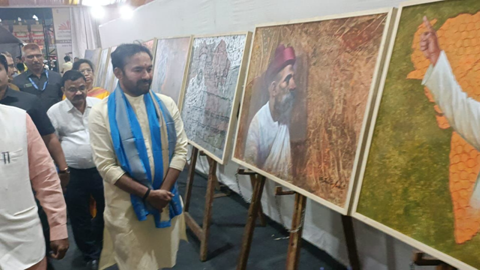 About 350 folk and tribal artists from all over India along with about 300 local folk artists, some transgender and differently abled artists, renowned classical artists as well as famous star artists would entertain and inspire the audience with their enthralling performances.
In addition to the artists, about 150 craftsmen from all the states of India and from all the seven zonal cultural centers of the Union Ministry of Culture are invited for their art and craft sale-cum-exhibition under Angan, for which about 70 stalls are made available. Also, 25 stalls are being set up for the Maharashtra State Handloom department and startups.
The Mahotsav is organized by the Ministry every year in different states of India. It was held in Madhya Pradesh in 2019, in Andhra Pradesh and Telangana in 2022, and now in Maharashtra.
The daily programme schedule will be as follows:
11:00 AM to 10:00 PM          Handicrafts and art exhibition.
02:30 PM to 03:30 PM           Presentation of martial art by local artists
04:00 PM to 05:30 PM           Presentation by local artists
06:00 PM to 06:45 PM           Traditional, Tribal & Folk dances with choreographic presentation
07:00 PM to 08:15 PM           Programmes by renowned classical artists.
08:30 PM to 10:00 PM           Programmes by famous Star artists.
Find details of the daily events here, by scanning this QR code.
A food court is being established at the venue ground in which, about 37 stalls offering food varieties from all over India, local food stalls as well as millet food will be available for the common public.
All the seven zonal Cultural Centres and academies under Ministry of Culture, Govt. of India, are participating in this event. The event is being conducted in co-operation with Ministry of Culture, Govt. of Maharashtra.
The Rashtriya Sanskriti Mahotsav is a celebration of our rich cultural heritage and an opportunity for people to come together and experience the best of India's cultural traditions.Entry to the entire event is free for all citizens and art lovers. Don't miss out on this unique cultural experience and come enjoy the musical and cultural journey with us!
*****
NB/DJM/SK/N