Union Rural Development Secretary Shri Nagendra Nath Sinha today (10th March, 2022) chaired a webinar promoting the 'Captive Employer' initiative under the Deen Dayal Upadhyaya Grameen Kaushalya Yojana (DDU-GKY). More than 16 Sector Skill Councils participated in today's webinar, which also saw participation from more than 180 stakeholders.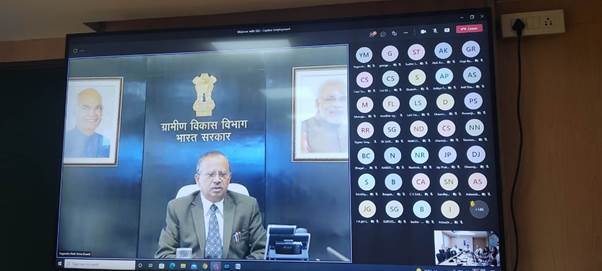 Speaking at the webinar, Shri Sinha reiterated that through captive employer projects, industry requirements shall get addressed. He also pointed out that it will be a significant boom for the industry and that they must make optimum use of the opportunity. In addition, he also mentioned that sensitive treatment to be provided to rural youth coming from rural background. Industry must work on the emotional and adaptive needs of the candidates as their welfare is of paramount importance.
About Captive Employment
'Captive Employer',  is a first of its kind initiative aimed at addressing the vision of a dynamic and demand-based skilling ecosystem catering to the requirements of industry partners assuring sustainable placements for rural poor youth. The initiative is a shot in the arm for the DDU-GKY programme, assuring post-training placement of candidates for a minimum of six months with a minimum CTC of Rs 10,000/-.
The model will allow the industry to source trainees as per their requirement with active support from States/UTs and train them as per the requirement of their own organizational/industry/ subsidiaries /operational need and provide candidates with assured placement. It will also allow employers to select rural youth and skills & deploy them in one of their establishment/subsidiaries.
An REoI has been floated on 1st Feb, 2022, to empanel such 'Captive Employers' and the first Pre-proposal meeting regarding the same was organised on 21st Feb, 2022 under the Chairpersonship of Joint Secretary (Rural Skills), Ministry of Rural Development (MoRD) in order to provide the information on queries of Prospective Captive Employers. More than 125 prospective employers attended the pre-proposal meeting.
About Deen Dayal Upadhyaya Grameen Kaushalya Yojana (DDU-GKY)
Deen Dayal Upadhyaya Grameen Kaushalya Yojana (DDU-GKY) launched on the 25th September, 2014, is a nationwide placement-linked skill training program funded by the Ministry of Rural Development (MoRD), Government of India (GoI). DDUGKY seeks to build the placement linked skills of the poor rural youth and place them in wage employment across various sectors of the economy. The programme has an outcome led design with guaranteed placements for at least 70% trained candidates and is moving towards minimum mandatory certification.
The DDU-GKY programme is being implemented in 27 states and 3 UTs for rural poor youth with an emphasis on placements.  More than 871 Project Implementation Agencies (PIAs) are training rural poor youth in close to 611- job roles through more than 2381 training centers. Cumulatively 11.44 lakh youth have been trained and 7.15 lakh youth have been placed till 31st Jan, 2022.
*****
APS/JK