The  Union Minister for Culture,Tourism and DoNER Shri G. Kishan Reddy has congratulated  the scientists of India and the world for their contributions especially during the current  covid pandemic times. He said that the relentless efforts of our scientists in developing covid vaccine have saved the entire human community.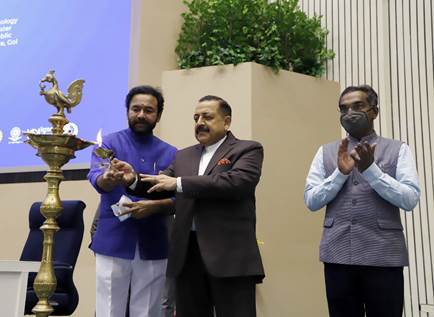 Shri Kishan Reddy was speaking at the inaugural of week-long festival of science "Vigyan Sarvatra Pujyate" at Vigyan Bhawan in New Delhi today. The festival was jointly inaugurated by  Shri G Kishan Reddy and  Union Minister of State (Independent Charge) Science & Technology; Minister of State (Independent Charge) Earth Sciences; MoS PMO, Personnel, Public Grievances, Pensions, Atomic Energy and Space, Dr Jitendra Singh. Vigyan Sarvatra Pujyata is  a pan-India program to celebrate the essence and magnificence of our scientific achievements as part of Azadi ka Amrit Mahotsav on 75 years of Independence.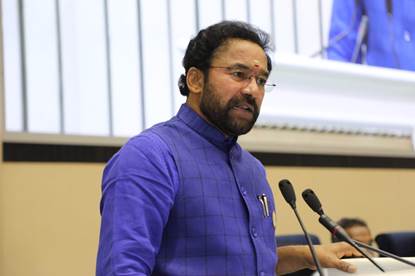 The Culture Minister, in his address, said that India under the visionary leadership of Prime Minister Shri Narendra Modi,  has made a world record of administering  more than 175 crore vaccine doses to the population in the country . He further added  that India has given vaccines to more than 150 countries.
Shri G. Kishan Reddy said that India is one of the oldest civilizations in the world, and the country has always had a symbiotic relationship with science and technology.
He said that India's tradition of scientific skepticism and empirical reasoning in philosophies like Charvaka and Ajivika contributed to our scientific temper.
India today is a nation of young, confident citizens and the young members of the Indian science community today possess a unique mix of a scientific temper that challenges and questions with child-like curiosity to see what's behind the bend and possess a  can-do spirit to use the limited resources prudently, the Minister explained.
He said that the Government of India is commemorating 75 years of Indian independence as 'Azadi Ka Amrit Mahotsav'. The contribution of scientists is priceless and India is proud to have produced eminent Nobel laureates and contributors like Sir C.V. Raman, Sri Har Gobind Khorana, Meghnad Saha, Subrahmanyan Chandrasekhar, Venkatraman Ramakrishnan.  The contributions of Homi J. Bhabha and Vikram Sarabhai have made India stronger.
Shri Kishan Reddy said that our New Education Policy, which came after 34 years, does promote a culture of science and inculcate a scientific temper among students, youth and entrepreneurs. Highlighting the role of  Ministry of Culture in promoting science, the Minister disclosed that the Culture Ministry administers 25 Science Museums and Centres, and has developed more than 25 Science Museums and handed them over to states and institutions, and it  is developing 18 more new museums.
The initiative will prove to be a milestone in preparing the roadmap for the next 25 years of development of the country through science and technology.
He said that the country should celebrate some recent successes for India in the field of science and technology such as India's rise to the 46th position featuring within the top 50 innovative economies globally as per Global Innovation Index (GII). The country is among the top 3 countries in scientific publications as per National Science Foundation (NSF) database. And India is in 3rd Position in terms of  Doctorate holders and the size of Higher Education System.
India is rising as the second largest startup hub in the world. As we celebrate Azadi ka Amrut Mahotsav, the country has 75  unicorns, over  50000 Startups where 10,000 of them have come up in the first 6 months.
He said that the program will also give a new direction to our young scientists which will give a new impetus and give a new inspiration
Principal Scientific Adviser, Govt of India, Dr K Vijaya Raghavan; Secretary, Department of Science and Technology, Govt of India, Dr S Chandrasekhar; Scientific Secretary Office of PSA, Mrs (Dr) Parvinder Maini; Director, Vigyan Prasar, Dr Nakul Parashar, Members from the scientific community were among those who participated in the programme.
*****
NB/UD