Panaji, January 20, 2021
"They had to walk first and then row the boat, and later on they will have to take some other vehicles to reach the school. Which meant 6 hours of journey for them to get education. In the schools, we found out that there was only one room and each bench was a class. Yet, it was inspiring to meet the kids and adults with whatever knowledge they have, who knew the value of education. There we felt that it needs to be carried forward.  That hope and passion brought the story out." Thus originated the idea for Green Blackberries, an IFFI 51 Indian Panorama Non Feature Film, in the words of the Director Prithviraj Das Gupta. The independent filmmaker and film editor was addressing a press conference today, January 20, 2021, at the festival venue in Panaji, Goa. Green Blackberries is his second film as a writer and director.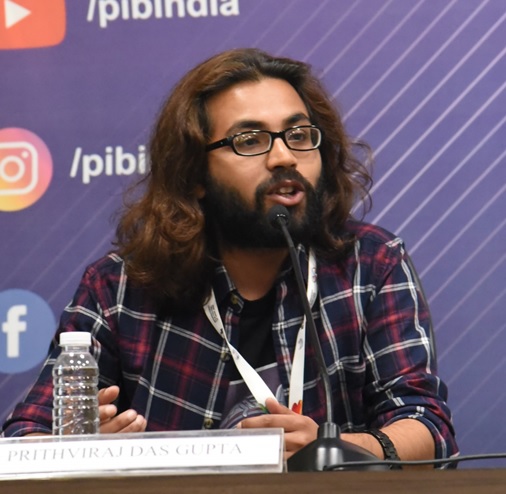 He was speaking about the children in the remote villages in North Eastern India, whose story the film tells. "The film tries to portray the struggles and obstacles faced by children for gaining education, in the remote villages in North Eastern India and how they try to overcome that."
As per Prithviraj, the main characters of the movie, Nishu and Nima were inspired from real-life characters. "The film, set in the backdrop of picturesque North Eastern villages, tries to depict how, even after having the passion to study further, nature becomes a villain for these children. It's a real story inspired from many other real stories."
Recalling how he conceptualised the idea of the film, Gupta said: "It was a long journey of two and a half years. The idea for the story came in 2015 when I was at Delhi University and we went to North East to shoot a documentary on tribal people. We went to many remote villages and found that there is only one school in 20 villages and the kids had to travel kilometres to get education."
On being asked about children's struggles and absence of teachers in schools, Prithviraj said that schools in these regions are often being set up in places which are difficult for people to reach.  He however expressed the hope that "The brick has already been laid. People there know the value of education and change will happen gradually".
The film is multilingual as Nepali, Bengali and Reang – the languages of some tribals in North East – are being used in it.
Justifying this. Prithviraj added that the film was shot in the border area between Assam and Mizoram: "In North East India, there are many communities who use different kinds of languages, including Assamese and Bengali. By making it multi-lingual, I have tried to represent the entire North East."
Thanking IFFI for giving a platform to showcase his movie, Gupta, who has also written the script of the movie said, "It is just because of IFFI that a movie from the mountains of North East has been able to come near the Arabian Sea to get screened here."
VA Films has produced the movie and it was premiered at Dharmashala International Film Festival.
About Green Blackberries
Nishu (14) and Nima (16) are daughters of a woodcutter living in a remote village in North East India. Nishu dreams of studying in a good school in nearby town, but she must pass the 5th grade exam and get a government scholarship. But on the day of her exam, all the obstacles stand against her to shatter her dreams. Will she be able to get the scholarship?
***
DJM/SKY/IFFI-30