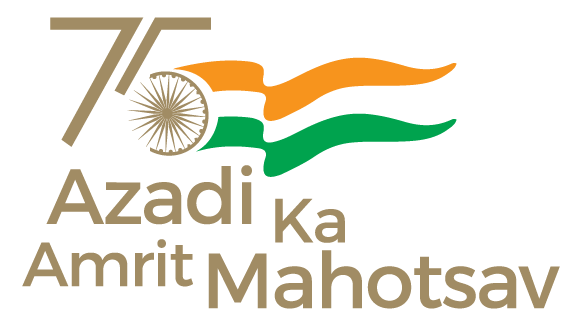 The Union Minister for Power and New & Renewable Energy Shri R. K. Singh has said that the fact that India was a developing country is a thing of the past and that we are now vying with the best in the world and the same is true for the infrastructure sector as well. The Minister was addressing a press conference on "Transformative and Future-Ready developments in the infrastructure sector", in New Delhi today. "The story of transformation in infrastructure is mind-boggling. Now, we are transforming our country into a developed country, a future-ready infrastructure is the basic requirement for a developed country. We are modernizing at a very rapid pace," the Minister added. The Union Power & NRE Minister  briefed the media about infrastructure developments in Power, New & Renewable Energy, Roads & Highways, Rural Connectivity, Railways, Civil Aviation, Shipping, Ports & Waterways, and Telecom sectors. Secretaries and Senior Officers of concerned Ministries were also present for the press conference. The press conference can be watched here.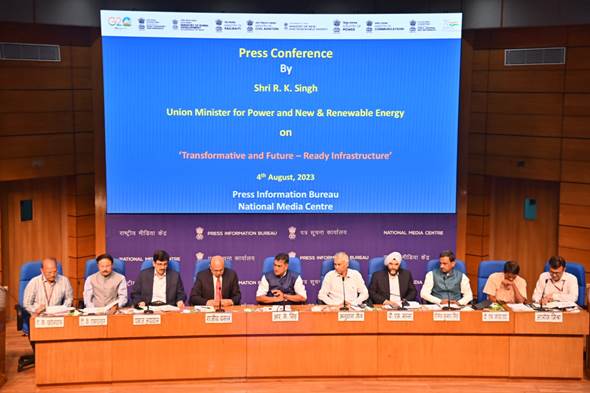 The Minister said that India recovered faster than anybody after the COVID-19 pandemic. "We have been growing at 7.2%, the fastest in the world, while other developed countries have been growing at 1.2% – 1.5%. Our rate of inflation is 5% – 6%, while that of developed countries was 9% approximately. This is because we planned for it, of which one major part is investment in modernizing infrastructure." The Minister recalled that budgetary allocation for capital expenditure increased nearly five times from 2014 onwards, tripling in the last four years. In 2019-20, it was Rs. 3.4 lakh crores and in 2023-24, it is now Rs. 10 lakh crores, he added.
Shri Singh said that not only has the capital expenditure increased but the efficiency of capital utilization has also increased due to better planning through PM Gati Shakti, based on a "Whole-of-Government" approach. He added that project monitoring mechanisms like PRAGATI also help resolve issues fast. Infrastructure has been built at a speed and scale never seen before.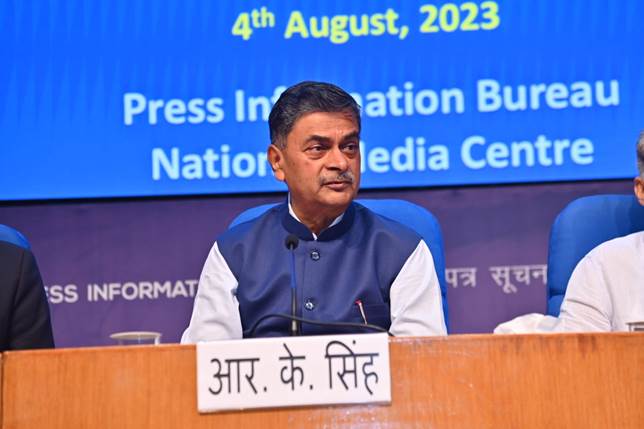 The following are the key achievements in infrastructure sectors which have been highlighted by the Minister, spanning across various domains including road transport, shipping, rural connectivity, telecom, power and renewable energy.
Power
1,90,285 MW of electricity generation capacity has been added Since 2014 transforming the country from power deficit to power surplus.

The current installed electricity generation capacity of 4,21,901 MW is close to double the peak demand and power is being exported to neighbouring countries.

1,82,801 circuit kilometers of transmission lines have been added since 2014 connecting the whole country into one integrated grid running on one frequency.   

Transmission lines in India deploy some of the most cutting-edge technologies in the world such as 800 KV HVDC and span some of the most challenging terrain in the world. 

On the 15th of August, 2015, Hon'ble Prime Minister announced from the ramparts of the Red Fort the target of electrifying every village in 1000 days.  The target was achieved in 987 days – 13 days ahead of the target date.  The International Energy Agency called this the biggest news of the energy sector in 2018 in the world.

The Hon'ble Prime Minister launched the Pradhan Mantri Sahaj Bijli Har Ghar Yojana – SAUBHAGYA in October 2017 with the objective to achieve universal household electrification. A total 2.86 crores homes were connected with electricity.  This was the largest expansion of access in such a short time frame in the history of the energy sector of the world as stated by the International Energy Agency.  

The distribution systems were strengthened on a scale which is unprecedented.  Schemes for strengthening the distribution system in all States were implemented at a sanctioned cost of Rs.2,01,722 crores. 

The average availability of power in rural areas – which was 12½ hours in 2014 is 20 ½ hours today.   In urban areas, the average is 23 ½ hours. 
New and Renewable Energy
India has achieved its NDC target of 40% of the installed electricity capacity from non-fossil energy sources 9 years ahead of schedule, in 2021.

During 2014-23, 64.3 GW solar capacity was added which is 23 times of capacity installed as on 31.03.2014.

About 90 lakh solar lighting systems were distributed during 2014-23, which is 3.8 times of total systems distributed as on 31.03.2014.

5.3 lakh solar pumps have been provided to farmers during last 9 years, which is 45 times of the total pumps installed as on 31.03.2014.

Share of renewable energy (excluding large hydro) in the electricity mix increased from 6.4% in 2013-14 to 12.5% in 2022-23.

Solar tariff has reduced from over Rs. 6/ unit in 2014 to less than Rs. 2/unit (Rs. 1.99/ unit) in 2020-21.

Solar module manufacturing capacity has increased by 10 times, from 2.4 GW/ annum in 2014 to 25 GW/ annum in 2023. Indigenous solar cell manufacturing capacity of 6 GW/ annum has also been installed in the country in last 9 years.

Wind turbine manufacturing capacity has increased by 1.5 times, from 10 GW/ annum in 2014 to 15 GW/ annum in 2023.

Foreign Direct Investment (FDI) in renewable energy sector increased by 3.7 times, with FDI of USD 11.1 billion coming in last 9 years as compared to FDI of USD 3.0 billion received as on 31.03.2014.

Loan disbursement by IREDA for renewable energy projects increased by about 6 times, from Rs. 14,320 Crore as on 31.03.2014 to Rs. 82,777 Crore during last 9 years.
Roads and Highways
The capital expenditure in Roads sector has increased by almost 5 times from Rs. 51,204 cr in 2013-14 to Rs. 2,41,028 cr in 2022-23.

The total length of National Highways has increased by 59% from  91,287 km in 2013-14 to 1,45,240 km in March 2023).

In 2013-14, the pace of NH construction was about 11.6 km/ day which increased to about 28.3 km/ day in 2022-23.

The increase in work awards and construction for NH is 241% and 142% respectively between 2013-14 and 2022-23.

The length of Four-lane highways more than doubled from 18,371 km in 2013-14 to 44,654 km at present.

The length of High Speed Corridors increased from 353 km in 2014 to 3106 km in 2023. Access Controlled Corridors of about 9000 km are under various stages of implementation.

The NH length in the North-Eastern states has increased by 32% between FY 2014-15 and FY2022-23, from ~11,000 km as on 1st April 2014 to ~14,400 km currently.

With the introduction of FASTag, the waiting time at the toll plazas has reduced from 12.23 minutes in 2014 to 47 seconds in 2023.
Rural Roads – PMGSY
A total 7,42,398 Km road length constructed @ 91 Km per day, as on July, 2023, by incurring an expenditure of Rs. 3,06,358 Crores as compared to 3,81,393 Km @ 80 Km per day as on March, 2014 with an expenditure of Rs. 1,11,325 Crores.

Now, rural roads upto 5.5 m width are also being constructed under the scheme to cater higher traffic density and transportation requirements of rural growth hubs. 

During 2021-22, an expenditure of Rs. 27,834crore was incurred for implementation of the scheme, which is the highest expenditure in a financial year since inception.

Focus on New and Green technology: 1,38,060 Km road length sanctioned and 85,583 km constructed as on July, 2023 from 12,686 Km sanctioned and 2,133 km completed as on March, 2014.

New initiative of monitoring of maintenance of rural roads: eMARG launched for electronic monitoring of maintenance which is a performance-based evaluation of upkeep of PMGSY roads in all circumstances under Defect Liability Period (DLP) (upto 5 year post-construction) with effect from 1st April, 2020.

There has been substantial improvement in overall quality of road works after introduction of IT tools for inspections. Numbers of inspection increased by National Quality Monitors (NQMs) results unsatisfactory grading of works have reduced from 15% to 9%.

Mobile Application 'Meri Sadak' for Citizen Feedback on PMGSY Projects launched on 20th July 2015 to enable citizens to register their feedback/complaints about PMGSY projects alongwith geo-referenced photographs.
Railways
Indigenously developed semi high speed, Vande Bharat trains with best riding quality and fastest acceleration (100 Kmph in 52 second) were introduced on 15.02.2019.  So far 25 train sets have been started covering all the States having electrified tracks across India. 150 services are targeted to be rolled out in the current year. More than 800 trains are planned by 2030.

Station re-development: Railway stations are being developed as city centres connecting both side of the city. 1309 stations have been further identified under Amrit Bharat Station Scheme & works on more than 900 stations started.

Freight Loading: Highest ever freight loading of 1,512 MT was achieved (i.e. 150%) in 2022-23 as compared to 1,058 MT in 2013-14. Infrastructure is being developed to create the capacity for doubling the freight loading by 2030-31.

CAPEX: Highest ever Capital Expenditure of Rs.2,03,983 cr (i.e. about 4 times) was achieved in 2022-23, as compared to Rs 53,989 Cr in 2013-14 . Railways' CAPEX has increased from Rs. 53,989 cr in 2013-14 to Rs. 2,60,200 cr in 2023-24 (highest ever).

Gross Budgetary Support to Railways for capex has increased from Rs. 28,174 cr in 2013-14 to Rs. 2,40,000 cr in 2023-24 (i.e more than 8 times).

Yearly average Capital Expenditure during 2014-23 is Rs. 1,32,781 cr/year (Cumulative Rs 11,95,031 cr), which is 3 times the average capital expenditure during 2009-14 (Rs. 45,980 per year).

Track Construction: Highest ever 5,243 Km (New Line, doubling & Gauge Conversion) track was commissioned (which is more than rail network of countries like Austria) in 2022-23 as compared to 1,610 Km in 2013-14 (i.e. more than 3 times).

Highest ever electrification of 6,565 RKm (i.e. more than 10 times) was achieved in 2022-23 as compared to 610 RKM in 2013-14.

91% Broad Gauge network has been electrified till date. 100% electrification of Broad Gauge will be achieved in current financial year.

High Speed Rail: First high speed track in India for length of 508 km between Mumbai-Ahmadabad was sanctioned 2015. Civil works in Gujarat portion are near completion. Land acquisition in Maharashtra is completed and civil works started. 

Dedicated Freight Corridor: Dedicated freight corridors (EDFC & WDFC) -2,843 RKm were planned in 2006 to de-congest trunk routes from Delhi-Mumbai & Delhi-Howrah. However the work could not take-up at desired pace and no section was commissioned till 2014. From 2014 to 2023, total 2196 RKm (i.e. 77% ) has been commissioned. The Eastern DFC and Western DFC will be completed in current year except small portion of Vaitarna to JNPT.

USBRL Project: The Udhampur-Srinagar-Baramulla Rail Link Project of 272 Km started in 2004 will be completed in current financial year to connect Kashmir valley with rest of India by Rail link. 

Connectivity to North Eastern States: All the north-eastern states are connected with Broad Gauge network except Sikkim (where work is in progress). Three state capitals (Assam, Tripura, Arunachal Pradesh) are already connected and Mizoram will also be connected in current year. The works for connectivity of remaining capitals (except Meghalaya) are also under progress.

KAVACH: Indigenously developed KAVACH was adopted as National Automatic Train Protection System. It was successfully rolled out over 1,465 RKm from 2016 onwards. KAVACH works are in progress on 3,000 RKm and preparation of DPR is being done for another 6,000 RKm.

Elimination of Unmanned Level Crossing Gates (UMLC):  Number of accidents were taking place at Unmanned Level Crossing Gates. All the Unmanned Level crossing Gates were eliminated over Indian Railways by 31.1.2019.
Ports and Shipping
Port Capacity: Major Port Cargo Handling Capacity more than doubled from ~8,710 Lakh Tonnes to more than 16,100 Lakh Tonnes per annum

Logistics Efficiency: As per World Bank's Logistics Performance Index Report- 2023, India's Container Vessel Turnaround Time has reduced to less than 1 day, better than advanced nations such as USA, Germany, Singapore, etc. ; Container Dwell Time reduced to less than 3 days, ahead of Germany, USA, etc.

Private Investment: Private Investment in the Ports Sector more than doubled from INR 16,000 Cr. to more than INR 40,000 Cr. with 2,700 Lakh tonnes capacity addition by private investment.

Inland Waterways Cargo Transportation: Cargo Handled by Inland Waterways increased by more than 17 times from 69 Lakh tonnes to more than 1,260 Lakh tonnes per annum

Coastal Shipping: Cargo Handled by Coastal Shipping nearly doubled from 870 lakh tonnes to more than 1,500 lakh tonnes per annum during last nine years

Operationalization of Waterways: Number of National Waterways Operationalized increased by 7 times from just 3 to 24; 111 National Waterways identified for development

River Cruise: Ganga Vilas- world's largest river cruise operationalized, number of national waterways for river cruise operations increased by more than 2 times from 3 to 10

Cruise Tourism: Number of Cruise Tourism Passengers tripled from 1 lakh to more than 3 lakhs; Number of Cruise Ships calling at Indian Ports doubled from ~130 to more than 270

New Avenues for Tourism: Number of Lighthouse with Tourism Facilities more than tripled from 6 to more than 20 with passenger footfall more than tripled from 3.84 Lakhs to more than 13 Lakhs per annum

Indigenous Aircraft Carrier: Promoting Aatmanirbharta, Indigenous  Aircraft Carrier, INS Vikrant delivered by Cochin Shipyard Limited to Indian Navy

Indian Seafarers: Number of Indian Seafarers more than doubled from ~ 1 Lakh to more than 2.5 Lakhs
Civil Aviation
India is the 3rd largest domestic aviation market after USA & China

No of operational airports doubled from 74 in 2014 to 148 in 2023

The aircraft fleet size has increased from 395 in 2014 to 729 in 2023

Domestic passengers more than doubled from 61 million in 2013-14 to 136 million in 2022-23

International passengers increased from 43 million in 2013-14 to 54 million in 2022-23

Under UDAN, 479 routes have been operationalized so far
Telecom
Number of Mobile Subscribers have increased from 90.45 Crore (2014) to 114.4 Crore (2023) – about 24 crores new mobile subscribers added. 

Number of Mobile Broadband subscribers have increased from 4.56 crore (2014) to 81.19 crore (2023) – have multiplied more than 17 times.

Mobile data tariff has reduced from Rs. 269 /GB (2014) to Rs. 10.1/GB (2023) – Tariff for mobile services reduced exponentially

Data Usage per mobile subscriber has increased from 0.27 GB per month (2014) to 17.11 GB per month (2023) – Data usage exponentially increased

Average Broadband speed has increased from 1.7 Mbps (2014) to 30.9 Mbps (2023) – 18 times increase in speed

Number of Mobile Towers has increased from 4 lakhs (2014) to 9.9 lakhs (2023) – increased by 150%

Fixed Broadband Subscribers has increased from 1.52 cr (2014) to 3.46 (2023) – almost doubled.

Optical Fibre Cable laid down has increased from 11.05 lakh kms (2014) to 38.06 lakh kms (2023)– increased by more than 2 times.

Out of 2.5 lakh no. of Gram Panchayats (GP) planned, 2.05 lakh no. of GP have been connected by OFC

India has the third lowest Avg. Data Tariff (per GB)

India jumped to 10th rank (2020) from 47th (2018) in Global Cybersecurity Index (GCI)

India improved to 61st (2022) from 67th (2021) in Network Readiness Index (NRI)

India jumped 50 spots to 55 (June 23) from 105 (Nov 22) in Speed-test Global Index for mobile data

Latest technology 5G networks have been rolled out at the fastest ever pace to enable high-speed broadband services.

Fastest rollout of 5G services in the world. 5G services are available in more than 700 districts.

As an Atmanirbhar Bharat initiative, C-DOT has Indigenously developed complete 4G & 5G Non-Stand Alone (5G NSA) Solutions, thereby reducing dependence on technology imports

Initiatives have been taken to lead the development of 6G standards. Hon'ble Prime Minister launched the 'Bharat 6G Vision' document

India followed the world in 4G, marched with the world in 5G and now aims to lead the world in 6G.

Mobile as well as internet services in the flight and ships have been allowed in India

License for LEO/MEO Satellite broadband services has been given for providing services in hilly/inaccessible areas
***
PIB DELHI | AM / DJM