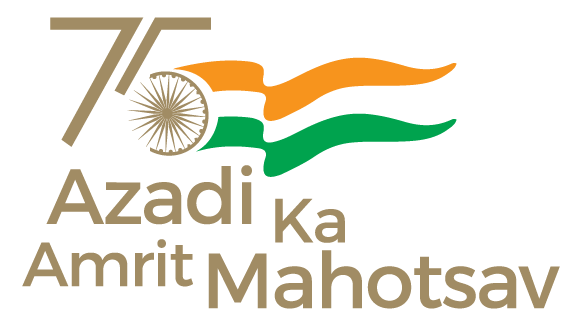 Mass mobilisation across the country on LiFE is being organized in the run-up to the celebrations to World Environment Day (June 5). Several activities were organized today by various Institutions and organizations.
National Museum of Natural History (NMNH)
As part of the Mass Mobilisation for Mission LiFE National Museum of Natural History administered LiFE Pledge in Arwachin Bharti Bhawan Senior Secondary School, and S. L S. D. A. V. Public school Mausam Vihar Delhi in which 293 student pledged to care for the Environment.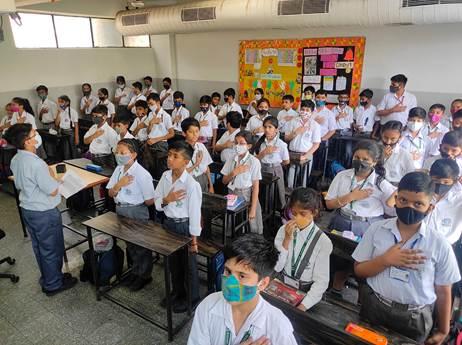 RMNH, Bhubaneswar  organized slogan writing and public orientation programme/awareness for198 participants of Bhubaneswar under Meri LiFE: Lifestyle For Environment.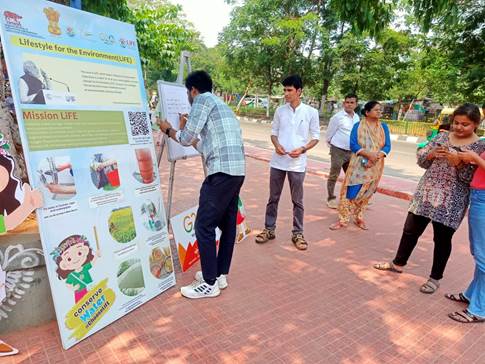 Zoological Survey of India
Zoological Survey of India under the leadership of Dr Dhriti Banerjee, Director,ZSI initiated phase one of "Mass mobilisation of students" in which about 100 students and faculty, Zoology Dept, Vivekananda College, Kolkata took vow to ban use of single use plastics in their college campus.Dr Senjuti Roy Mukherjee, Associate Professor of the said college said that they have totally banned use of single use plastics in their college premises and assured to adopt  healthy life style and act as "Green warriors" under Mission LiFE to protect the Environment for sustainable tomorrow.Dr Banerjee said this was the first phase of the mobilisation campaign and in the coming days the reach out will be in other schools and colleges all over the country through the different centres of ZSI.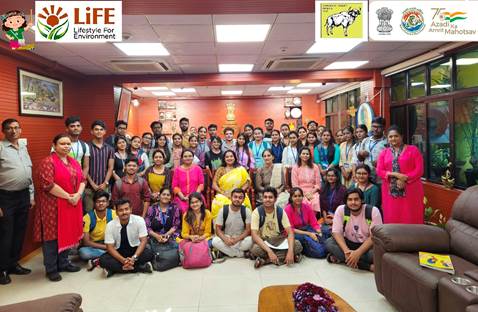 GB Pant National Institute of Himalayan Ecology (GBPNIHE)
Under the ongoing series of Mission LiFE events, NIHE conducted an awareness program covering the Healthy Lifestyle theme of Mission LiFE on 08 May 2023. During the program a consultative interaction was held with the students of DSB campus, Nainital at ex-situ conservation site "Surya-Kunj" of GBPNIHE, Almora, where different entry points for initiating Biodiversity conservation at the community such as, cultivation of multipurpose plant species, augmentation van panchayats through plantation, land rehabilitation/restoration on degraded slopes level were discussed. Total 40 participants that included students, researchers and scientists participated in the program. All the participants took the LiFE pledge to inculcate environment-friendly habits.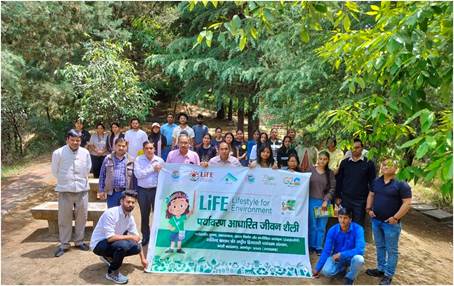 National Centre for Sustainable Coastal Management (NCSCM)
NCSCM organised a cleanup along the Adyar River bank, an urban river in Chennai city, as part of the Lifestyle for the Environment (LiFE) movement. This public outreach campaign is about improving ocean health through collective action by the local community. About 65 participants from various age groups collected about 250 kg of plastic waste from the Adyar River mouth. This waste comprises 130 kg of discarded nets, and the remaining were single-use plastics and packaging materials. The collected waste was taken to the plastic recycling facility to improve the value chain.
As a part of this event, NCSCM scientists raised awareness of the importance of Mission LiFE among the fishing community by displaying placards, pamphlets, and LiFE mascots, while the participants also took part in a green pledge against littering and the need to live in harmony with nature. Besides, scientists raised awareness about the need for sustainable fishing practices to reduce and mitigate the impact of discarded fishing nets in estuarine and marine environments. Further, they emphasised the need to organise regular cleanup efforts to reduce the lotic entry of plastic into rivers, which is essential for maintaining the health of the river ecosystem, fish habitat, preventing flooding, and ensuring the safety of residents living near the river. Through such community action, we can create a cleaner and more sustainable environment.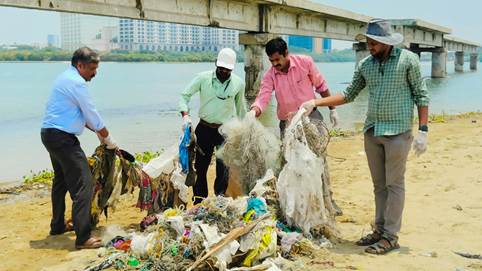 NCSCM scientist Dr. Dipnarayan Ganguly participated and presented the significance of community participation and Mission LiFE in conservation and restoration of mangroves in a one-day workshop on coastal security and MISHTI initiatives, organised by the Gujarat Ecology Commission, at Gandhinagar.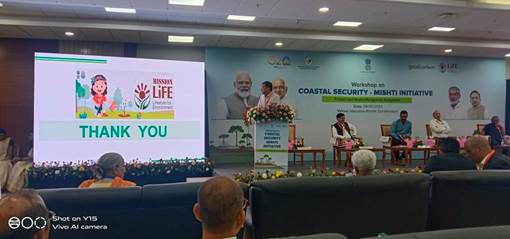 ……………
MJPS