Swachh Swasth Sarvatra initiative, aimed at strengthening health centres in open defecation-free blocks, was launched by the Union Health Ministry in collaboration with the Ministry of Drinking Water and Sanitation and Human Resource Development.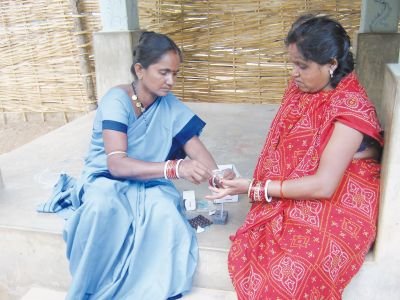 The objective is to strengthen community health centres in 708 open defecation-free blocks across the country to enable them to achieve higher levels of cleanliness and hygiene.
Under it, 10 lakh rupees of financial assistance will be given to the community health centres so that they can be strengthened to meet the standards of sanitation, hygiene and infection control.
The initiative is a part of the Swachh Bharat Mission, under the National Health Mission.
It is focused on the twin objectives of constructing toilets and enabling behavioural change, with the goal of making India free of open defecation by October 2, 2019.
Main Features of Swachh Swasth Sarvatra:
'Swachh SwasthSarvatra', an inter-ministerial joint initiative between the Ministry of Drinking Water and Sanitation and the Ministry of Health and Family Welfare.
Another joint initiative, 'Swasth Bacche Swasth Bharat', between Ministry of Health and Family Welfare and the Ministry of Human Resource Development was also launched on the occasion.
The objective of the 'Swachh Swasth Sarvatra' initiative is to build on and leverage achievements of two complementary programmes – Swachh Bharat Mission (SBM) and Kayakalp – of the Ministry of Drinking Water and Sanitation and Ministry of Health and FamilyWelfare, respectively. Under this initiative:
(a) Ministry of Drinking Water and Sanitation has declared over 700 blocks as Open Defecation Free (ODF). Community Health Centres (CHCs) in ODF blocks of the country will be allocated Rs 10 lakhs under National Health Mission (NHM) to focus on sanitation and hygiene.
(b) Under Kayakalp, one Primary Health Centre (PHCs) in each district is awarded for meeting quality standards including sanitation and hygiene. Under SBM, the Gram Panchayat in which the PHC which gets awarded under Kayakalp for that district will be noted, and special focus will be given to make it ODF at the earliest.
This initiative would be a very important step towards convergence of various government schemes and programmes. He said that by merging the goals of Swachh Bharat with his Ministry's focus on health, the two will be able to move the needle from hospital-care to healthcare, i.e. from treatment of diseases to prevention of diseases by focussing on improved overall health.
Swachh Bharat focusses on mindset change – which does not need any big technological or infrastructural intervention – but a focussed behaviour change campaign. Educated children will be the best agents to spread the message of sanitation to their parents. By focusing on children, Swachh Swasth Sarvatra will lead to an ODF India by 2019.