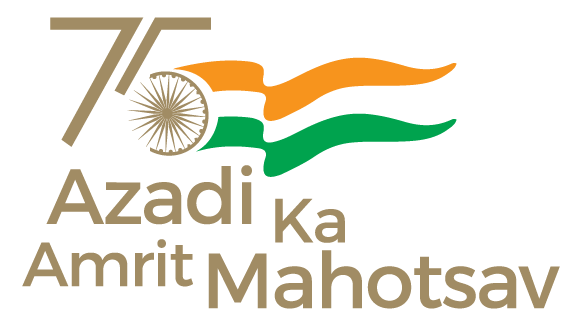 The "Swachh Sagar, Surakshit Sagar/Clean Coast Safe Sea "campaign is a 75-day citizen-led campaign for improving ocean health through collective action. The campaign started on July 5th, 2022 and has 3 strategic underlying goals that target transformation and environmental conservation through behavior change. The three underlying goals of the campaign are to 1. Consume Responsibly 2. Segregate waste at home and 3. Dispose Responsibly.
This event also coincides with the celebrations of Azadi Ka Amrit Mahotsav in 75th year of the country's independence; The coastal cleanup drive will be carried out at 75 beaches across the country with 75 volunteers for every kilometre of the coastline.The campaign will culminate with the largest beach cleaning event on Sept 17, 2022 (International Coastal Cleanup Day) covering 75 beaches across India's 7500+km coastline.
This campaign will include Ministry of Earth Sciences (MoES), Ministry of Environment Forest and Climate Change (MoEFCC), Ministry of Education, Ministry of Ports, Shipping and Waterways, Ministry of Jal Shakti, Ministry of Fisheries and Animal Husbandry, National Service Scheme (NSS), Indian Coast Guard, National Disaster Management Authority (NDMA), Paryavaran Sanrakshan Gatividhi (PSG), along with other government departments, social organizations and educational institutions.
An estimated expenditure of about Rs 10 crores is envisaged for this programme. 75 beaches have been identified all over India and from Tamil Nadu about 8 beaches have been identified. The complete list of  chosen beaches are listed in the Annexure. The major beach cleaning activities will be carried out on 17 September 2022. The pre campaign activities have started on 05 July 2022.
Key audiences for the campaign include local communities that rely on oceans and beaches for livelihood, school and college students, youth and citizens in-general. The campaign will combine both virtual and physical formats for delivering key messages and engaging the target audience in adopting lifestyle and behavioral changes that promote environmental sustainability. Examples of virtual activities include quizzes, pledges and challenges. Physical activities will include the actual beach clean-up along with rallies, skits and contests etc.
It is the first-of-its-kind and longest running coastal cleanup campaign in the world with highest number of people participating in it. Through this campaign, a mass behavioural change among the masses is intended by raising awareness about how plastic usage is destroying our marine life. A mobile app "Eco Mitram" has been launched to spread awareness about the campaign and also for the common people for voluntary registration for the beach cleaning activity on the 17th September 2022. The target of the programme is to remove 1,500 tonnes of marine litter from the sea-coasts which will be a huge relief to marine life and the people staying in coastal areas.
ANNEXURE
List of Beaches
State/UTs

Name of Beaches

Remarks

Daman

DevkaBeach

Daman

JamporeBeach

Maharashtra

JuhuBeach

Mumbai

GirgaonChowpaty

MandaviBeach

Ratnagiri

MalgundaBeach

Murud

Raigad

Chikhale

Palghar

Goa

Miramar

Panji

 

Baina

vasco

 

Bogmalo

 

Velsao

SouthGoa

 

ColvaBeach

Karnataka

PanamburBeach

Mangalore

MalpeBeach

Malpe

GorteeBeach

Bhatkal

AghanashiniBeach

Kumta

Kerala

BeyporeBeach

Kozhikode

CheraiBeach

Ernakulam

KuzihipallyBeach

AzheekalBeach

Kollam

KovalamBeach

Thiruvananthapuram

Lakshadweeep

KatcheryJettyBeach

Kavarathi

MoolaBeach

Androth

Kodi Beach

Minicoy

Gujarat

ChowpatiBeach

Porbandar

MadhavpurBeach

Porbandar

Somnath Beach

GirSomnath, Veraval

GhoghlaBeach

Diu, Veraval

JhanjmerBeach

Bhavnagar, Pipavav

PingleshwarBeach

BhujWest, Jakhau

NararaBeach

Vadinar, Vadinar

MandaviBeach

Mandavi, Mundra

OkhalighthousetoPawanChakki

Okha

DandiBeach

Navasari, Surat

Andhra Pradesh

 

Andhra Pradesh

RKBeach

Visakhapatnam

YaradaBeach

  Visakhapatnam

RushikondaBeach

  Visakhapatnam

KakinadaBeach

Kakinada

NTRBeach

  Kakinada

DhindiBeach

Nizampatnam

SuryalankaBeach

Nizampatnam

KrishnapatnamBeach

Krishnapatnam
Tamil Nadu

 

MarinaBeach

Chennai

BesantNagar Beach

  Chennai

ThiruvanmiyurBeach

  Chennai

Aryaman Beach

Mandapam

PirappanvalasaiBeach

Mandapam

VOCBeach

Tuticorin

MuthunagarBeach

Tuticorin

Mullakadu Beach

Tuticorin

Puducherry

 

GandhiBeach

Puducherry

AurovilleBeach

Puducherry

KilinjameduBeach

karaikal

KaraikalBeach

karaikal

  West Bengal

HaldaiRiverFrontBeach

Haldai

BakkhaliSeaBeach

Bakkhali

HenryIslandBeach

Bakkhali

DighaBeach

Digha

Odisha      

ParadipBeach

Paradip

NehruBanglaBeach

Paradip

ChandravagaBeach

Paradip

Puri Beach

Puri

Gopalpur Beach

Ganjam

BateswarBeach

Ganjam

  A &N Islands

Kalipr Beach

Diglipur

KarmathatangBeach

Mayabunder

RamanBagichaBeach

Rangat

CarbineCovesBeach

  PortBlair

RadhanagarBeach

SwarajDweep

ChattanBeach

Hutbay

KanakaBeach

Kamorta

GandhiNagar Beach

  CampbellBay

MalaccaBeach

  Carnic

Kalasi Beach

Teressa
This information was given by the Minister of State (I/C) for M/o Earth Sciences and M/o Science & Technology, Dr. Jitendra Singh in a written reply in Lok Sabha today.
******
SNC / RR