The outlay for Annual Budget 2021-22 of Department of Social Justice & Empowerment is Rs. 10517.62 Crore as against the outlay (Rs. 8207.56 Crore) approved for the revised Budget Plan 2020-21. The annual outlay in FY 2021-22 is 28% higher than the revised annual outlay in FY 2020-21. During 2021-22 around 76% of annual budgetary outlay of the Department is allocated for States under Centrally Sponsored Schemes. The Allocation for Welfare of Scheduled Castes for all Ministries during has been increased by 51.65% from around Rs 83256 cr in 2020-21 to Rs 126259cr in 2021-22.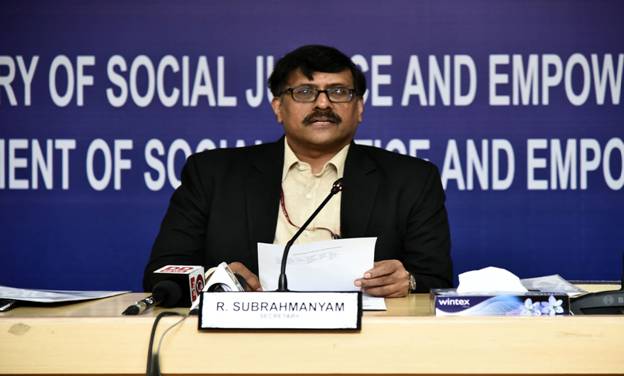 Addressing the media on the key highlights budget for social justice and empowerment sector, Secretary of Department of Social Justice & Empowerment Shri R. Subrahmanyam said that restructuring the existing schemes based on principles of operational efficiency, synergy and transparency has been envisaged in the new financial year. Accordingly, the (31) schemes which were being implemented till 2020-21 have been restructured into (19) schemes, each with clear verifiable outcomes. This would lead to greater focus on the core issues. Shri Subramanyam added that allocation of Central Govt funds in Post Matric Scholarship for SCs has been by raised 5 times to benefit  the students from the poorest households.  Central share would be released on Direct Benefit Transfer (DBT) mode into the bank account of students to avoid delays.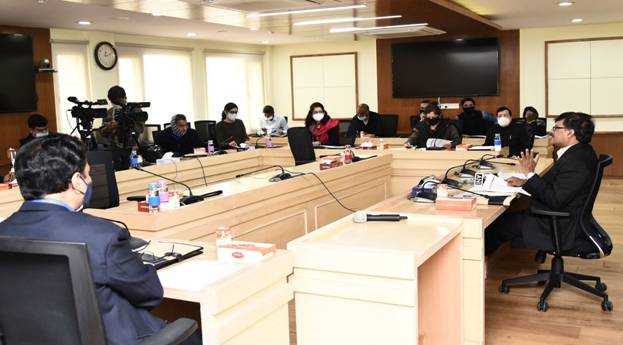 Giving further details, the Secretary said Pradhan Mantri Anusuchit Jaati Abhyuday Yojana (PM AJAY) has been created after merger of three schemes with a target of comprehensive development of 3500 SC majority villages in 2021-22 to benefit 6 lakh beneficiaries with a holistic approach and varied interventions. An allocation of Rs 1800 cr has been made for PM AJAY in the new financial year.
Shri Subramanyam further said that a new Scheme, Pradhan Mantri Welfare Scheme for DNTs for Economic Empowerment of DNT/NT/SNTs (SEED) with budgetary allocation of Rs 50.00 crore will be implemented in the new Financial Year. The objective is to provide financial assistance for health insurance, coaching of good quality, livelihoods initiative and construction of houses for DNT, NT & SNTs. A total of 1.82 lakh DNT, Nomadic and Semi-Nomadic communities would  be benefited under this.
Shri Subramanyam added, "Support for Marginalized Individuals for Livelihood & Enterprise (SMILE) which is a new Scheme after merger of existing Schemes for Beggars and Transgenders. The budgetary outlay is Rs 70.00 crore. The intended objective is to cover the welfare measures for both transgender persons and persons who are engaged in the act of begging with focus extensively on rehabilitation, provision of medical facilities, counseling, education, skill development etc with the support of State Governments/UTs/Local Urban Bodies, Voluntary Organizations, Community Based Organizations (CBOs) and institutions etc. It is estimated that an approximate 60,000 poorest persons would be benefited under this scheme for leading a life of dignity."
Shri Subramanyam  explained, "Special schemes would be launched under the Senior Citizen Welfare Fund (SCWF) for assisting start-ups in the space of Silver Economy promoting innovative products and process for the welfare of the elderly. Apart from this, CSR funds would be encouraged to invest in promoting silver economy. An amount of Rs. 50 Cr has been allocated from the SCWF for 2021-22. Along with this the National Helpline for Senior Citizens "Elderline" would be launched this year which will reach to every elder person in distress for resolution of the problem."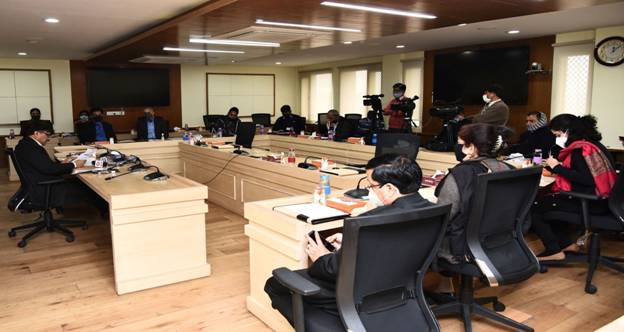 The Secretary also gave details of new and  various components of schemes as well as budgetary allocations for SHREYAS, SRESHTA, AVYAY, Nasha Mukt Bharat Abhiyan, PM DAKSH, ASIIM among others
Click here for highlights of budget of Department of Social Justice & Empowerment
*******
NB/OA