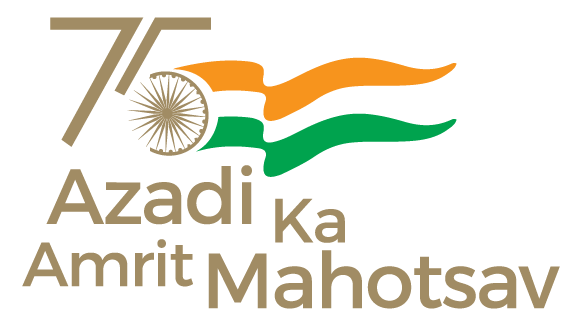 Union Agriculture and Farmers Welfare Minister Shri Narendra Singh Tomar held bilateral meetings today with Agriculture Ministers of various countries participating in the Global Millets (Shree Anna) Conference. An MoU was also signed with the World Food Programme  (WFP) of the United Nations. Meanwhile, Shri Tomar thanked the ministers for being a part of the global conference organized by India with the aim of promoting Shree Anna, under the International Year of Millets (IYM). He said that the International Year of Millets is being celebrated so that the Indian Shree Anna, its recipes and value-added products are accepted globally as a people's movement. He hoped to further strengthen India's agricultural ties with various countries.
In a meeting with Guyana's Agriculture Minister Mr. Zulfikar Mustafa, Union Minister Shri Tomar recalled the visit of the President of Guyana, Dr. Mohammad Irfan Ali and Vice President Bharat Jagdev to India and said that agriculture is a very important area of cooperation between the two countries. Expressing happiness over the steady progress in India-Guyana relations, he hoped for concrete cooperation in Agriculture and allied sectors. Shri Tomar congratulated Guyana for the huge crude oil discovery, saying that this would enable Guyana to establish itself as a major energy exporter, which has the potential to transform the lives of its people. Expressing immense potential for cooperation in Agriculture and Agro-Processing Industries between India and Guyana, he said that the two countries complement each other as Guyana has vast arable land and water availability and India has the technology, expertise and skilled manpower, which will mutually benefit both the countries. India is keen to share its expertise and experience in the development of agriculture and allied sectors in Guyana, for which an MoU is under finalisation. He assured that Guyana's request for deputation of two experts to ITEC from India for three years to support the Guyana Sugar Corporation management and revive the sugar estates/plants in Guyana would be considered at the earliest.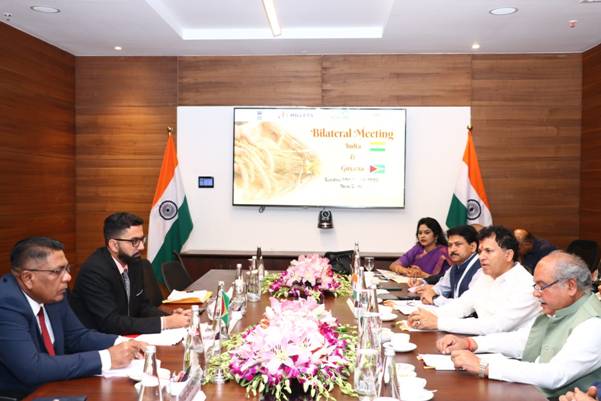 Shri Tomar, in a meeting with Suriname's Minister of Agriculture, Shri Parmanand Prahlad Sewdien, said that India and Suriname share close, warm and friendly relations, which have been strengthened by cultural and people-to-people contacts over the course of 150 years. He wished success to the celebrations of the 150th anniversary of the arrival of Indians in Suriname, and expressed confidence that the official visit of President Santokhi to India in January 2023 would take our bilateral relations to a new high. Expressing happiness and pride, he said that Hindi is spoken on a large scale in Suriname. Like India, Suriname is also a country of multi-ethnicity and diversity, where people live in peace and harmony. As per the discussion held during the second meeting of the Joint Working Group on Agriculture, Shri Tomar hoped that the draft Joint Action Plan for 5 years (2023-27) would be ready soon and said that we will provide wood export facility from Suriname to India. India's exports of agri-related goods to Suriname in 2021-22 was USD 4.34 million. There are more possibilities to increase trade and investment, especially in agro-food processing. Under India's flagship programmes, development partnership, India is committed to provide technical assistance to Suriname as needed, contribute to capacity building and skill development of human resources. Shree Anna is the ideal solution to make countries self-reliant and reduce dependence on imported grains. India can start agricultural cooperation projects, if offered by Suriname, as well as depute agricultural scientists under the Indian Technical and Economic Cooperation (ITEC) programs to conduct studies for the cultivation of Shree Anna in Suriname.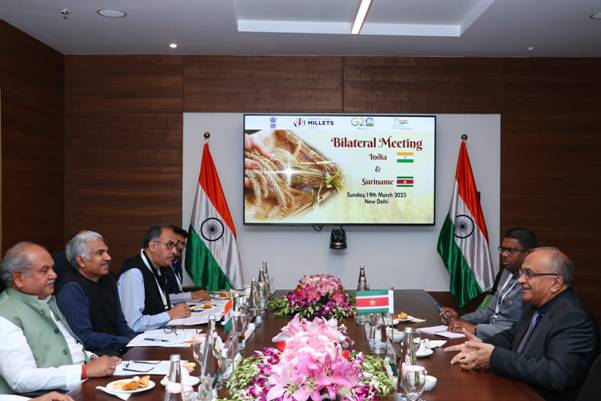 In a meeting with the Agriculture Minister of Zambia, Mr. Reuben Mtolo Phiri, Union Minister Tomar said that India and Zambia have had cordial relations for a long time. The leaders of Zambia's freedom struggle drew inspiration from the leaders of India's freedom struggle, especially Mahatma Gandhi. Gandhiji continues to inspire its leaders and the younger generation in Zambia. Zambia is one of the few African countries that has benefited greatly from India's development cooperation programme. India provides scholarships for various higher education courses and ITEC training slots as well as special capacity building programs under the India-Africa Forum Summit (IAFS) along with Exim Bank credit, Railway Wagons, Flood Relief Grant and Line of Credit. Zambia, with its rich natural resources, has become an important destination for Indian investments in various sectors. India is one of the leading investors in Zambia with committed investments of over US$ 5 billion. Bilateral trade between India and Zambia has been growing steadily. In recent years, there has been renewed interest in India for trade and investment with Zambia, but again logistics and the small size of Zambia's economy remain the main constraints and limiting factors.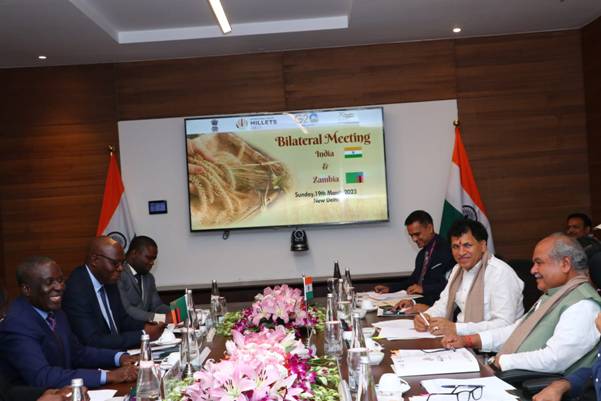 In a meeting with Mauritius' Minister for Agri-Industry and Food Security, Mr. Manish Gobin, Shri Tomar said that India shares close, long-standing ties with Mauritius for historical, demographic and cultural reasons. People of Indian origin comprise about 70% of the island's population of 1.2 million. Mauritius is one of the few important countries with which independent India established diplomatic relations even before the independence of Mauritius in 1948. There is a high level of trust and mutual understanding between the leaderships of the two countries, which is reflected in continued high-level political engagement. This special relationship has resulted in exceptionally close cooperation in maritime security, development partnership, capacity building and cooperation in international fora. The enduring cultural and people-to-people relations between India and Mauritius are nurtured by the Indian Cultural Center in Mauritius (India's largest in the world) and the World Hindi Secretariat, a bilateral organization for the promotion of Hindi. India is among the largest trading partners of Mauritius. Bilateral trade grew by 69% to reach USD 786.72 million in 2021-22.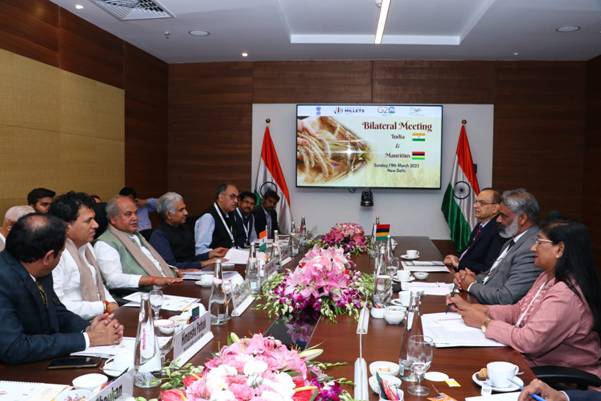 The topics of agriculture were discussed in the meeting between Shri Tomar and Mr. Mahinda Amaraweera, Agriculture Minister of Sri Lanka. Shri Tomar said that a significant proportion of the population in India and Sri Lanka depend on agriculture and both sides have very similar priorities for taking this sector forward. Thus cooperation between the two sides in the agriculture sector becomes natural. India has traditionally been one of Sri Lanka's largest trading partners and Sri Lanka is one of India's largest trading partners in SAARC.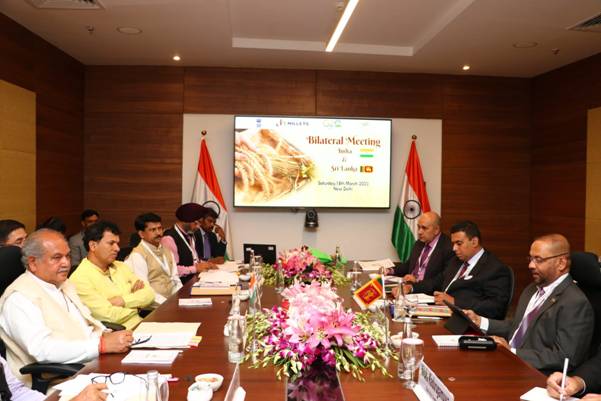 During the global conference, the MoU between WFP and the Government of India for cooperation between 2023-2027 was signed in the presence of Agriculture Minister Shri Tomar. During this, Mr. Manoj Juneja, Deputy Chief Executive Director, Management and Chief Financial Officer of UNWFP and Ms. Elizabeth Faure, WFP Representative and Country Director in India were present. The MoU will be jointly implemented by the Department of Food and Public Distribution, Ministry of Agriculture and Farmers Welfare, Ministry of Women and Child Development, Ministry of Rural Development and the Ministry of Environment, Forest & Climate Change. Shri Tomar lauded the work of WFP in promoting food self-sufficiency and supporting governmental and global efforts to ensure long-term solutions to the challenge of hunger. He thanked the WFP for being a part of the Global Millets Conference and expressed the hope that the partnership between WFP and the Government of India will yield fruitful results to achieve our goals.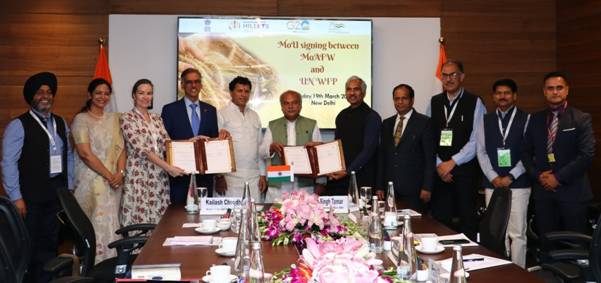 Shri Tomar at the live cooking counter and ice cream made from Shree Anna:
Union Agriculture and Farmers Welfare Minister Shri Narendra Singh Tomar, who arrived at the exhibition organized during the Global Millets (Shree Anna) Conference organized as part of the International Year of Millets – 2023, relished the delicious ice cream made from Shree Anna and complimented its stall operator for this innovation. Shri Tomar also prepared an Asian salad with the Indian Shree Anna at the live cooking counter of the Indian Federation of Culinary Association and tasted it himself as well as served it to Union Minister of State for Agriculture & Farmers Welfare, Shri Kailash Choudhary and Secretary Shri Manoj Ahuja among others. The dignitaries also visited other stalls. Students from schools and colleges have gathered to see the exhibition. Thousands of children came here during the last two days.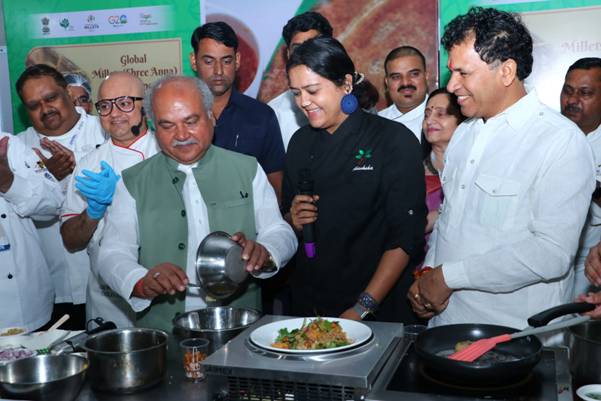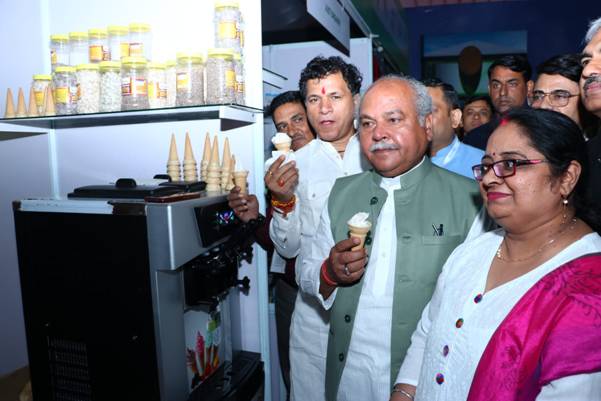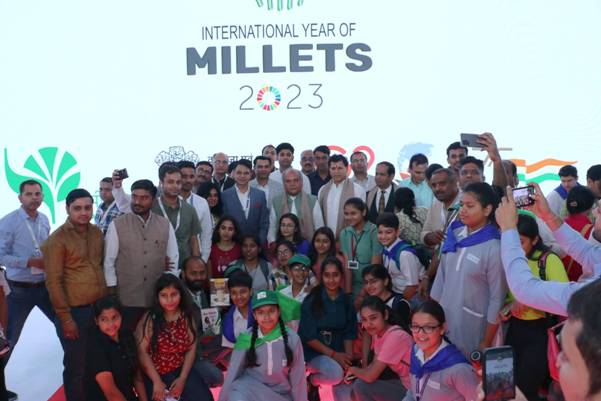 *****
SNC/PK/SM