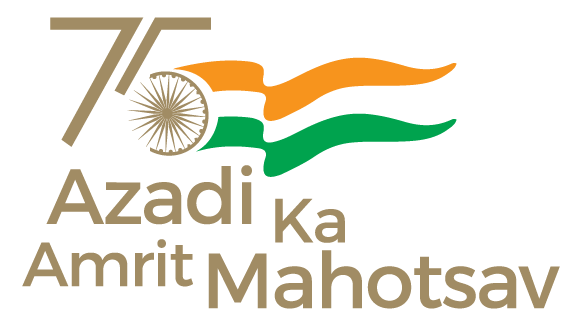 The Union Health Minister, Dr. Mansukh Mandaviya presided over the 42nd Foundation Day at the NationalBoard of Examinations in Medical Sciences (NBEMS)and delivered keynote address in the presence of Prof. S.P Singh Bhagel, Minister of State, Dr. V.K Paul, Member, Health, Niti Aayogyesterday.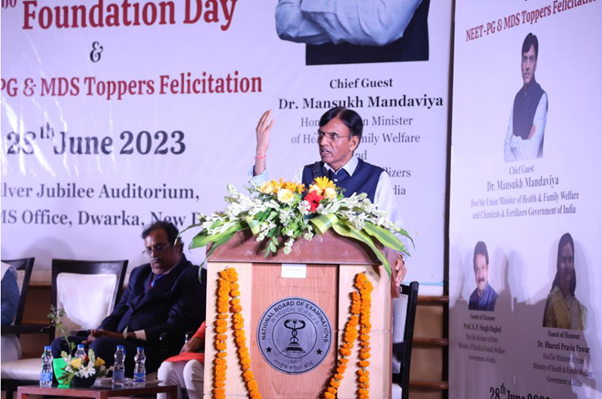 Congratulating the institute and the governing members on the initiatives and courses launched, the Union Health Ministerstated that within the last two years, 25 courses have been introduced. He reflected that "this growth serves to provide greater opportunities for medical students and India is able to garner best health services and expert doctors, serving to fulfill nation's requirements leading to a healthier society and healthier nation." He reiterated that the medical sector plays a paramount role in the country's development and urged the students to commit to contributing and shaping India into a developed nation in the years to come.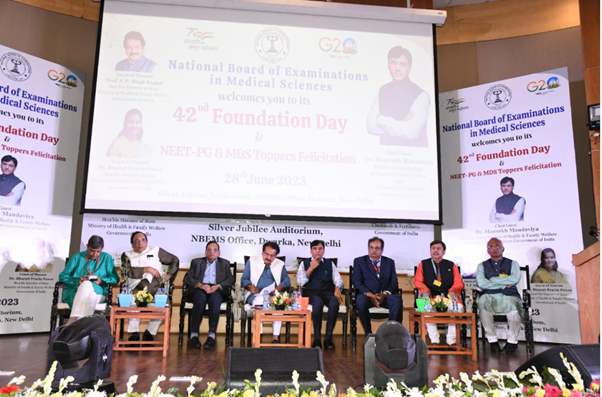 The Union Health Minister launched the 9 initiatives namely:
NBEMS 11 new fellowship courses in medicine

NBEMS Diploma in Emergency Medicine

NBEMS Exam Command Center

NBEMS Center for Computer Based Test

NBEMS Good Clinical Practice Guidelines (2nd Edition)

Joint Accreditation Programme and Accreditation of Stand-Alone Labs and Diagnostic Centers

NBEMS Skills and Virtual Training Programme

Launch of Faculty Title to NBEMS Teachers

NBEMS Medical Library
Dr Mandaviya along with Prof S.P Singh Bhagel awarded healthcare experts in thefollowing categories:
Nari Shakti Awards

Ministry of Health and Family Welfare Awards of Excellence

Executive Director Certificate of Appreciation Award

President NBEMS Award of Excellence
Dr. V.K Paul was awarded the President NBEMS Award of Excellence.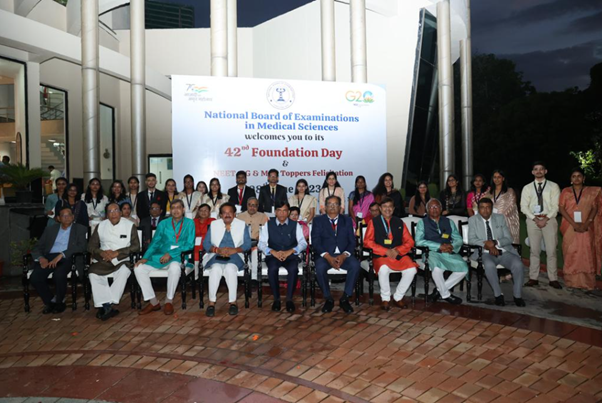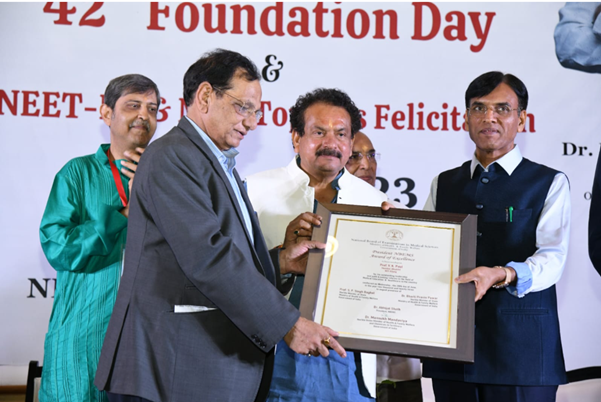 Lauding the healthcare workers for their bravery particularly the para-medical staff who faced the crisis in very close quarters, the Minister of State stated that their contribution has played a big role in enhancing the perception of India as a powerhouse. Praising the vision of the Prime Minister of Vasudhaiva Kutumbakamand One Earth, One Family, One Future, he stated "it inspires us to strive not just for a healthy India but for a healthier world" aligned with the motto of 'One Earth, One Health'.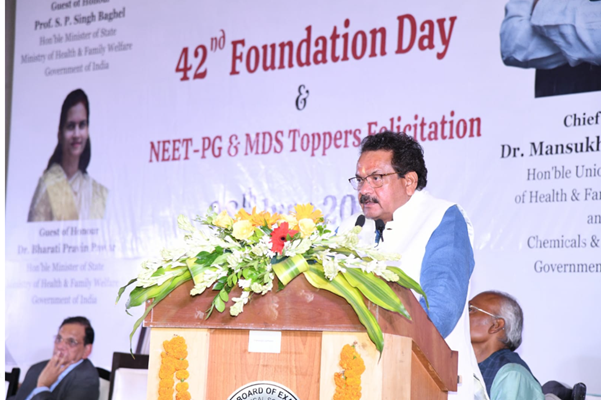 Prof. S.P Singh Bhagel further elaborated that the strength and value of Indian doctors is such that in every part of the globe, one will find an Indian doctor in service. He cited ABHA card as one of the greatest developments India has seen since its independence that enables healthcare services to reach the most remote areas and benefit the marginalized community. Highlighting that medical education is in its golden era, he urged the toppers in the audience to share their experiences and motivations with colleges and schools of smaller cities and villages to inspire them to reach the pinnacle they are at today.
Addressing the gathering, Dr. V.K Paul praised the growth and development of medical education and respective institutions, highlighting the transformation of the last eight years. Enumerating the success of this sector, he said "this is a transformative time for medical education due to initiatives introduced in the system." He further added the post graduate seats have grown over three times in the National Board of Examinations from 4000 seats to over 13000 seats. Emphasizing on the change in the conduct, he cited the addition of National Medical Commission as a new regulator, the introduction of NEET which encompasses competency-based curriculum as well as the District Regency Program that mandates all second-year post-graduate students to provide their services in district hospitals for 3 months each, enabling them to serve the underprivileged.
Underscoring the growth of the field, he cited that medical colleges have grown from 387 to 704, with 52 new colleges added this year which is a record in itself and the seats for medical students have also grown from 52000 to 107,000 for under-graduate and 32,000 to 67,000 for post-graduate. Dr. Paul stressed that this is the golden era, and the upcoming doctors and experts in this field must contribute their best to it.
National Board of Examinations in Medical Sciences (NBEMS) is an Autonomous Body of the Ministry of Health & Family Welfare, Government of India and is entrusted with the task of conducting examinations in the field of modern medicine on an all-India basis. NBEMS has been working in the field of medical education for the last 04 decades and has utilized the infrastructure of various hospitals to provide quality Post Graduate and Postdoctoral training. NBEMS has been successfully administering NEET-PG, NEET- SS and NEET-MDS examinations year after year. NBEMS has also accredited more than 1100 hospitals with more than 12,000 PG seats in various specialities.
Officials of the Ministry of Health and Family Welfare, Abhijath Seth, President, NBEMS, Dr Minu Bajpai, Honorary Executive Director, NBEMS, Members of the governing body of NBEMS were also present at the event.
****
MV
HFW/HFM inaugurates the Exam Command Center at the National Board of Examinations in Medical Sciences/29thJune2023/1