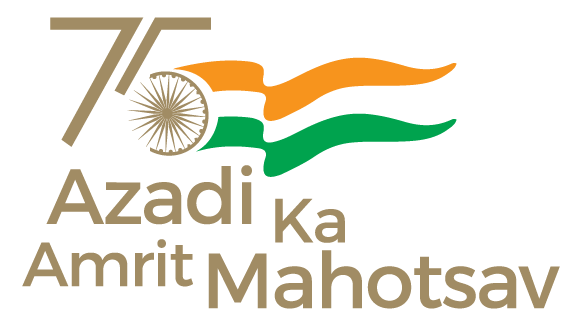 Union Minister of Health & Family Welfare and Chemicals & Fertilisers Dr. Mansukh Mandaviya inaugurated a two days Chintan Shivir on "Drugs: Quality Regulations & Enforcement", here today. He was joined by Dr Bharati Pravin Pawar, Minister of State for Health and Family Welfare, Shri Bhagwanth Khuba, Minister of State for Chemical and Fertilisers, Dr VK Paul, Member (Health), NITI Aayog and Shri Sanjay Bhatia, Lokayukta, Upa-Lokayukta Maharashtra. Health Secretaries & Drug Regulators from various States/UTs are participating in the brainstorming conclave.
In his inaugural address, Dr. Mansukh Mandaviya underlined the focus of the deliberative forum, "The Chintan Shivir is a platform for all the stakeholders in the pharma and health sectors to deliberate on pathways for cohesive and synergistic approaches for building robust and resilient regulatory systems. Various agencies across the Centre and states, public-private divide form important components of ensuring that pharmaceuticals manufactured in the country and consumed by domestic and international consumers are of the highest quality and adhere to standard global manufacturing protocols. This will ensure that India's fame as "Pharmacy of the World" is upheld and we provide pharma products of the highest quality to the consumers".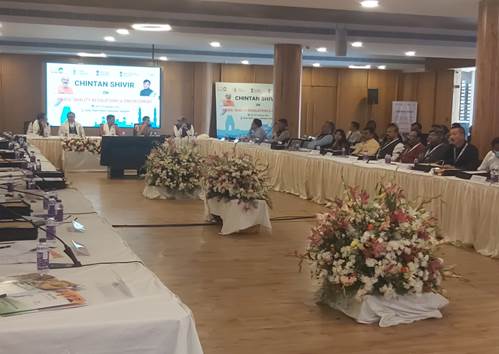 The Union Health Minister highlighted that "it is of critical importance to ensure that the regulatory mechanisms of the country are of impeccable standards which are sustained over  time and space. This is possible when the Central Ministries and state bodies work in a spirit of cooperative federalism, building on the strengths of one another and working jointly to remove loopsholes in the regulatory systems". He encouraged the participants to share their knowledge and insights from their field level experience to enrich the discussions over the two days of collaborative brainstorming.  "The challenges we face can be collaboratively addressed by pooling of our collective experience. The manthan at the end of these two days will provide rich knowledge to build strong, sturdy, resilient and people- friendly mechanisms", he stated.
"How can we ensure that the confidence of the consumers of pharmaceuticals manufactured in India is upheld? I urge all the stakeholders to steadfastly work towards making the Indian drugs regulatory system among the best in the world, which could be emulated by other countries", he exhorted the participants.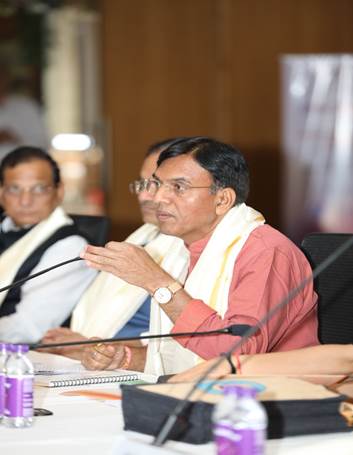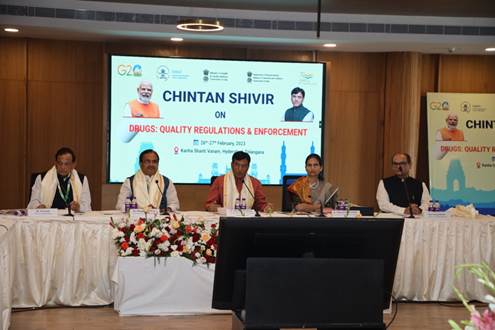 The Chintan Shivir is organised by the Union Ministry of Health and Family Welfare (MoHFW) in collaboration with the Department of Pharmaceuticals (DoP). The event brought together all the stakeholders viz; MoHFW, DoP, States/UTs Health Secretaries, States/UTs Drug Controllers, Industry associations etc. on a common platform. The participants at the conclave will brainstorm on various facets of producing a sturdy and resilient regulatory system. These include sessions on building of trust and confidence on quality of drugs in the domestic and global market; review predictability; transparency & accountability in the regulation of quality of drugs; effective enforcement of quality, safety and efficacy at the field level; ensuring compliance to Indian pharmacopeia & standards; to develop robust network for Pharmacovigilance and Materiovigilance programs; creation of a unified IT platform for all regulatory activities; to assess regulatory capacity across the States and Centre along with to promote 'Ease of Doing Business'; and capacity building at the level of the States and National Regulators for regulation of pharmaceuticals and medical devices.
The participants expressed their gratitude to the Union Health Minister for inviting them to this brainstorming session and providing them the unique opportunity to share their thoughts, suggestions and insights to build a national pharma regulatory framework which could be upheld as the best globally.
Shri Rajesh Bhushan, Union Health Secretary, Smt. S Aparna, Union Pharma Secretary, Dr Rajiv Bahl, Secretary, Department of Health Research, Shri S Gopalakrishnan, Special Secretary, Union Health Ministry, Shri G Kamala Vardhana Rao, CEO, FSSAI, Dr Atul Goel, Director General of Health Sciences and Dr Rajeev Raghuvanshi, Drug Controller General of India were present on the occasion. Shri Rajiv Wadhawan, Joint Secretary, Ministry of Health & Family Welfare, Dr N Yuvaraj, Joint Secretary, Ministry of Chemical & Fertilizers and other senior officers and representatives from the Ministry of Health and Family Welfare, NITI Aayog, NPPA, DGHS, ICMR, NIPERs, Central Drug Laboratories also participated in the two-day long conference.
****
MV
HFW/HFM Drugs Chintan Shivir-Hyderabad/26th Feb 2023/2