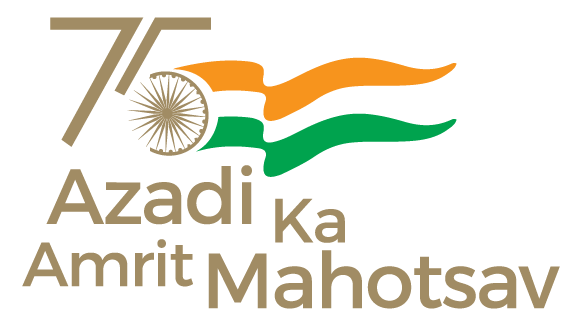 Union Minister of Fisheries, Animal Husbandry & Dairying, Shri Parshottam Rupala led the Sagar Parikrama Phase VIII along with Minister of State, Dr L Murugan in the presence of Secretary, DoF, Dr. Abhilaksh Likhi, Joint Secretary, Smt. Neetu Kumari Prasad and Chief Executive, National Fisheries Development Board, Dr. L.N Murthy.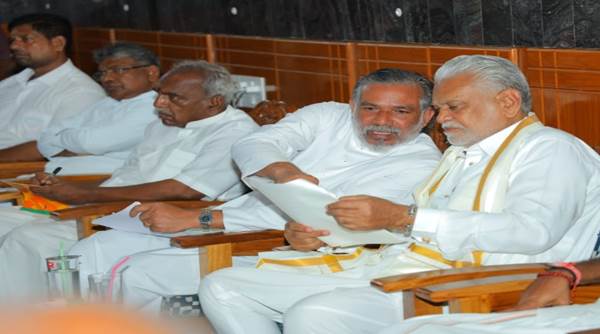 Sagar Parikrama Phase VIII program began with a warm welcome of Shri Parshottam Rupala by fishermen and women and moved forward to Muthalapozhy fishing Harbour and Vizhinjam Fishing Harbour of Thiruvananthapuram district. Shri Parshottam Rupala interacted with fishermen to gain insights into their way of life and livelihood. This interaction involved open conversations where the fishermen shared their experiences, challenges, and aspirations such as expansion of Harbour at Vizhinjam Fishing Harbour as the number of boats has increased. Union Minister (FAHD) discussed about the Muthalapozhy breakwater structure, and deliberated on design which is being re-evaluated to implement necessary corrective measures under PMMSY initiative. Shri Rupala shared that the primary goal of such interactions is to bridge the gap between policymakers and the people directly affected by those policies. Approximately 200 fishermen participated at Muthalapozhy fishing Harbour and 150 fishermen participated at Vizhinjam Fishing Harbour.
Further, Shri Parshottam Rupala along with Dr L Murugan visited and inspected the production units for Silver Pompano at CMFRI. Shri Rupala advised to put up big production units to maximize the outputs.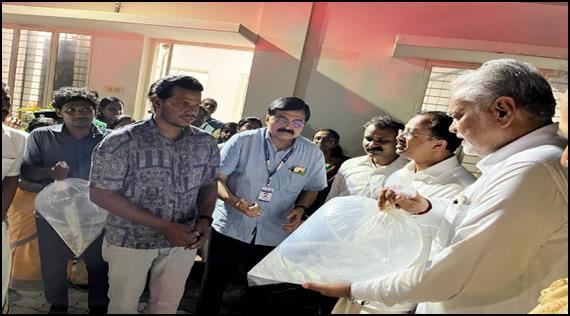 Following this, Union Minister (FAHD) led delegation of dignitaries and senior officials visited Kanyakumari district. Apart from Dr L Murugan, Hon'ble Minister of State FAHD, Nagercoil Legislative Assembly Member Gandhi and former Union Minister Mr. Pon were also present at the event. In subsequent interactions at the coastal villages fishermen urged the Ministers on various demands such as Marine Ambulance, rescue facility for fishermen by helicopter, increasing insurance for fishermen to Rs.10 lakh and improvement of infrastructure for fishing including provision of Radio phones and communication centers. Various scheme beneficiaries, fishermen, fisherwomen, fish farmers and boat owners shared their on-ground experiences and life stories with the delegation. Fishermen also expressed happiness on tremendous contribution of various government schemes like PMMSY and KCC on their livelihoods.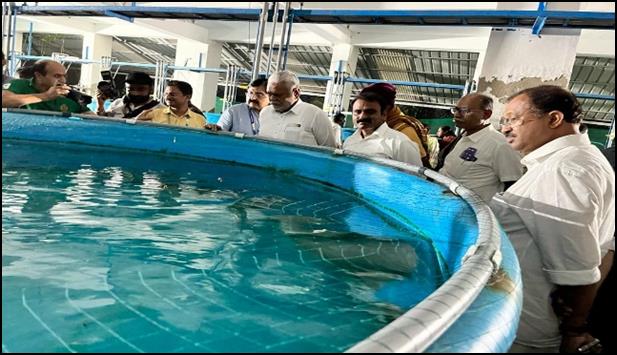 Union Minister Shri Rupala assured that the demands of the fishermen will be considered and appropriate action will be taken on each one of them. He thanked fishermen for discussing the challenges and informed that study will be conducted for improvement in fisheries related parameters. Further he informed that due to high demand of fishermen from all over the country to support them in improving their livelihood, Prime Minister established separate department of fisheries. The investment in fisheries sector has been made for the development of fisheries sector by understanding the ground realities. Shri Rupala also appreciated the contribution of the villagers in the fisheries sector and talked in detail about eliminating the critical gaps in the value chain of fisheries.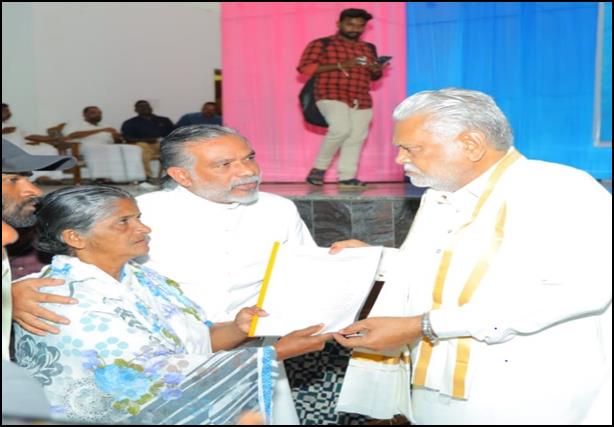 In addition, Shri Parshottam Rupala requested the beneficiaries to come forward and use the benefits of KCC for fish farmers and allied activities. He also requested volunteers to help in creating awareness of the schemes such as PMMSY, KCC so that the beneficiaries can take benefit of the same.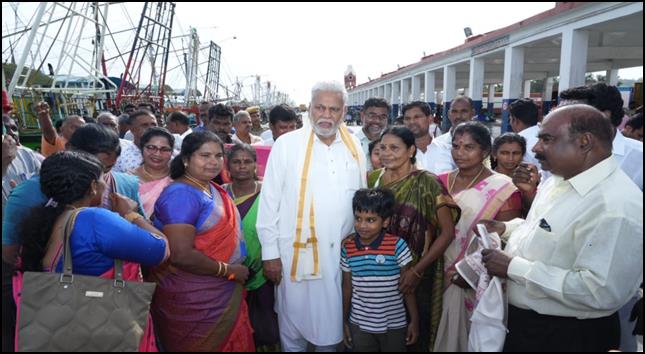 MoS, Dr L Murugan enlightened on seven phases of Sagar Parikrama to great reception and satisfaction of the fishermen and women. Further, he highlighted that Tamil Nadu holds a huge potential for the marine fisheries in the country as well as being a leader in appropriate marine fishing regulations, maintenance of the proper hygiene and sanitation in the marine fish landings and technology infusion. He said that India is at 4th place in the world in Marine food export. He also shared with contentment that Kaimedu Harbour, Chennai is now modernized and in last 9 years Rs 38,500 Cr have been allotted for development of fishermen community. He thanked fishermen, fish farmers, beneficiaries, coast guard officers for sharing their suggestions for enhancing fisheries sector.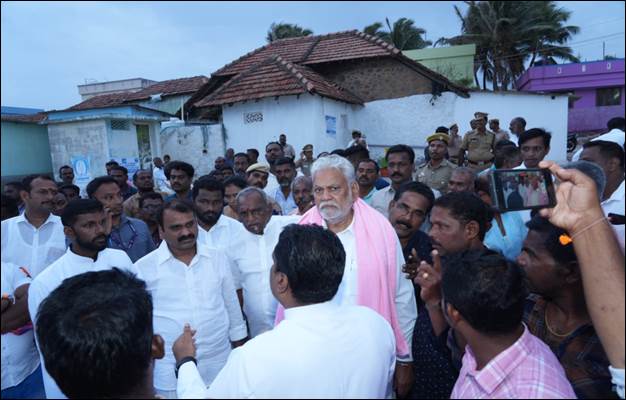 Later in the day, a stage program is planned at Kanniyakumari where Shri Parshottam Rupala along with other dignitaries would interact with about 700 fishermen, distribute various benefits to over 160 beneficiaries and address the gathering.
Fisheries and aquaculture are major sources of food and nutrition, as well as employment, money, and foreign exchange. India has a diversified aquatic resource base and produces a wide range of fish. This important sector in India provides livelihood, employment, and entrepreneurship opportunities to around 2.8 crore fishers and fish farmers at the primary level, as well as many lakhs farther up the value chain. India is the third largest fish producing country, accounting for around 8% of global fish production. Globally, India ranks first in shrimp culture and second in aquaculture fish output.
Aim of Sagar Parikrama is Fishing for a better tomorrow, and this is where livelihood meets sustainability. Sagar Parikrama Yatra is a one-of-a-kind mega fisher's outreach initiative led by Union Minister of Fisheries,Animal Husbandry and Dairying that began in March 2022 and would span around 8000 kilometres of India's coastline. The Yatra's goal is to meet fishers at their doorsteps, hear their difficulties and grievances, witness village level ground realities, encourage sustainable fishing, and ensure that government subsidies and initiatives reach the final mile. So far, the Yatra has covered seven phases across coastal states/UTs ranging from Mandavi in Gujarat to Vizhinjam in Kerala.
The Department of Fisheries,Ministry of Fisheries, Animal Husbandry and Dairying, Government of India, and National Fisheries Development Board along with the Department of Fisheries, Government of Kerala, Government of Tamil Nadu, Indian Coast Guard, and fishermen representatives are organizing as well as actively participating in the the Sagar Parikrama Phase VIII which started on 30th Aug 2023 from Vizhinjam, Kerala. In Vizhinjam, the parikrama covered Muthalapozhy Fishing Harbour, Vizhinjam Fishing Harbour and CMFRI Centre and moved along the coast to Kanyakumari District, Tamil Nadu. The Sagar Parikrama Phase VIII Yatra will proceed across coastal regions of Tamil Nadu covering Thengapattanam, Thoothoor, Valavalli, Karumpanai, Vaniyakudi, Colachel, Muttom, Uvari, Periathalai, Veerpandiyan Pattinam, Tharuvaikulam, Mookaiyur, Rameshwaram, Mandapam and Valamavur villages, covering 4 coastal districts of Kanniyakumari, Tirunelveli, Thoothukudi and Ramanathapuram. Other coastal districts like Thiruvallur, Chennai, Kancheepuram, Villupuram, Cuddalore, Thiruvarur, Karaikal and Puducherry Union Territory shall also be covered in upcoming sub-phases of Sagar Parikrama.
****
SK/SS/SM