Work has begun for the distribution of Gangajal through cooperatives, which will enable devotees of Maa Ganga across the country receive Gangajal at home and will also open the way for their salvation
Kedardnath was severely damaged, Prime Minister shall inaugurate a huge idol of Lord Adi Shankaracharya there on November 5
Construction of all-weather four-lane road of 890 kms for Chardham at an expenditure of Rs.11,680 crore is nearing completion
In this small state in 5 years, Shri Modi has brought investment of Rs. 85,000 crore
There is not a house in Uttarakhand that does not have a Jawan in the Army or the Central Armed Police Forces, soldiers of Uttarakhand have always made supreme sacrifice to protect the country
Previous government, that was in power for 70 years, never spoke about One Rank One Pension for Jawans, when you elected Shri Modi as Prime Minister, he ended issue of One Rank One Pension in 2016 immeditely to give lakhs of Jwan's their rights
We believe in development, we know the pain of the poor because it is our leader who has reached this level from a poor family of a tea seller
The Union Minister of Home Affairs and Minister of Cooperation, Shri Amit Shah launched the Mukhyamantri Ghasiyari Kalyan Yojana and computerization of cooperative societies in Dehradun, Uttarakhand today. Many dignitaries including the Chief Minister of Uttarakhand, Shri Pushkar Singh Dhami and Union Minister Shri Ajay Bhatt were present on the occasion.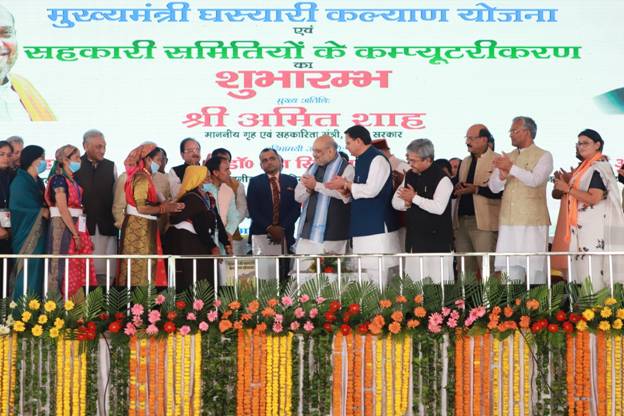 On this occasion, the Union Home Minister said that Shri Atal Bihari Vajpayee created Uttarakhand and many youths were martyred while making the demand for creation of Uttarakhand. Our party was also in support of demand of the youths of Uttarakhand at that time. Shri Shah said during his last visit to the state, that Shri Atal Bihari Vajpayee had created Uttarakhand and Shri Modi will develop it, and there will be all round development of thebstate.
   The Union Home Minister said that today three programs have been started. First, work of computerization of all the PACS (Primary Agricultural Credit Society) of Uttarakhand has been completed today. With computerization, PACS members do not have to deal with any scams. Computerization helps in direct linkage of PACS with district banks, district banks with state cooperative banks and state cooperative banks with NABARD and all schemes of farmers reach farmers directly through PACS. Very few states in the country have been able to accomplish this task so far. He said that under the leadership of Prime Minister Shri Narendra Modi, the Government of India is preparing an action plan, under which efforts will be made to computerize all the PACS across the country and link them with District Banks, State Co-operative Banks and NABARD.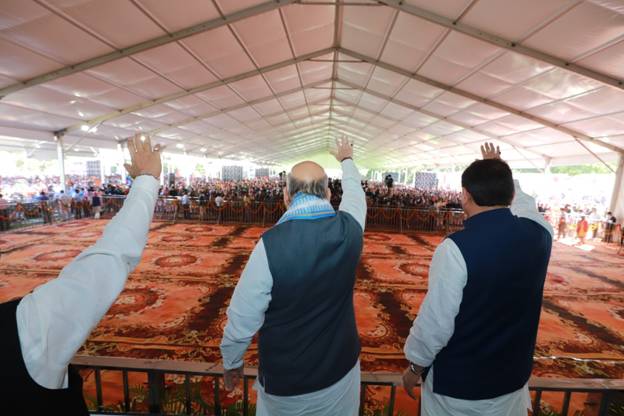 Shri Amit Shah said that the second major work that has been done today is the launch of Mukhyamantri Ghasiyari Kalyan Yojana. We know that women face great difficulty in providing fodder for animals in the hills in adverse weather conditions. Here about 2,000 farmers will cultivate maize on about 1,000 acres of land and a plan has been made to make nutritious animal feed in a scientific way, which will benefit about one lakh farmers. He said that the third work that has been done today is the inauguration of the Cooperative Training Center. These cooperative training centers are very important to take cooperative movement forward. The cooperation movement was weakened by previous governments, but Prime Minister, Shri Narendra Modi has done a great job for the welfare of crores of farmers, women, workers and fishermen who are associated with cooperatives, by creating a new Ministry of Cooperation in the year we are celebrating Azadi Ka Amrit Mahotsav. He said that no one remembered for years what would happen to small and medium farmers, fishermen, women and men engaged in animal husbandry, if the cooperative movement did not take shape. But, Shri Modi  is from a poor family and the pain of the poor is close to his heart. Cooperation cannot be promoted without training. Under the Mukhyamantri Ghasiyari Kalyan Yojana, animal feed will be given at the rate of two rupees per kg on 30 percent subsidy and as a result, women will be saved from many calamities.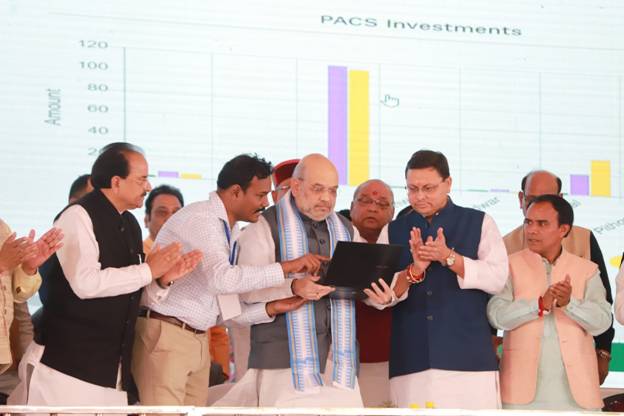 Shri Amit Shah asked where was the opposition in the state at the time of floods and during the COVID,-19 pandemic. But as soon as the elections come, they start holding demonstrations and press conferences on different issues. He said that the opposition is synonymous with corruption and scams and cannot work for welfare in any state. Shri Shah said that it can neither think about the poor nor provide good administration, and only his party can work for the welfare of the poor and provide good administration under the leadership of Shri Modi. He said he had come here during the elections in 2017 and we have fulfilled over 85 percent of the promises made in the party manifesto that time. He said that the opposition has a habit of breaking promises and they enjoy power by wresting it and can never execute any welfare work.
Shri Shah said that the opposition wants to gain power and use it and never works for welfare of the people. He said that those who believe in appeasement can never work for welfare of Uttarkhand. Shri Shah said the previous government did not do any good work for Uttarakhand and the winds of development came to the state only when the people of Uttarakhand elected his party with full majority. He said Shri Modi has laid a new path of complete development by taking three Chief Ministers of the state along and due to this Uttarakhand is moving forward.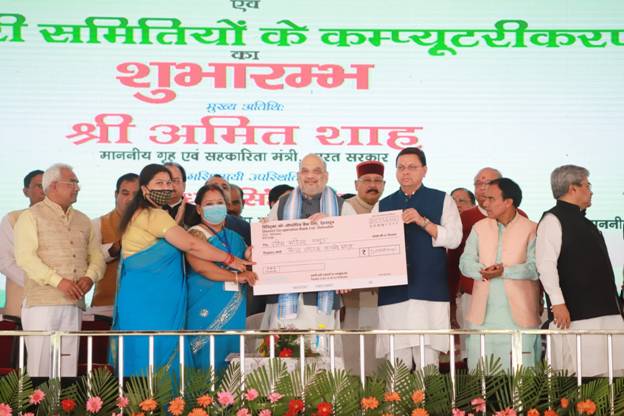 The Union Home Minister and Minister of Cooperation Minister said that during COVID-19 pandemic, the government of Uttarakhand has worked to save people living in far-flung areas. The states that achieved 100 percent vaccination before others include Uttarakhand. Oxygen plants were set up, new hospitals were opened and bed capacity was increased. He said the Third wave did not hit the state, but yet the government of Uttarakhand made preparations. Shri Shah also said that the Chief Minister immediately returned from Ayodhya after receiving information from the Government of India about the recent natural calamity. Not a single person lost his life in the disaster. He said the rescue operation started on the second day, when he held a review meeting and came to know that most of the work had started. Wherever he went for an aerial survey, the Chief Minister, Chief Secretary and DGP had complete knowledge about the problems of the places being surveyed and where improvements have to be made. Shri Shah said where there is such a conscious government, development takes place automatically.
Shri Amit Shah said work has begun for distribution of Gangajal through cooperatives, which will enable devotees of Maa Ganga across the country receive Gangajal at home and will also open the way for their salvation. Shri Shah said Kedardnath was severely damaged, and the Prime Minister shall inaugurate a huge idol of Lord Adi Shankaracharya there on November 5 and shivalayas across the country have been connected with it. Construction of all-weather four-lane road of 890 kms for Chardham at an expenditure of Rs.11,680 crore is nearing completion.   Shri Amit Shah said that Badrivishal and Kedardham are not only the pride of Uttarakhand but of India also, and should have been rebuilt. He informed that an investment of 20,000 crore for the Amritsar-Kolkata Industrial Corridor, Rs 24,659 crore for a new rail line of 125 kms between Rishikesh and Karnprayag, Rs 2,500 crore for four laning of the National Highway Nagina-Kashipur, Rs. 757 crore for National Highway 74, Rs. 3,860 crore on Vishnugarh-Peepalkoti Hydroelectric Project, Rs. 5,867 crore on Tapovan-Vishnugarh Hydroelectric Project and Rs. 4,825 crore on Tehri Pump Storage Plant has been done. In this small state in 5 years, Shri Modi has brought investment of Rs. 85,000 crore.
Shri Shah said that the people of the state should be given an account of what the previous Central government had done for Uttarakhand in 10 years. He said that under the leadership of Shri Modi and the leadership of Shri Pushkar Dhami, only the current government can work for the betterment of  Uttarakhand and no one else can. Shri Shah said that Shri Atal Bihari Vajpayee had created Uttarakhand, and it is our moral obligation to develop it. There was no gas, electricity and toilets in poor women's houses in Uttarakhand, this has now been    done by Shri Narendra Modi.
The Union Home Minister and Minister of Cooperation said the health card of Rs 5 lakh to every household of Uttarakhand have been given and it is the government's resolve to provide water from taps to every house in Uttarakhand which has a difficult terrain.  He said by 2022, pure drinking water would reach every household through taps and women would be provided pure drinking water. The poor could not get bank accounts in 70 years and Prime Minister Shri Narendra Modi  has worked to open 45 crore bank accounts.
The Union Home Minister said there is not a house in Uttarakhand that does not have a Jawan in the Army or the Central Armed Police Forces, and soldiers of Uttarakhand have always made the supreme sacrifice to protect the country. Previous governments, which were in power for 70 years, never spoke about One Rank One Pension for Jawans, but when Shri Modi was elected Prime Minister, he ended the issue of One Rank One Pension in 2016 immediately to give lakhs of Jawan's their rights. We believe in development, we know the pain of the poor because our leader who has reached this level from a poor family of a tea seller.  
*****
NW/RK/AD/RR/DDD