Review of the National Hydrology Project (World Bank supported initiative of Ministry of Jal Shakti) was carried out by Minister, Jal Shakti Shri Gajendra Singh Shekhawat and Minister of State, Shri Rattan Lal Kataria.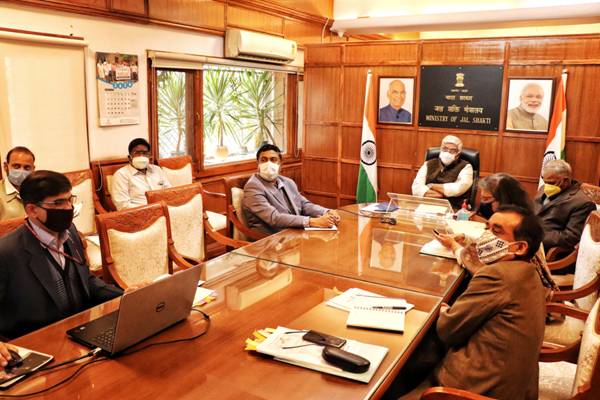 National Hydrology Project (NHP) was started in the year 2016 as a Central Sector Scheme with 100% grant to Implementing agencies on pan India basis with a budget outlay of Rs 3680 Crore to be spent over a period of 8 years. The project aims at improving the extent, reliability and accessibility of water resources information and to strengthen the capacity of targeted water resource management institutions in India. Thus NHP is facilitating acquisition of reliable information efficiently which would pave the way for an effective water resource development and management.
 The Project, in its mid-term, has made significant progress in the fields of Water resource monitoring system, water resource information system (WRIS), water resource operation and planning systems and institutional capacity enhancement. Minister Jal Shakti Sh. Gajendra Singh Shekhawat informed that under the NHP, a nationwide repository of water resources data – NWIC has been established. NHP is focusing on establishment of real time data acquisition system (RTDAS) on pan India basis. As on date, contracts for establishment of 6500 real time hydro-meteorological (meteorological – measuring rainfall and other weather parameters and hydrological – measuring water level and discharge) stations have been awarded out of which, 1900 stations have been installed which would be shortly contributing data to the centralised data base.
The Real time data acquisition system, the near real time data acquisition system and the manual data acquisition stations would complement each other and would lay a strong foundation for informed decision making for better water resources management. All such data would be available through web enabled India WRIS which is being upscale under the NHP.
The major success has been bringing all the states on board for sharing of water resources data on a centralized platform – a task hitherto left unaccomplished by previous Governments. He apprised that through the NHP, the management of water resources shall witness a sea change since it will adopt an integrated approach and make use of cutting edge technology.
He mentioned that the analytical tools and knowledge products being developed under the NHP such as streamflow forecasting with a long lead time of four weeks, upscaling of flood forecasting to include inundation mapping, sediment transport modelling, framework for water resources assessment, reservoir optimization, glacial lake atlas, Web enabled GIS based spring inventories etc. have the capability of instilling a paradigm shift in the way water resources are being managed. Supervisory control and data acquisition (SCADA) systems are being Page 2 of 2 installed on selected projects for automation of water release process based upon real time data. Minister Jal Shakti, Shri Gajendra Singh directed authorities to share the valuable works carried out under NHP in public domain and encourage academia, universities/ research institutes globally to contribute towards this initiative. Simultaneously, he stressed upon the need to further improve the water resources dissemination platform India- WRIS to take care of the requirements and aspirations of various stakeholders.
Minister of State of Jal Shakti Shri Rattan Lal Kataria termed the NHP as a project of National importance since it establishes a Nationwide 'Nodal' 'one point' platform for all states to collaborate and share data pertaining to water resources. He stated that collecting data from scattered agencies posed a major bottleneck in effective water resource management and also a stumbling block in important policy level decision making. Acknowledging progress made in data collection, he informed that since the initiation of NHP, 12,273 surface water stations have been mapped in the Water Resources Information System compared to mere 878 in the year 2016. In addition, within a span of 4 years 70,525 ground water stations have also started sharing data.
Pointing to the lackadaisical approach of previous Governments, he stated that data is a valuable resource and lack of interest shown by previous Governments has resulted into unavailability of reliable historic data. A lot of data-driven developments are expected to follow naturally over the course of time in the government as well as the private sectors and academic and research institutions, that hold the potential of transforming the water sector of the country from an age-old experience-based system depending largely on personal judgement to an optimised, transparent system where it is possible to holistically assess the impact of decisions across the sectors in advance, before they are actually made.
****
BY/MG/AS