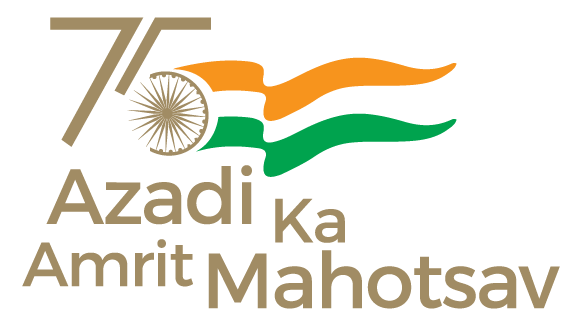 Union Minister for Youth Affairs and Sports Shri Anurag Thakur launched month long nationwide campaign Swachh Bharat 2022 from Prayagraj in UP today. Shri Thakur participated in cleanliness drive on Sangam beach in Prayagraj with Nehru Yuva Kendra, National Service Scheme volunteers and a large number of other people. The swachhta Pledge was also administrated on this occasion. Secretary Department of Youth Affairs and Sports Shri Sanjay Kumar and other officers of the Ministry were also present on this occasion.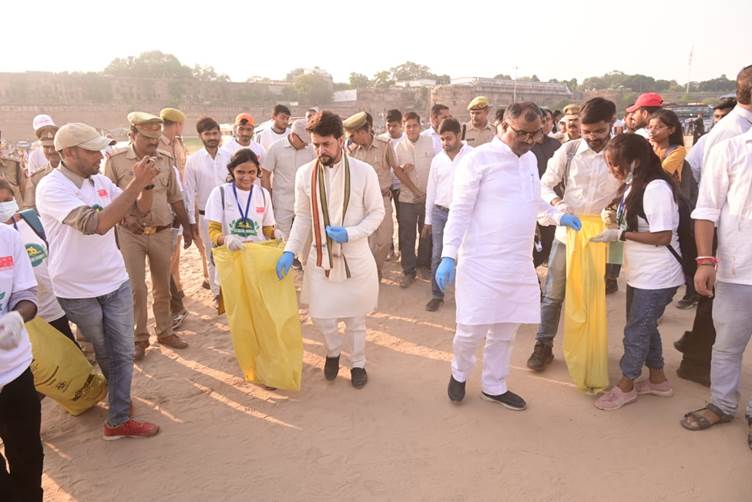 Speaking on the occasion, Shri Thakur informed that a similar campaign was organised last year which far exceeded its target of collection and disposal of 75 lakh kg plastic wastes and so this year Department of Youth Affairs has set a target of collecting and disposing of 1 crore kg plastic waste through Swachh Bharat 2022.
Shri Thakur added that one of the 'Panch Pran' announced by the Prime Minster Shri Narendra Modi during the Independence day speech this year was the goal of a developed India, so without clean India we cannot fulfil the dream of a developed India.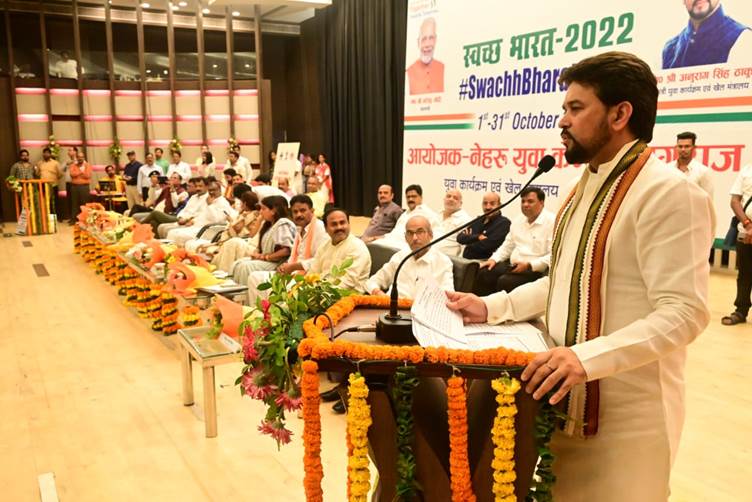 The Union Minister said that plastic does not decompose, which causes various types of diseases and problems. He said that country has to be saved from plastic and everyone has to fulfill the responsibility of saving Mother Earth together. He also added that the incidence of disease can be reduced substantially by adopting cleanliness as a way of life.
"स्वच्छ भारत अभियान में हम विभिन्न क्षेत्रों में, शहरों गांवों कस्बों में जाने का काम करेंगे। @Nyksindia, @_NSSIndia के हमारे वॉलंटियर्स, शहरों के अधिकारी कर्मचारी हम सब मिलकर इन प्लास्टिक की वस्तुओं से सबको निजात दिलाने का कार्य करेंगे"

-श्री @ianuragthakur, #SwachhBharat2022 pic.twitter.com/Rtc29Yn7Fm

— Office of Mr. Anurag Thakur (@Anurag_Office) October 1, 2022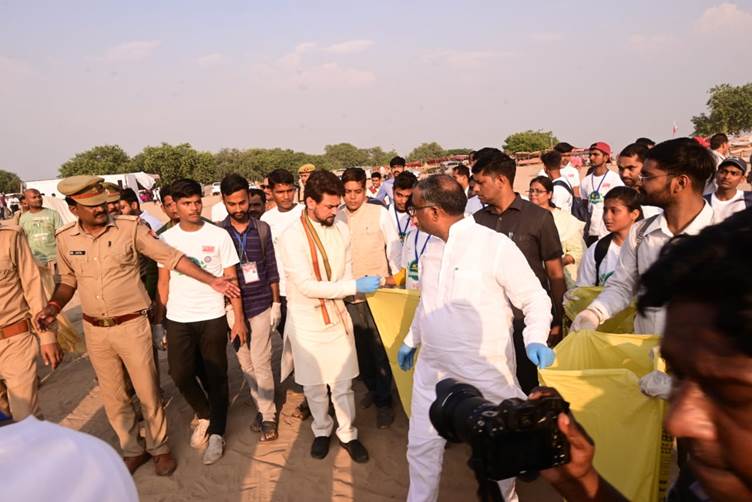 Shri Thakur said that Swachh Bharat 2022 programme is being organised in 6 Lakh villages of 744 districts across the country through the network of Nehru Yuva Kendra Sangathan (NYKS) affiliated Youth Clubs & National Service Scheme Affiliated Institutions. This is not just a program but a serious attempt to make people realize the importance of cleanliness.
"पिछले साल 75 लाख किलो प्लास्टिक कचरे के निपटान का लक्ष्य था उससे कई गुना ज्यादा आपने इकट्ठा किया। प्रधानमंत्री @narendramodi ने अगले 25 वर्षों के लिए जब 'इंडिया@100' होगा, युवाओं से कहा इस 'अमृत काल' में हमें विकसित भारत के बड़े लक्ष्य की दिशा में काम करना है"

–@ianuragthakur pic.twitter.com/IhtMl9wR2p

— Office of Mr. Anurag Thakur (@Anurag_Office) October 1, 2022
The objectives of the Swachh Bharat 2022 programme are to organize cleaning of public spaces and households across all the districts of the country from 01st October to 31st October 2022, involve all segments of society, Government organizations including PRIs and Non- Government Organizations, to instil awareness and feeling of pride among citizens to keep their surroundings clean and waste free. Along with this campaign will give mantra of "Swachch Kaal: Amrit Kaal" and make this program a People's Movement through Jan Bhagidari.
******
NB/OA