The Union Minister Shri G. Kishan Reddy attended the national launch ceremony of Azadi Ka Amrit Mahotsav se Swarnim Bharat Ke Ore on 20th January at 10:30 AM via video conferencing. The Keynote address was delivered by the Prime Minister Shri Narendra Modi.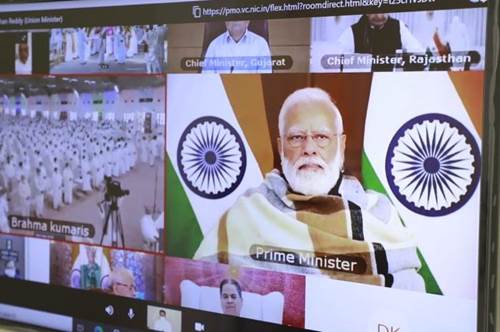 The dignitaries who attended the program included Lok Sabha Speaker, Shri Om Birla, Governor of Rajasthan, Shri Kalraj Mishra,  Chief Minister of Rajasthan Shri Ashok Gehlot, Chief Minister of  Gujarat, Shri Bhupendra Bhai Patel, Union Minister for Labour and Environment Shri Bhupendra Yadav, Union Minister of State for Culture and Parliamentary Affairs for Culture and Parliamentary Affairs, Shri Arjun Ram Meghwal, Union Minister of State for Agriculture and Family Welfare for Agriculture and Family Welfare Shri Kailash Chaudhary, Leader of Opposition in the in the Rajasthan Vidhan Sabha Shri Gulab Chand Kataria along with other members of the Brahma Kumaris organisations.
The program unveiled the year-long initiatives dedicated to Azadi Ka Amrit Mahotsav of Culture Ministry in partnership with  Brahma Kumaris, under  Azadi Ka Amrit Mahostav se Swarnim Bharat ke Ore  and includes more than 30 campaigns and over 15000 programs and events that will be organised across the globe.
ब्रह्मकुमारी संस्था के द्वारा 'आज़ादी के अमृत महोत्सव से स्वर्णिम भारत की ओर', कार्यक्रम की शुरुआत हो रही है।
इस कार्यक्रम में स्वर्णिम भारत के लिए भावना भी है, साधना भी है।
इसमें देश के लिए प्रेरणा भी है, ब्रह्मकुमारियों के प्रयास भी हैं।
PM @narendramodi#आजादी_का_अमृत_महोत्सव pic.twitter.com/HFkipIH1Ep

— G Kishan Reddy (@kishanreddybjp) January 20, 2022
The Union Minister Shri G Kishan Reddy lauded the efforts of the organisation and said, "Brahma Kumari organisation has done commendable work in the field of religion, culture and spirituality in 140 countries in the last 88 years. They have shown the path of peace and spirituality to crores of people and there is no area of society where they are not serving the people and the country. Programs being organised by the Brahmakumaris under Azadi Ka Amrit Mahostav se Swarnim Bharat ke Ore will showcase India's rich culture, heritage and glorious past at a global stage across the world". He added "Under the leadership of Shri Narendra Modi ji Azadi ka Amrit Mahotsav is a vision to take India's cultural heritage and glorious civilization to the world and work towards fulfilling the resolve of Ek Bharat Shreshtha Bharat.". 
Shri G Kishan Reddy also emphasised the role of the Ministry of Culture for organising different competitions and events under Azadi ka Amrit Mahotsav at centre, state and international levels. He said, "Azadi Ka Amrit Mahostavis one of the longest running festivals in the world and is being organised by the Government of India, respective state governments and various organisations, at a global stage with large scale public participation. Lakhs of people from different parts of the country are coming together and promoting the local for vocal in all these events. This mahotsav also recognises the sacrifices of thousands of revolutionaries who sacrificed their lives for the freedom movement. ".
Live: Hon'ble PM Shri @NarendraModi keynote address at the launch ceremony of 'Azadi Ke #AmritMahotsav se Swarnim Bharat Ke Ore'.#आजादी_का_अमृत_महोत्सवhttps://t.co/3JkfiTNWXf

— G Kishan Reddy (@kishanreddybjp) January 20, 2022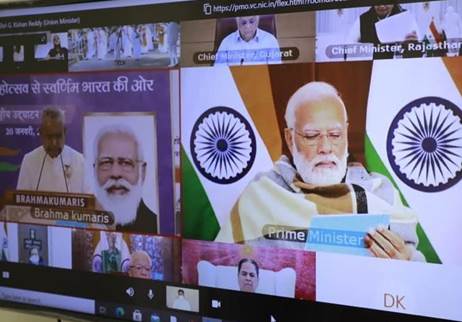 "Today Shri Narendra Modi is moving ahead with the mantra of Sabka Saath, Sabka Vikas, Sabka Vishwas, Sabka Prayas and India is being hailed across the world", he added. The Union Minister requested all cultural, spiritual and social service organisations to come together and organise events under Azadi Ka Amrit Mahotsav to instil patriotism and awaken national pride amongst fellow Indians. He said, "I want to appeal to all the other social organisations along with teachers, scientists and intellectuals of the country to come together and contribute in realising the Prime Minister's vision of Idea 2047 and make Azadi Ka Amrit Mahotsav a grand success". 
****
NB/SK