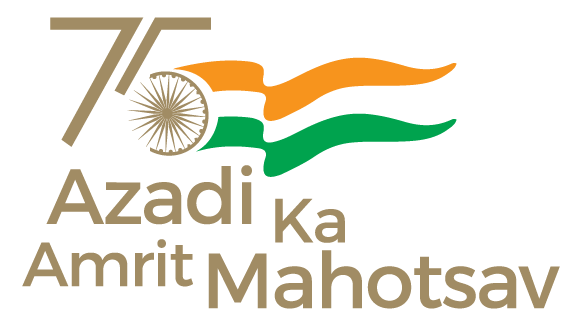 CSIR-National Institute of Science Communication and Policy Research (NIScPR), New Delhi, in association with the SVASTIK team, started a week-long celebration as part of International Day of Yoga 2022. On this occasion, a seminar on "Scientific Understanding of Yoga" was organized on 17th June 2022 through a virtual platform. Dr Charu Lata, Senior Scientist, CSIR-NIScPR and coordinator of the SVASTIK project made introductory remarks. She explained the history of yoga and the role played by Hon'ble Prime Minister Shri Narendra Modi in bringing it to the global platform.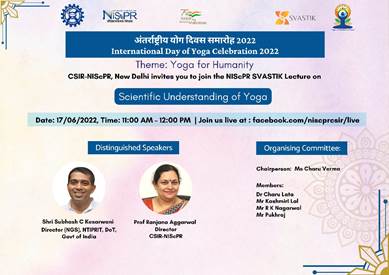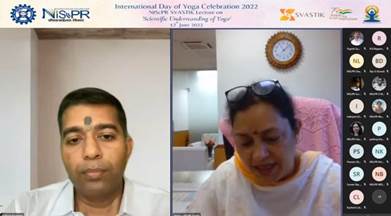 Prof. Ranjana Aggarwal, Director, CSIR-NIScPR welcomed the guest and other dignitaries. In her address, she stressed that yoga enables us in balancing of body, mind and human relationship with the world. Mindfulness, moderation, discipline, and perseverance are all values emphasized in yoga. When applied to communities and societies, yoga provides a way to long-term sustainability. She mentioned that large-scale genomic studies had validated the positive impact of meditation on human well-being. She noted that in keeping with the spirit of this year's theme, "Yoga for Humanity," CSIR-NIScPR is planning a week-long celebration to sensitize the public about yoga's benefits to leading a healthy life. Prof. Ranjana also spoke about the SVASTIK initiative of CSIR-NIScPR that is aimed at communicating India's traditional knowledge with scientific basis to the society through popular channels.
The lead lecture was delivered by noted yoga expert Shri Subhash Kesarwani, Director (NGS), NTIPRIT, DoT, Govt. of India. In his address, Shri Kesarwani emphasised on keeping the body free of toxins and the mind free of tensions by practising yoga. He discussed a healthy food regimen and a regular exercise routine to improve the body's immunity and strengthen it to fight diseases. The lecture was followed by an interactive session, where participants clarified doubts regarding various yoga practices with the yoga expert Shri Kesarwani.
The program concluded with a vote of thanks by Ms. Charu Verma, Senior Principal Scientist, CSIR-NIScPR. The programme was attended by staff and students of CSIR-NIScPR and was live-streamed on Facebook and youtube.
<><><><><>
SNC/RR