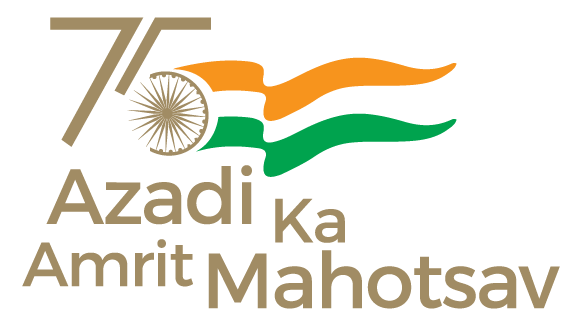 Under the aegis of Azadi ka Amrit Mahotsav and the W20 Janbhagidari event, themed "Women-led Sustainable Development through Dairy Cooperatives," was held in Anand, Gujarat . The event witnessed the active participation of esteemed guests, experts, and women leaders from the dairy sector.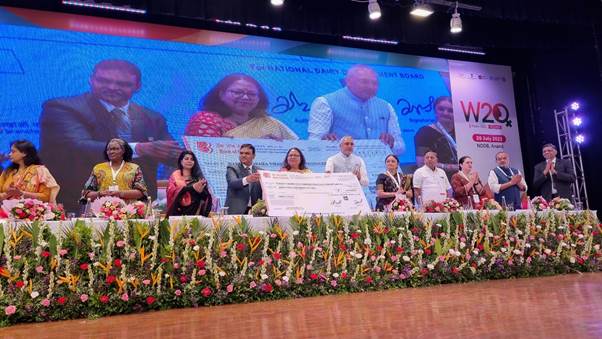 Shri Parshottam Rupala, who addressed virtually, emphasized the role and importance of women in the dairy sector, mentioning their contribution to value-added product manufacturing, and highlighted that 18 dairy cooperatives are currently operated by women.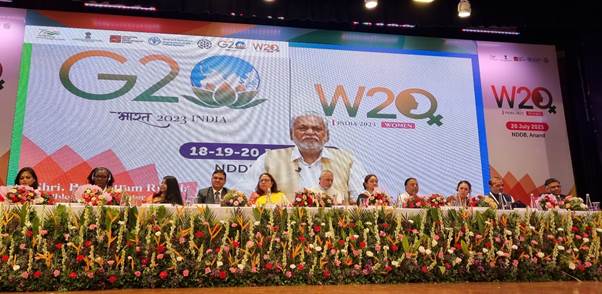 Smt. Alka Upadhyaya, Secretary of AHD, emphasized the significant contribution of women to the white revolution, with 70 percent of the workforce in the dairy sector being women. She also mentioned that the new A-HELP (Accredited agent for Health and Extension of Livestock Production) initiative, which involved community-based women activists bridging the gap between local veterinary services and livestock owners while providing primary services. She also highlighted the significance of One Health concept and importance of prevention of diseases.

Shri Jagdish Vishwakarma, MoS for Cooperation, Government of Gujarat, lit the ceremonial lamp, signifying the inauguration of the 'Jan Bhagidari – Women-Led Sustainable Development through Dairy Cooperatives'.
During her welcome address at the Jan Bhagidari event, Dr. Sandhya Purecha, Chair of W20, underscored the objectives of W20, aimed at empowering women and strengthening their participation in various spheres, including the dairy sector.
Ms. Bharati Gosh highlighted the pivotal role women played during the COVID-19 pandemic and emphasized how Government of India schemes created an enabling environment and ecosystem for women in the country.
The event, 'Jan Bhagidari – Women led Sustainable through Dairy Cooperatives,' honoured Women Dairy Farmers from different states in India. These farmers shared their remarkable success stories across five key priority areas of W20: Women's Entrepreneurship, Grassroots Women Leadership, Bridging the Gender Digital Divide, Education and Skill Development, and Climate Action.
Shri Jayen Mehta, Managing Director of Gujarat Cooperative Milk Marketing Federation, provided insights into the progress and developments in Amul and India's Dairy sector.
Ms. Caroline Emond, Director General of IDF, delivered a presentation titled "Recognising and strengthening the role of women in the global dairy sector." Her presentation highlighted Sustainable Development Goal 5, the status of women in agrifood systems, and the role of dairy in empowering women.
Dr. Meenesh Shah, Chairman of NDDB, spoke about the crucial role women play in cooperatives and expressed NDDB's commitment to promoting women in the dairy sector.
Shri Jagdish Vishwakarma, MoS for Cooperation, Government of Gujarat, emphasized the Government of India's mission to strengthen dairy cooperatives in India and the crucial role of women in the dairy sector.
In her closing remarks, Ms. Dharitri Patnaik, Chief Coordinator of W20, expressed gratitude to all participants and reiterated the commitment to fostering women-led sustainable development in the dairy sector.
The Women 20 (W20) is the official G20 engagement group, created in 2015 under Türkiye's Presidency of the G20, with the objective of focusing on gender equity. The primary objective of W20 is women's empowerment, advocating for the rights of women, and raising their voices in society. It was founded on the idea that domestic initiatives needed to be incorporated into an international strategy to see any appreciable changes because progress toward gender equality had been too slow and peripheral. Additionally, it aims to ensure that the G20 Leaders' Declaration includes commitments and measures that support gender equality and women's economic empowerment.
The one day event witnessed panel discussions on "Journey of Resilience of Women Leaders Across Sectors," and "Contribution of Women in Sustainable Development through interdisciplinary collaboration."  featuring inspiring women leaders like Ms. Rahibai Soma Popere (Seed Mother of India), Ms. Tessy Thomas (Former Director General, Aeronautical System & Former Project Director of Agni IV missile, DRDO), Ms. Lajja Gauswami (Shooter, International Player, Commonwealth Games Medalist), and Dr. Sandhya Purecha, who shared their inspiring journeys.
The event concluded with Dr. Sandhya Purecha felicitating the women delegates for their outstanding contributions.
*****
SK/SS