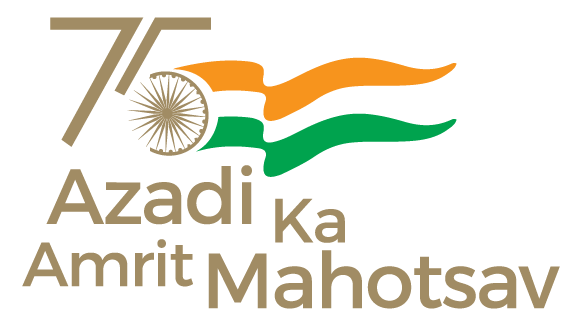 The Asia pacific Plant Protection Commissionunanimously elected India as chair of the Standing Committee on Integrated Pest Management (IPM) for the biennium 2023-24 during the 32nd Session of the Asia and Pacific Plant Protection Commission (APPPC) held in Bangkok during November 2022. Accordingly, the APPPC Workshop on Systems Approach for the management of fruit flies on mango has been scheduled from 19-23 June, 2023 at Hotel Fortune Select Exotica, Vashi, Navi Mumbai.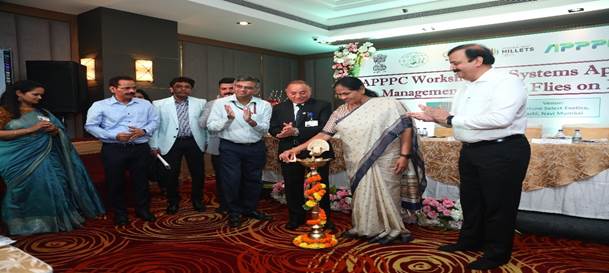 The Minister of State for Agriculture & Farmer Welfare, GOI, Sushri Shobha Karandlaje inaugurated the workshop in the presence of Shri Ashish Kumar Shrivastav, Joint Secretary (PP), Department of Agriculture and Farmer Welfare, Dr YubakDhoj G.C., Executive Secretary, APPPC Secretariat, Dr S.N. Sushil, Director, ICAR-NBAIR, MoA&FW and Dr J.P. Singh, PPA, DPPQS. In the inaugural speech, Minister, Sushri Shobha Karandlaje has emphasised on the production of pest free as well as residue free fruits and vegetables for getting market worldwide so that farmer's income can be increased. She wished benefit of the Workshop will be spread the India's motto of Vasudhaiva Kutumbakam. She further linked the agricultural export/trade, measures to be taken and need to strengthen the working together for export promotion.
Shri Ashish Kumar Shrivastava, Joint Secretary (PP) has briefed on International Plant Protection Convention(IPPC), APPPC and their role in Phytosanitary mitigation for safe transboundary movement of commodity. He shared his experiences on implementation of Systems Approach for mango in India. In this aspect, he further emphasised on development of Systems approach for all the important Agricultural commodities by farm registration/ orchard registration with State Agriculture Department, application of Integrated Pest Management at farmer level, regular monitoring of pest and timely management of pest so that even smaller farmer and marginal farmer can also produce export quality produce and stringent treatment can be avoided. Dr S.N Sushil, Director, ICAR-NBAIR has briefed successful implementation of Systems approach in India in line with International Standard for Phytosanitary measures specially recalled Internationally recognised Systems approach of  Grapenet.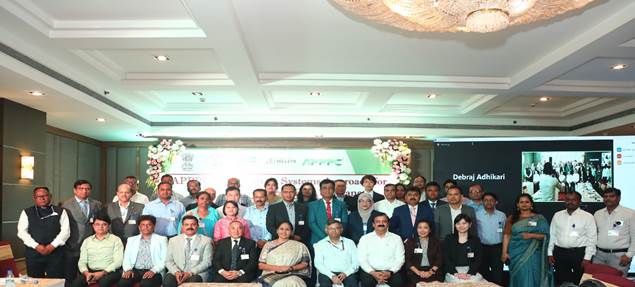 Dr J.P. Singh, Plant Protection Adviser, DPPQ&S& Chairman, APPPC IPM Standing Committee,in his welcome address shared the journey of Systems Approach implementation in India through farmers registration, adoption of Good Agricultural Practices by the farmers, pest monitoring, processing attack house and phytosanitary treatment for pest free global trade. Dr YubakDhoj, Executive Secretary, APPPC secretariat, said that this capacity development programme will provide the practical measure for managing of fruit fly during transboundary movement of agriproduct at international level.Shri Tarun Bajaj, Director, APEDA explain the role of APEDA in Export of Agriculture commodity and India has exported around 60 million dollars of Fresh Mango.
The participants from the Bangladesh, Indonesia, Lao, Malaysia, Nepal, Philippines, Samoa, Sri Lanka, Thailand, Vietnam, Bhutan has attended the workshop physically and remaining countries attending virtually. Also, the officers from DPPQS, Faridabad, APEDA, MSAMB and Officers from State Horticulture Department of Gujrat, Uttar Pradesh, Maharashtra, Andhra Pradesh has participated in the workshop. During the 05 days' workshop, the deliberations on Systems approach for management of Fruit fly in Mango, review of all relevant ISPMs, Pre-harvest Integrated Plant Health Management for mango pest and NPPO case studies will be discussed and visit to treatment facility &mango orchard will also be done in the said workshop.
*****
SS