The major highlights of the Department of Sports during the year 2020 are as follows:
First anniversary of Fit India Movement: Prime Minister Sh. Narendra Modi launched the Age Appropriate Fitness Protocols, named as GOALS (Goals for Active Life Style) for different age groups categorized as 05-18 years, 18-65 years and 65+ years, on the occasion of the first anniversary of the Fit India Movement, via virtual conferencing on 24th September 2020. The Prime Minister interacted with various sports persons, fitness experts and others during the Fit India Dialogue event organized on the occasion. In the virtual dialogue the participants shared with the Prime Minister their life experiences and their fitness mantra. Union Minister of Youth Affairs and Sports, Shri Kiren Rijijuanchored thevirtual event.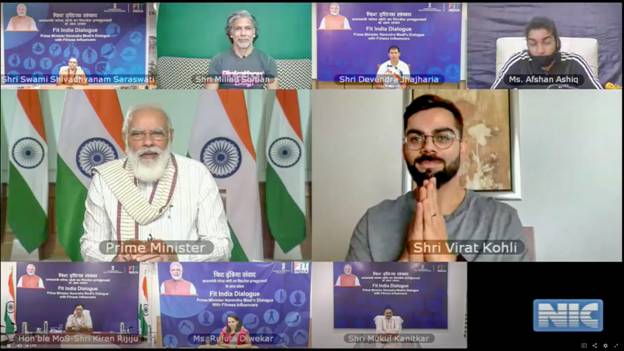 Initiatives/activities under Fit India Movement:
Fit India Cyclothon:Union Minister of Youth Affairs and Sports, Shri Kiren Rijiju launched the second edition of Fit India Cyclothon via social media. The mega cycling event started on 7th December 2020 ran for 25 days till 31st December 2020. It was held across the country in each district and citizens participated by registering on Fit India website. More than 48 lakh people participated in 2nd edition of Fit India Cyclothon. First Fit India Cyclothon was organized in January, 2020, with participation of 35 lakh people.
Fitness Ka Dose Aadha Ghanta Roz: The clarion call made by Prime Minister Shri Narendra Modi to all Indians of 'Fitness Ki Dose Aadha Ghanta Roz' has received praise from the World Health Organization. In a tweet, WHO said, "WHO applauds India's initiative on promoting physical activity through its campaign 'Fitness Ki Dose Aadha GhantaRoz.' The campaign launched as part of the nation-wide Fit India Movement by Union Minister of Youth Affairs and Sports Sh. Kiren Rijiju on December 1, has gained the support of celebrities from different fields to follow the basic mantra of 30 minute of fitness every day.Fit India Prabhat Pheri was a week-long event from 1st to 6th December, 2020, where youth from Nehru Yuva Kendra Sangathan (NYKS) have taken the lead and organized Prabhat Pheris across the country advocating the message of "Fitness ki Dose, Aadha Ghanta Roz".
Fit India Walkathon:On the occasion of National Unity Day (the birth anniversary of Sardar Vallabhbhai Patel), Union Minister of Youth Affairs and Sports, Shri Kiren Rijiju, along with Bollywood actor Vidyut Jammwal flagged off 200-km long 'Fit India Walkathon' on 31 October 2020.'Fit India Walkathon' aims to create awareness about fit and healthy lifestyle in India.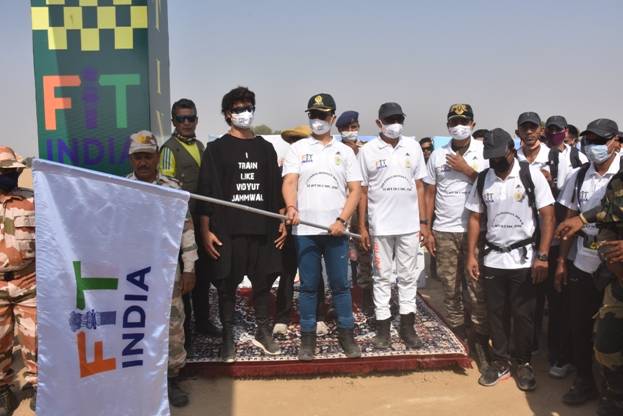 Fit India School Week:Union Sports Minister Shri. Kiren Rijiju launched the second edition of "Fit India School Week" program on 25th November 2020. Fit India School Week was conceived in 2019 with the imperative need of creating awareness about fitness not limited to children but also their parents, teachers and school staff. The concept is to celebrate 4 to 6 days of a week towards health and fitness by engaging in any kind of physical activities and/or events like painting competition, symposiums etc. themed on health and fitness. 2nd edition of Fit India School Week continued till 31st December 2020.More than 2.5 lakh schools celebrated Fit India School Week.
Fit India Talks: Union Education Minister and Union Sports Minister launched the Fit India Talks, a series of interactive sessions with some of the top sportspersons of our country intended to inspire the school children. The Fit India Talks sessions were organized in association with the Sports Authority of India and the Ministry of Education.
Fit India Freedom Run: Union Minister of Youth Affairs and Sports, Shri Kiren Rijiju launched 'Fit India Freedom Run' to celebrate our 74th Independence Day from 15th of August till 2nd October, 2020 i.e., 151st birth anniversary of Mahatma Gandhi.Fit India Freedom Run was conceived to meet the need of fitness in the unprecedented times of the Covid pandemic, while adhering to social distancing norms and was based on the concept of virtual run. Multiple partners, (both Government and Private sector) came on-board to partner for the Fit India Freedom Run. Government partner included CRPF, BSF, ITBP, Indian Railways, NSS, NYKS and CBSE and CISCE amongst Education Boards.More than 7 crore people participated and covered 18 crore kms.The campaign reached across more than 30 crore people on social media.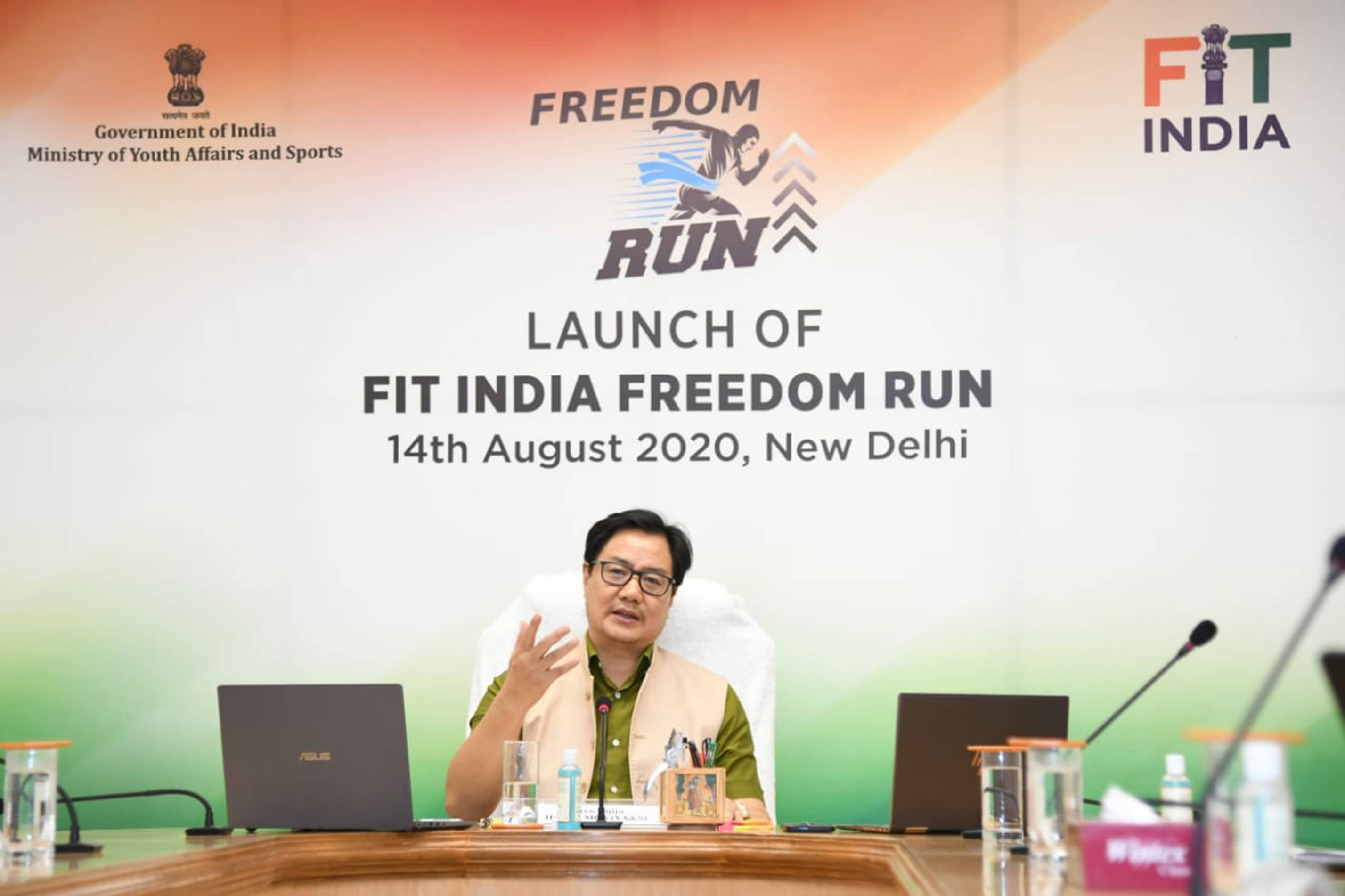 Fit India Youth Clubs: Union Minister of Youth Affairs and Sports Shri Kiren Rijiju launched the Fit India Youth Clubs, on the occasion of the 73rd Independence Day of the country on 15th August 2020. The Fit India Youth Club, a part of the Fit India Movement envisioned by the Prime Minister, endeavours to harness the power of youth to create mass awareness about the importance of fitness, across the country. 47,133 Youth Clubs have registered themselves as "Fit India Youth Club"
Fit India Yoga Day was celebrated as an online programme on 21st June 2020 with Union Minister of Youth Affairs and Sports Sh. Kiren Rijiju and Sports and Fitness icons.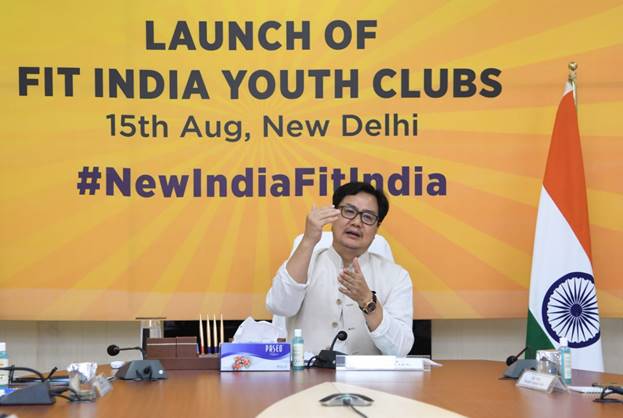 Ministry includes Gatka, Kalaripayattu, Thang-Ta and Mallakhamba in Khelo India Youth Games 2021: The 4th Edition of Khelo India Youth Games is planned to be conducted in Haryana in 2021. It has been decided to include 5 Indigenous Sports Disciplines in Khelo India Youth Games (KIYG) Haryana, 2021
The 5 Indigenous Sports Disciplines in KIYG-2021  are:
Kalaripayattu

Gatkha

Thang-Ta

Maalkhamb

Yogasana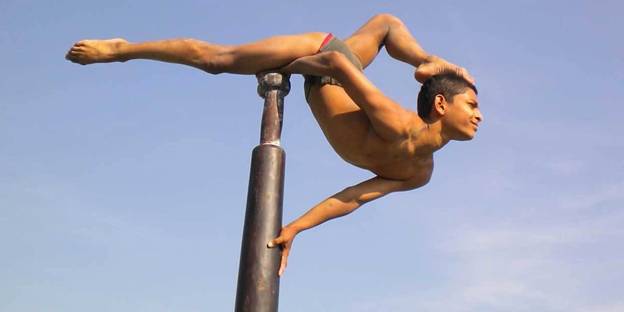 Major Dhyan Chand National Stadium to get 6 world-class squash courts:Union Minister of External Affairs, Dr. S. Jaishankar laid the foundation stone of 6 squash courts at Major Dhyan Chand National Stadium in the presence of Union Minister of Youth Affairs and Sports Shri Kiren Rijiju in New Delhi on 16th December 2020.The project has been sanctioned at a cost of ₹5.52 crore and with an estimated completion time of 6 months. The facility will have 6 single squash courts, of which 3 courts can be converted as doubles courts using movable walls.
Formal recognition of Yogasana as a competitive sport:The Ministry of AYUSH and Ministry of Youth Affairs and Sports announced the formal recognition of Yogasana as a competitive sport at a joint press conference held by the Union Minister of State (I/C) for AYUSH Shri Shripad Naik, and the Union Minister of State (I/C) for Youth Affairs & Sports Shri Kiren Rijjju in New Delhi on 17th December 2020. The sports discipline of Yogasana is likely to have 51 medals in 4 events and 7 categories. The proposed events for both men and women include Traditional Yogasana, Artistic Yogasana (Single), Artistic Yogasana (Pair), Rhythmic Yogasana (Pair), Free Flow/Group Yogasana, Individual All Round – Championship and Team Championship.
Para athletes in four different sports included in Target Olympic Podium Scheme (TOPS):Support was extended towards105 individual athlete and Men's and Women's Hockeyteams for Tokyo 2021 under TOP Scheme. Further, 269 Young Athletes were taken under TOPS Development Group for Paris 2024 and Los Angles 2028 Olympic Games.
National Coaching Camps were resumed for Olympic Bound athletes as per Standard Operating Procedure (SOP) laid down by SAI and following all applicable Government and local health guidelines. In addition, International training and competition exposures were also resumed.
34 Para-Athletes were offered support under TOPS. In addition National Coaching Camp were resumed for Paralympics bound athletes following ease of the lockdown.
Cabinet approves MoU on cooperation in the field of Physical Culture and Sport among BRICS Countries:The Union Cabinet chaired by the Prime Minister, Shri Narendra Modi was apprised of a Memorandum of Understanding (MoU) on Cooperation in the field of Physical Culture and Sport signed among BRICS Countries on 25tn November 2020. Cooperation in the field of sports among the five countries will help in expanding knowledge and expertise in the area of sports science, sports medicine, coaching techniques etc, which would result in improvement in performance of our sportspersons in international tournaments and strengthening of bilateral relations with BRICS member countries.
Sports Ministry announces new incentive structure to fund 500 private academies: The Sports Ministry has introduced aincentivisation structure to extend monetary support to 500 private academies, through the Khelo India Scheme over the next four years starting FY 2020-21.
20 new disciplines are now eligible for Government jobs under sports quota: Government has recently introduced 20 new disciplines for Central Government jobs under the sports quota on 22 September 2020. The list of sports which qualify for appointment of meritorious sportspersons in Central Government offices has now thus been revised from 43 to 63. The revised list, issued by the DoPT, includes 20 new disciplines: Baseball, BodyBuilding (was included as part of Gymnastics previously), Cycling Polo, Deaf Sports, Fencing, Kudo, Mallakhamb, Motorsports, Net Ball, Para Sports (disciplines included in Paralympics and Para Asian Games), PencakSilat, Roll Ball, Rugby, SepakTakraw, Soft Tennis, Shooting Ball, Tenpin Bowling, Triathlon, Tug-of-war and Wushu. This will be beneficial not only to boost the morale of the sports persons who are performing at National and International events but will also help to create a positive environment for overall development of sports in the country
Government enhances the prize money of the National Sports Awards:Government has enhanced the prize money in four of the seven categories of the National Sports and Adventure Awards on 29th August 2020. The prize money for the Rajiv Gandhi KhelRatna Award has been increased to ₹25 lakh from the previous amount of ₹ 7.5 lakh, Arjuna Award has been enhanced to ₹ 15 lakh from₹5 lakh, the Dhronacharya(Lifetime) awardees, who were earlier given ₹ 5 lakh will now be given ₹ 15 lakh as cash prize, while Dhronacharya (Regular) will be given ₹ 10 lakh instead of ₹ 5 lakh per awardee. Dhyanchand Awardees will be given ₹ 10 lakh instead of ₹5 lakh.  This will boost the morale of sports persons and also create a positive environment.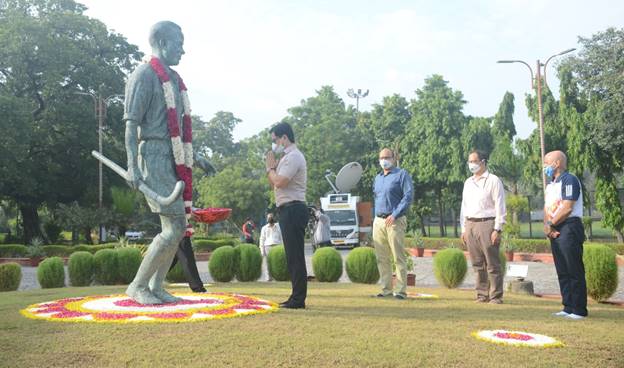 Govt. to start 1000 Khelo India centres to help retired sports persons:The government has made various policy changes and taken up initiatives to encourage and support sportspersons and the sporting community even after they retire. The Sports Ministry has decided to establish 1000 Khelo India Centers (KIC) at the district level across the country. These centers will either be run by a past champion or have them as coaches. The decision, while strengthening grassroot level sports, will also ensure that past champions can contribute in making India a sporting superpower while earning a livelihood from sports.Out of 1000 Khelo India Centres, at present 46 Khelo India Centres(KIC) have been declared in the year 2020-21.In addition to this, 60 SAI Extension Centres have consented and converted to KIC.
Various initiatives under Khelo India Scheme in 2020:
· SLKIC:  24 Khelo India State Centre of Excellence (KISCE) have been approved (list) and 08 KISCE have been launched.
· The 1st edition of Khelo India University Games was held successfully in KIIT University, Bhuwaneshwar, Odisha.
· The 1st Edition of Khelo India Winter Games were conducted in Gulmarg, Jammu & Kashmir in March, 2020.
· Grass root Zonal Talent Identification Committees and Talent Search and Development Committees have been constituted at grassroots and intermediate level.
· Initiative was undertaken for U-17 Khelo India Basketball Girls league and U-21 Kheloindia Women Hockey league, however the leagues were put on hold due to COVID pandemic situation.
· Indigenous Sports of India, a video series under the banner of "Ek Bharat Shreshtha Bharat" was streamed live on the Facebook page of the Fit India Movement, Youtube channel of Fit India Movement and Youtube channel of MyGov India, every month since June, 2020 till 31st December, 2020, with a reach of approx. 1.7 million, to promote our Indigenous Games. So far more than 20 Indigenous Games have been covered under this series. 
Welfare measures for Sportspersons taken up under DeenDayalUpadhaya Fund:Financial assistance is given under the scheme 'Pandit Deendayal Upadhyay National Welfare Fund to Sportspersons' for followingpurposes :
Assistance to sportspersons living in indigent circumstances

Assistance to Families of deceased Sportspersons Assistance for Medical Treatment to sportspersons or family members

Assistance for injuries sustained during training for and participation in Sports competitions

Assistance for training, procurement of equipments and participation in national and international sports events

Assistance to coaches and support personnel

Assistance for medical treatment to coaches and support personnel
25 sportspersons have been given financial assistance under the scheme with financial support of overRupees 1 crore.
Covid related initiatives for sportspersons:SOPs were framed and circulated to all centres of SAI. All officers and coaches were briefed through video conferences about the Covid protocols. The training at various National Centres of Excellence (NCOEs) resumed in phased manner. Due care has been taken to ensure that the players are not put to any difficulty. SAI has arranged for air ticket for those who are coming from more than 500 kilometers and rail travel for those coming from less than 500 kilometers for resumption of training post Covid lockdown. Best possible efforts have been made for their boarding/lodging and bio-bubble has been created to ensure that they are in the safest possible environment and everything needed possible is made available.
Financial assistance was continued towards Out of Pocket allowance @10,000/- per month  toKhelo India Athletes to support them during the difficult Covid pandemic times.
****
NB/OA