The paddy procurement is progressing smoothly in Kharif Marketing Season (KMS) 2021-22 at MSP from farmers, as was done in previous years.
A quantity of 637.86 LMT of Paddy has been procured in KMS 2021-22 upto 30.01.2022 in the procuring States/UTs of Chandigarh, Gujarat, Assam, Haryana, Himachal Pradesh, Jammu & Kashmir, Jharkhand, Punjab, Uttar Pradesh, Uttrakhand, Telangana, Rajasthan, Kerala, Tamil Nadu, West Bengal, NEF (Tripura), Bihar, Odisha, Maharashtra, Chhattisgarh, Andhra Pradesh and Madhya Pradesh.
Till now about 82.79 Lakh farmers have been benefitted with MSP value of Rs. 1,25,020.85 crore.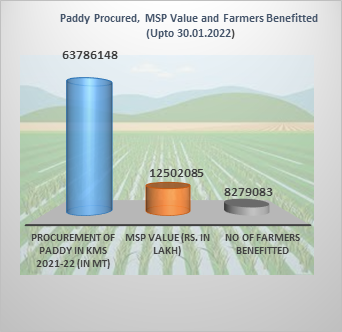 State-wise Paddy Procurement in KMS 2021-22 (upto 30.01.2022)/As on 31.01.2022
State/UT

Quantity of Paddy Procurement (MTs)

No of farmers benefitted

MSP value (Rs. In Crore)

Andhra Pradesh

2516233

373176

4931.82

Telangana

7022000

1056233

13763.12

Assam

5926

897

11.62

Bihar

2677824

364828

5248.53

Chandigarh

27286

1781

53.48

Chhattisgarh

9201000

2105972

18033.96

Gujarat

121865

25081

238.86

Haryana

5530596

310083

10839.97

Himachal Pradesh

27628

5851

54.15

Jharkhand

 

146437

29481

287.02

Jammu  & Kashmir

40520

8724

79.42

Kerala

204762

79994

401.33

Madhya Pradesh

4544589

655483

8907.40

Maharashtra

1050738

364425

2059.45

Odisha

3390206

693570

6644.80

Punjab

0

0

0.00

NEF (Tripura)

18685532

924299

36623.64

 Tamil Nadu 

20791

9931

40.75

Uttar  Pradesh

6021295

850947

11801.74

Uttrakhand

1156066

56034

2265.89

West Bengal

547436

228369

1072.97

Rajasthan

7357

563

14.42

Total

63786148

8279083

125020.85
State-wise Paddy Procurement in KMS 2020-21 (upto 30.01.2022)/As on 31.01.2022
| | | | |
| --- | --- | --- | --- |
| State/UT | Quantity of Paddy Procurement (MTs) | No of farmers benefitted | MSP value (Rs. In Crore) |
| ANDHRA PRADESH | 8457120 | 803945 | 15967.04 |
| TELANGANA | 14108787 | 2164354 | 26637.39 |
| ASSAM | 211615 | 20401 | 399.53 |
| BIHAR | 3558882 | 497097 | 6719.17 |
| CHANDIGARH | 28349 | 1575 | 53.52 |
| CHHATTISGARH | 7124639 | 2053490 | 13451.32 |
| DELHI | 0 | 0 | 0.00 |
| GUJARAT   | 110244 | 23799 | 208.14 |
| HARYANA | 5654735 | 549466 | 10676.14 |
| HIMACHAL PR. | 0 | 0 | 0.00 |
| JHARKHAND | 629061 | 104092 | 1187.67 |
| J&K | 38119 | 7385 | 71.97 |
| KARNATAKA | 206204 | 54319 | 389.31 |
| KERALA | 764885 | 252160 | 1444.10 |
| MADHYA PR. | 3726554 | 587223 | 7035.73 |
| MAHARASHTRA | 1898993 | 624292 | 3585.30 |
| ODISHA  | 7732713 | 1394647 | 14599.36 |
| PUDUCHERRY | 0 | 0 | 0.00 |
| PUNJAB | 20282433 | 1057674 | 38293.23 |
| NEF (Tripura) | 24239 | 14434 | 45.76 |
| TAMILNADU | 4490222 | 852152 | 8477.54 |
| U.P. (EAST) | 4287395 | 670136 | 8094.60 |
| U.P. (WEST) | 2396882 | 352150 | 4525.31 |
| TOTAL UP | 6684277 | 1022286 | 12619.91 |
| UTTRAKHAND | 1072158 | 78129 | 2024.23 |
| WEST BENGAL | 2779064 | 949362 | 5246.87 |
| ALL INDIA TOTAL | 89583293 | 13112282 | 169133.26 |
DJN/NS