The much anticipated 7th central pay commission report submitted to Finance Minister Arun Jaitley.
It has recommended a minimum salary of 18,000 rupees per month and an overall increase in pay and allowance of 23.55%.
The impact of implementation of this report is estimated to be 1.02 lakh crore rupees in FY 2016-17.
It has also recommended one rank, one pension for all armed forces and central employees.
There is Bonanza for central government employee.The Seventh Pay Commission led by Justice AK Mathur submitted its report recommending higher salaries for government employees and pensioners.
More than 47 lakh central government employees and 52 lakh pensioners will be benefited from this including defence personnel.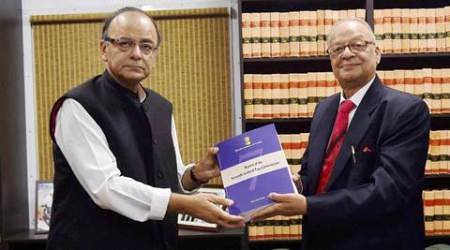 –Commission has suggested 14.27% increase over the basic salary
–Therefore increase in allowances will be 63%;
–And increase in pension will be 24%
–Minimum salary for central government staff has been recommended at Rs 18,000
–And the maximum pay is Rs 2.25 lakh per month and that is of cabinet secretary
–Pay Commission has also recommended 3% annual hike for the employees
–Meanwhile,One Rank One Pension has also been recommended for central government staffers as well as armed forces
–Pay Commission report will be implemented from 1 January 2016
–Pay band and Grade pay have been abolished
–Government employees had received a 35 % hike on implementation of the Sixth Pay Commission in 2006.
–FY17 impact seen at Rs 1.02 lakh crore from implementation of the 7th Pay Commission.
Government usually forms a pay commission every 10 Years. The First Pay Commission was established in 1946.
The 7th pay commission will result in higher salaries which will prompt people to spend more on cars and houses, triggering a cycle of spending and investment.