As the nation celebrates 75 years of independence with Azadi Ka Amrit Mahotsav, MyGov today lauded the citizens who actively participated in the MyGov challenges, shared their logo ideas, and helped the government in formulation of policies and programmes.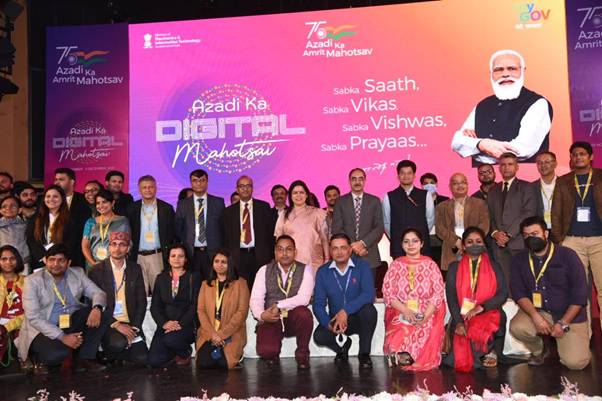 Minister of State, Culture, Ms. Meenakshi Lekhi, along with Shri Ajay Sawhney, Secretary, Ministry of Electronics and Information Technology, Shri Abhishek Singh President and CEO, NeGD, and MyGov; and Shri Amitesh Kumar Sinha, Joint Secretary, MeitY felicitated the winners of several MyGov challenge winners.
MyGov was launched by Prime Minister Shri Narendra Modi on July 26, 2014, just two months after he assumed office, as Government of India's principal online citizen engagement platform which collaborates with multiple Government bodies/ Ministries to engage with citizens for policy formulation and seeks the opinion of people on issues/ topics of public interest and welfare.
As enunciated by the Prime Minister in many speeches, including in his speech from the Red Fort on August 15, 2015, MyGov aims to promote 'Jan Bhagidari' or participative governance.
Through Group Discussions, Open Forum discussions, Tasks, Polls, Blogs, Contests, Talks, and other regular features, MyGov empowers the citizens to become an active participant in policy making at the national level.
Policy ideas and suggestions for the General and Rail Budget for both 2015-16 and 2016-17 have been sourced through MyGov and many such ideas have been implemented as well. Other prominent discussions on MyGov have been the citizen engagement for Smart City Mission, which saw close to 2.5 million participations; discussions for framing the New Education Policy and the debate on Net Neutrality.
Logos and slogans for prominent national programs such as Swachh Bharat, 100 crore vaccination, Digital India campaign, and National Education Policy were also crowdsourced from the MyGov platform.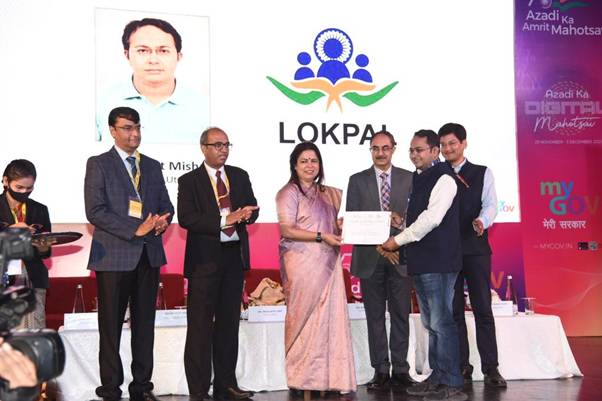 For the Swachh Bharat logo,  Minister of State, Culture, Ms. Meenakshi Lekhi felicitated Anant Gopal Khasbardar during the Azadi Ka Digital Mahotsav on Dec 4, 2021. Similarly, she lauded Yaseen Haroon Sudesara for the '100 cr Vaccination Logo', Prashant Mishra for 'Lokpal', Sai Ram Goud Ediji for the 'Bamboo Mission Logo', and Rana Bhaumik for the 'Digital India' logo.
MyGov 'Saathi' (companions) who actively contributed to MyGov even during the COVID-19 pandemic were also felicitated by Hon'ble Minister of State, Culture, Ms. Meenakshi Lekhi. The winners include: Nagara Ju from Jagital, Telangana, Anoop Mishra from Indore, Rushikesh Rajendra Ugale from Nassik, Sanjay Sarkar from Raiganj, and Suthahar P from Chennai.
In other categories, Pearlyn Anugraha and Raghuram Balaraman aced the Zoho App Innovation Challenge; Jaya Parashar and Shivi Kapil won the Shri Shakti Challenge; the Indian Language App Innovation challenge was won by Anuradha Agarwal, Pritesh Chothani, and Saurabh Nayak.
Innovation Challenge on e-waste Management was won by Amit Sharma, and Aruna Kumari; Drug Discovery Hackathon was won by Dr KaliRajan Rajagopal; Haptik form MyGov Whatsapp Chatbot was won by Aakrit Vaish; Apramaya Radhakrishna from Koo and Ankush Sabarwal from Copover were felicitated for winning the MyGov app innovation challenge; Amit Kothiwala won the 'Jan Bhagidari' Innovation Challenge, and Yashika Begwani was felicitated for Podcast.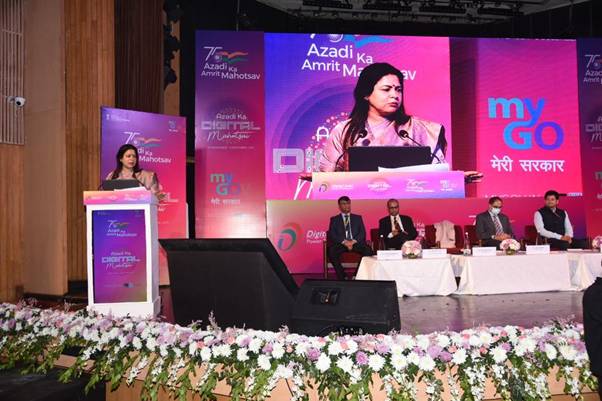 Minister of State, Culture, Ms. Meenakshi Lekhi lauded all the winners and appreciated the efforts of MyGov through which the government and citizens of India can interact with each other. "Through the launch of the platform we are able to reach out to many people. Most of the people awarded here are the ones who have voluntarily come forward to serve the society," she said.
"The MyGov platform needs to be further utilized; we all need to participate more in policy making, advise the government and give more ideas. When we are in a democracy, we need to communicate and hence, the government needs to reach out to the citizens and people need to share their feedback," she added.
She further emphasized that it is the responsibility of the government and the citizens of the nation to spread the word about India's vast culture. "COVID has shown us what we are capable of and that is keeping our morals high and helping each other through food distribution and any other possible means. Azadi Ka Amrit Mahotsav is incomplete without Azadi Ka Digital Mahotsav because when I want to know about any corner of our country the only way for me is the digital way and MyGov is here to provide that information," she said.
Ms. Meenakshi Lekhi also asked Shri Abhishek Singh President and CEO, NeGD, and MyGov to make the MyGov platform global to which he said that the MyGov has already launched State instances in 14 States, namely HImachal Pradesh, Haryana, Maharashtra, Madhya Pradesh, Arunachal Pradesh, Assam, Manipur, Tripura, Chhattisgarh, Jharkhand, Nagaland, Uttarakhand, Goa and Tamil Nadu and now it will launch the global version of the platform.
On the occasion, Shri Ajay Sawhney, Secretary, Ministry of Electronics and Information Technology expressed his amazement at the creativity of the winners and the logos MyGov received. "The kind of creativity we see around MyGov is heartwarming and whenever we reach out, we get such remarkable ideas. And whenever we receive a good idea or a logo, we take it very seriously and take it to the Prime Minister," he said.
He further said that if the government wants to run any program, "we share it through MyGov and many times, we use the ideas received to finalize program outline".
Shri Ajay Sawhney also appreciated the work done by MyGov during the COVID-19 pandemic and said the platform provided accurate information and spread positivity at a time when people needed it the most.
"During COVID, MyGov has done an amazing job – be it creating awareness about masks, or making promotional videos. During COVID, everyone was a little depressed due to the lockdown and during that period MyGov created a positive harmony with big artists coming on the platform and sharing their music performances. So, not only the state and central government program but people used their own creativity to give back to the society. MyGov is not just a website anymore, it has become a 'Jan Bhagidari' platform," he said.
****
RKJ/M