In a landmark achievement, India's cumulative COVID Vaccination Coverage has surpassed 39 crore (39,10,53,156), as per the 7 pm provisional report today. The new phase of universalization of COVID-19 vaccination commenced from 21st June. More than 32.10 lakh (32,10,451) Vaccine Doses have been administered today, as per the 7 pm provisional report.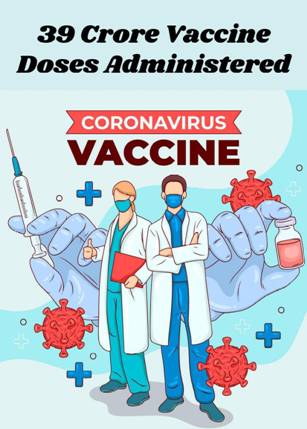 13,82,467 vaccine doses were administered as first dose and 1,57,660 vaccine doses given as second dose in the age group 18-44 years today. Cumulatively, 11,78,70,724 persons in the age group 18-44 years across 37 States/UTs have received their first dose and total 41,92,141 have received their second dose since the start of Phase-3 of the vaccination drive. Eight States namely Uttar Pradesh, Madhya Pradesh, Rajasthan, Tamil Nadu, Bihar, Gujarat, Karnataka and Maharashtra have administered more than 50 lakh first dose of COVID-19 Vaccine in the age group 18-44 years. Also, Andhra Pradesh, Assam, Chhattisgarh, Delhi, Haryana, Jharkhand, Kerala, Telangana, Himachal Pradesh, Odisha, Punjab, Uttarakhand and West Bengal have vaccinated more than 10 lakh beneficiaries of the age group 18-44 years for the first dose of COVID vaccine.
The table below shows the cumulative vaccine doses administered to 18-44 years age group till now.
| | | | |
| --- | --- | --- | --- |
| S.No. | State | 1st Dose | 2nd Dose |
| 1 | A & N Islands | 67030 | 71 |
| 2 | Andhra Pradesh | 2551134 | 51616 |
| 3 | Arunachal Pradesh | 311989 | 332 |
| 4 | Assam | 3236790 | 151595 |
| 5 | Bihar | 7214927 | 136542 |
| 6 | Chandigarh | 245511 | 1086 |
| 7 | Chhattisgarh | 3092188 | 85799 |
| 8 | Dadra & Nagar Haveli | 205951 | 150 |
| 9 | Daman & Diu | 158287 | 677 |
| 10 | Delhi | 3347693 | 206027 |
| 11 | Goa | 444867 | 10009 |
| 12 | Gujarat | 8668522 | 273649 |
| 13 | Haryana | 3771716 | 172645 |
| 14 | Himachal Pradesh | 1197570 | 2325 |
| 15 | Jammu & Kashmir | 1162809 | 43271 |
| 16 | Jharkhand | 2772834 | 107443 |
| 17 | Karnataka | 8409232 | 248294 |
| 18 | Kerala | 2371309 | 172680 |
| 19 | Ladakh | 86364 | 6 |
| 20 | Lakshadweep | 23817 | 65 |
| 21 | Madhya Pradesh | 10583164 | 477338 |
| 22 | Maharashtra | 8938442 | 382448 |
| 23 | Manipur | 373066 | 720 |
| 24 | Meghalaya | 343958 | 205 |
| 25 | Mizoram | 325874 | 569 |
| 26 | Nagaland | 285950 | 391 |
| 27 | Odisha | 3790577 | 200239 |
| 28 | Puducherry | 221906 | 1314 |
| 29 | Punjab | 2085821 | 54613 |
| 30 | Rajasthan | 8513005 | 160315 |
| 31 | Sikkim | 268075 | 97 |
| 32 | Tamil Nadu | 6743843 | 249851 |
| 33 | Telangana | 4824518 | 232401 |
| 34 | Tripura | 944600 | 14652 |
| 35 | Uttar Pradesh | 13514368 | 420084 |
| 36 | Uttarakhand | 1667059 | 41309 |
| 37 | West Bengal | 5105958 | 291313 |
|   | Total | 117870724 | 4192141 |
****
MV
HFW/COVID Vaccination/14th July/7