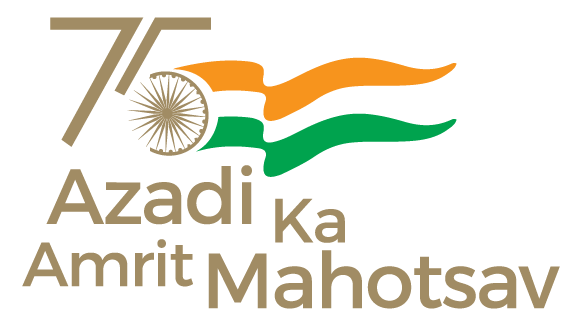 #IFFIWood, 20 November 2022
Open Seasame! The world of magic – of course we mean the world of films, is open yet again for our wholehearted celebration. The 53rd edition of IFFI, the International Film Festival of India, the biggest film festival of the world's largest democracy, has opened the doors of not just the screening theatres, but also of our minds, hearts and souls.
And for the first time in the history of the festival, the celebration of films opened with precisely that – the screening of the opening film, which preceded the opening ceremony, which too has been scintillating and colourful as usual. The theme of the resplendent opening ceremony was "Evolution of Indian Cinema in the last 100 years", in keeping with the spirit of the Azadi Ka Amrut Mahotsav celebrations.
Well, here are what we believe are not just – and not the only – highlights of the opening ceremony, and the festival as well.
Celebrated Spanish film director Carlos Saura honoured with Satyajit Ray Lifetime Achievement Award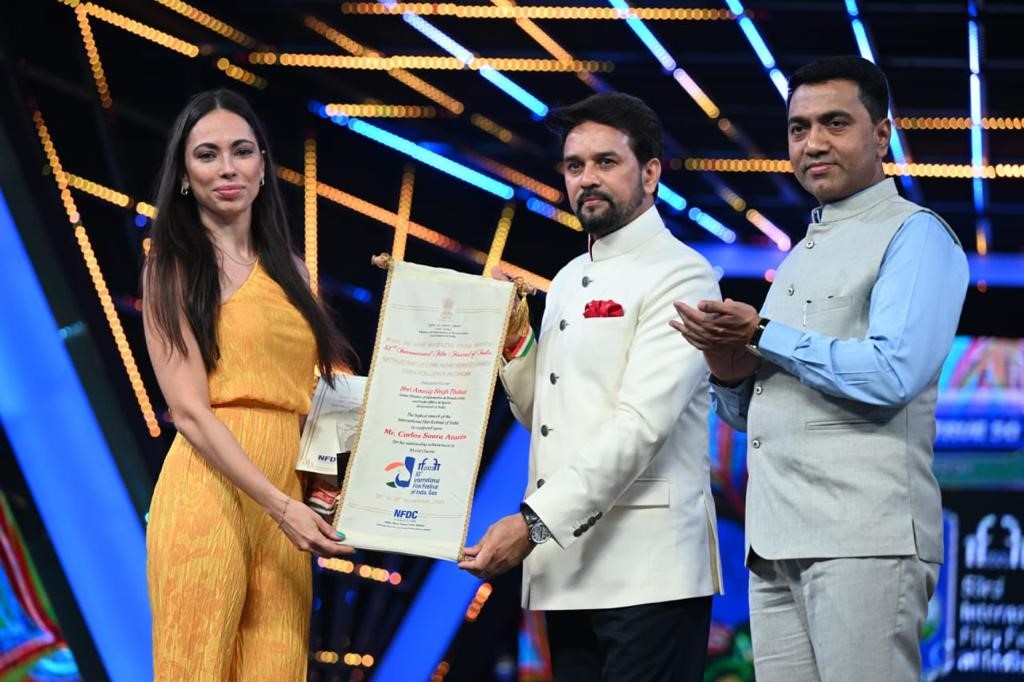 As a befitting accolade for his immense contribution towards international cinema, Spanish film director Carlos Saura has been honoured with the Satyajit Ray Lifetime Achievement Award.
Conveying his acceptance through a video message, Carlos Saura regretted his inability to join in person in Goa, as he is recovering from a bout of bronchitis. He has expressed his deepest gratitude and love towards festival organisers for bestowing him with the honour.
Carlos Saura is also the recipient of the Golden Bear for Best Director at the Berlin International Film Festival (for Deprisa Deprisa); along with two Silver Bears for La caza and Peppermint Frappe; a BAFTA for Carmen; and three awards at Cannes, among several others.
His daughter Anna Saura accepted the Award on behalf of the eminent filmmaker at the opening ceremony.
IFFI 53 is honouring the master filmmaker with an eight-film retrospective. You would not want to miss the celebration, would you? Share with us your love for Saura's films, using the hashtag #IFFIInspires, what say?
Actor-Producer Chiranjeevi has been conferred Indian Film Personality of the Year Award for 2022
Welcome to IFFI, Asia's biggest film festival. Over the next eight days, film delegates from all across the world will enjoy the best of Indian and world cinema. Away from the side of COVID-19 pandemic, IFFI is back to its vibrant avatar.

– MoS @Murugan_MoS #IFFI53 pic.twitter.com/NX6K8XmsF8

— PIB India (@PIB_India) November 20, 2022
Chiranjeevi. Yes, the IFFI Indian Film Personality of the Year Award for 2022 goes to megastar and actor-producer Chiranjeevi Konidela. The announcement has been made by the Union Minister for Information and Broadcasting Anurag Singh Thakur, at the grand opening of IFFI today.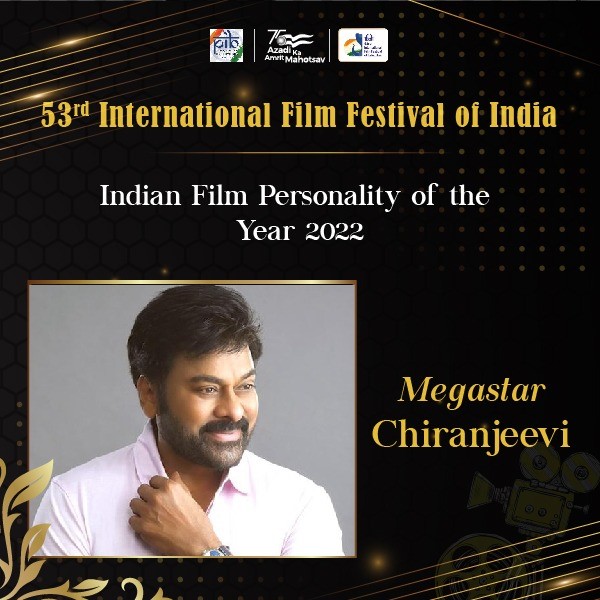 In an illustrious film career spanning more than four decades, Chiranjeevi starred in more than 150 feature films in Telugu, as well as some films in Hindi, Tamil and Kannada. He is regarded as one of the most successful and influential actors of Telugu cinema.
Congratulating the veteran actor, the Union I&B Minister Anurag Singh Thakur has said that Chiranjeevi has had an illustrious career spanning almost four decades, with more than 150 films as an actor, dancer & producer. "He is immensely popular in Telegu Cinema, with incredible performances touching hearts!", says the Minister.
Felicitating International and Indian Panorama Jury Members, the Judges of Cinematic Excellence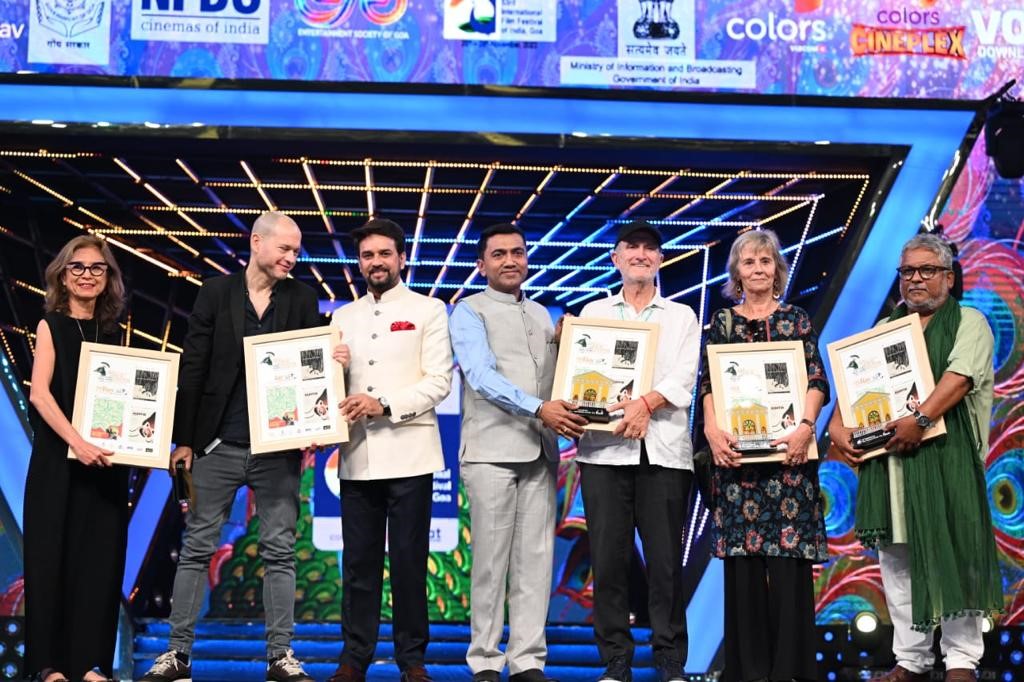 "A thing of beauty is a joy forever", says Keats. If so, how difficult it would be to choose among cinematic eternal beauties? Ask the IFFI jury members! Yes, the international Jury for IFFI 53, led by jury chairperson, Israeli film director and writer Nadav Lapid; Spanish documentary filmmaker Javier Angulo Barturen; US film producer Jinko Gotoh; French editor Pascale Chavance; and Indian writer and director Sudipto Sen have been felicitated at the opening ceremony.
IFFI – and artists – promote national integration and solidarity: Goa Governor
Addressing the opening ceremony, Governor of Goa P.S. Sreedharan Pillai takes us back to the maiden edition of IFFI in 1952. "In 1952, the first edition of IFFI, the first President of India Dr. Radhakrishnan said that the film festival is a golden opportunity for us to interact with artists and filmmakers. A philosopher once said that India is known for its knowledge and devotion, and this should be promoted through this concept."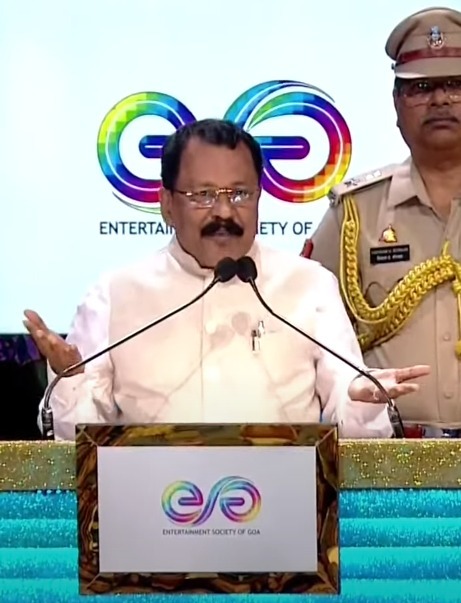 The Governor said that artists have always received high recognition in our country. "At a Carnatic music sangam in Delhi, our 1st Prime Minister was not properly invited, yet he was the first person in the audience. Audience was embarrassed, and when the press asked the 1st PM of India about this, he said, who am I but a mere PM in front of this queen of song. That is the tradition of the country."
The Governor said he is extremely happy to participate in the festival opening and recalls that both the Prime Minister and the I&B Minister have stated the objectives of the film festival.
The Governor said that the field of sports and arts is where Prime Minister Narendra Modi also lays a high degree of focus. "Two important objectives of IFFI which were stated in 1952 are national integration and solidarity. In this, a most important role can be played by artists."
Goa Chief Minister promises new Goa venue for IFFI by 2025
Chief Minister of Goa Pramod Sawant extends a heartfelt welcome to all film enthusiasts to the beach state. "Goa is extending a beautiful welcome to filmmakers and enthusiasts from all over the world. For those who are here for the first time, let me reiterate that in Goa, you can experience pristine seashore, peaceful hinterland, divine pilgrim sites, mesmerizing backwaters, mouthwatering cuisine and most importantly, very warm and hospitable people. Let us remember our Late CM Manohar Parrikar who translated his vision into reality and allowed Goa to be the permanent host for this extravaganza."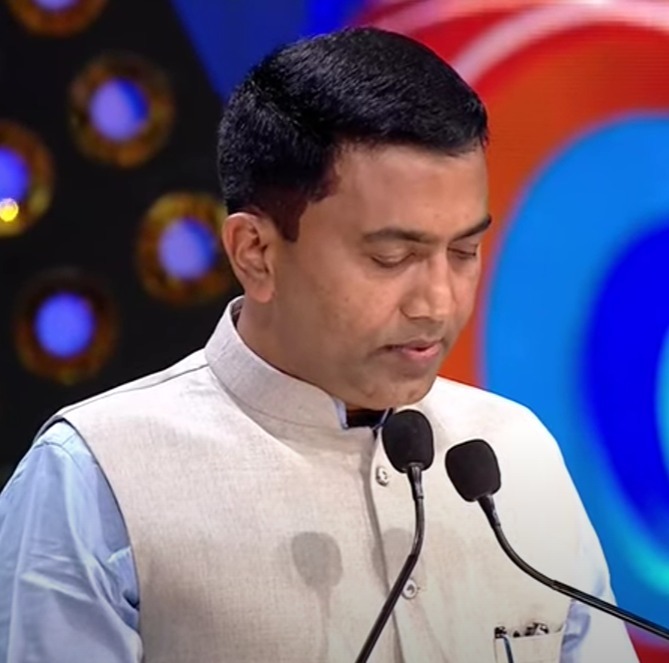 The Chief Minister has said that this year, the state government has curated special masterclasses for Goan film fraternity. "Renowned film personalities from Hindi and Marathi film sections will be addressing masterclasses. We have been able to draw attention of tourists and Goan public, various peripheral activities such as festival mile, entertainment zone and heritage parade have been arranged to attract attention of public. Caravans will be deployed through Goa and popular movies will be screened for the masses. Open Air Screenings will be held. Special movie section for Divyang has been curated, We have strived to strike a balance between film and entertainment industry and general public."
The CM informs us that setting up of a world-class multiplex and convention centre is at its final stage and that hopefully we will be able to celebrate IFFI at the new venue by 2025.
IFFI's vision and values are rooted in Vasudhaiva Kutumbakam: I&B Minister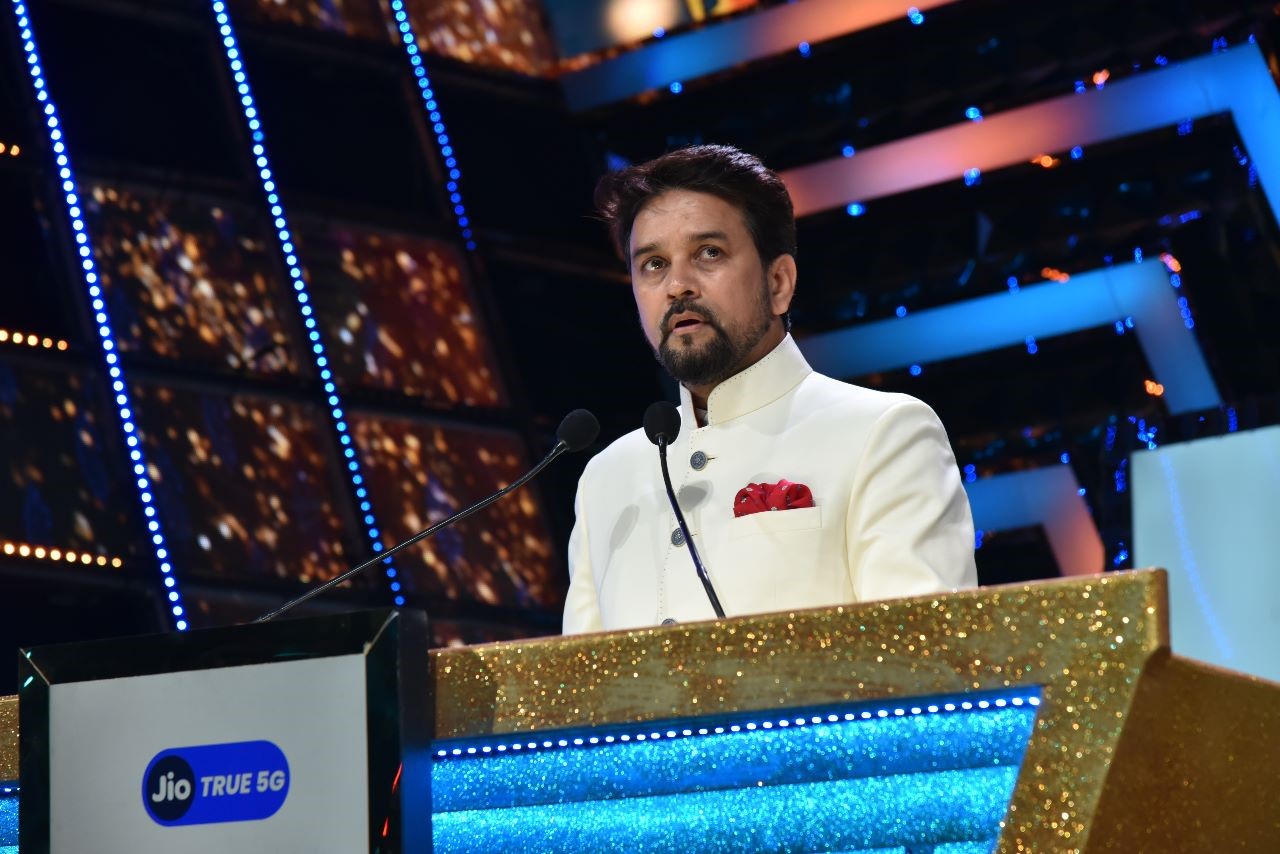 Union Information & Broadcasting Minister Anurag Singh Thakur has said that his vision is to make India the most sought-after destination for film shoots and post-production, backed by the talent of our people and innovation of our industry leaders.
What about his vision for IFFI? The Minister elaborates that his vision for IFFI is not limited to one event, but what IFFI should be when India celebrates its 100th year of Independence once we transition from Amrit Mahotsav to Amrit Kaal. "We aim to make India a powerhouse of content creation, especially regional cinema by scaling up regional festivals. India can be the post-production hub of the world by leveraging the immense tech talent amongst our skilled youth."
Going down the memory lane of Asia's oldest film festival, the Minister said that the concept of IFFI is rooted in the theme of 'Vasudhaiva Kutumbakam', i.e., the world as one family. "India's rising global role and Presidency of the G20, under the able leadership of Prime Minister Narendra Modi, revolves around the theme of 'One Earth, One Family, One Future'".
On the key role played by cinema in propagating the ethos of our nation, the Minister said that cinema captures and chisels the conflux of a country's rich culture, legacy, heritage, hopes, dreams, aspirations, ambitions and most importantly the collective conscience of its people at any given time in history. The Union Minister exuded confidence that, "the 53rd IFFI is all set to be a melting pot of myriad vibrant cultures and a spectacle of cinematic excellence".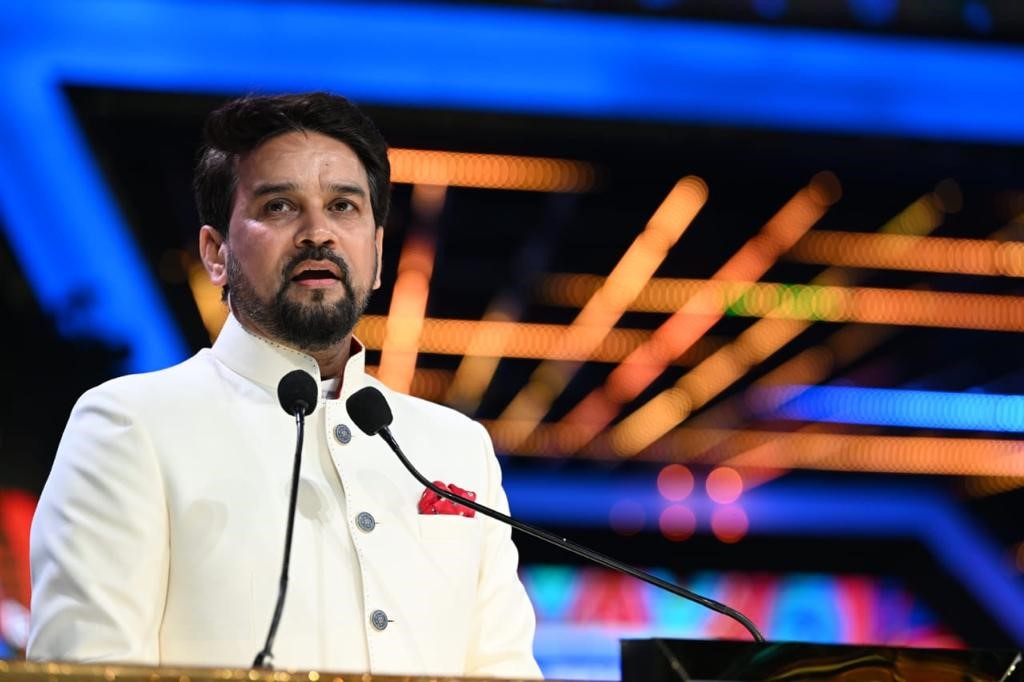 Extending best wishes to the winners of the second edition of '75 Creative Minds of Tomorrow', the Union Minister said that out of nearly 1,000 entries  across 10 categories of film making, a group of 75 young filmmakers have been selected after a rigorous process by an eminent jury comprising a Lifetime Awardee and winners of National Film Awards, Grammy and Oscar. "They represent 19 states, coming from places such as Jaintia Hills (Meghalaya), Lakhimpur (Assam), Khorda (Odissa) and the youngest amongst them is 18 years old!" "75 Creative Minds of Tomorrow" is a novel initiative to give the youth a platform to showcase their talent and be mentored by the experts of the film industry.
"An IFFI of many firsts"
The I&B Minister said that for the first time, IFFI will host gala premieres of Indian films, foreign films and original series from OTT platforms, with the featured stars coming down to Goa to specially support their films. "One of Israel's biggest stars will be present this time."
France is the 'Country of Focus' this year, with eight films from France being screened under the package. The I&B Minister said that following India's 'Country of Honour' at Marche De Films at the 75th Cannes Film Festival, he is delighted to welcome France as the 'Country of Focus' at IFFI 53.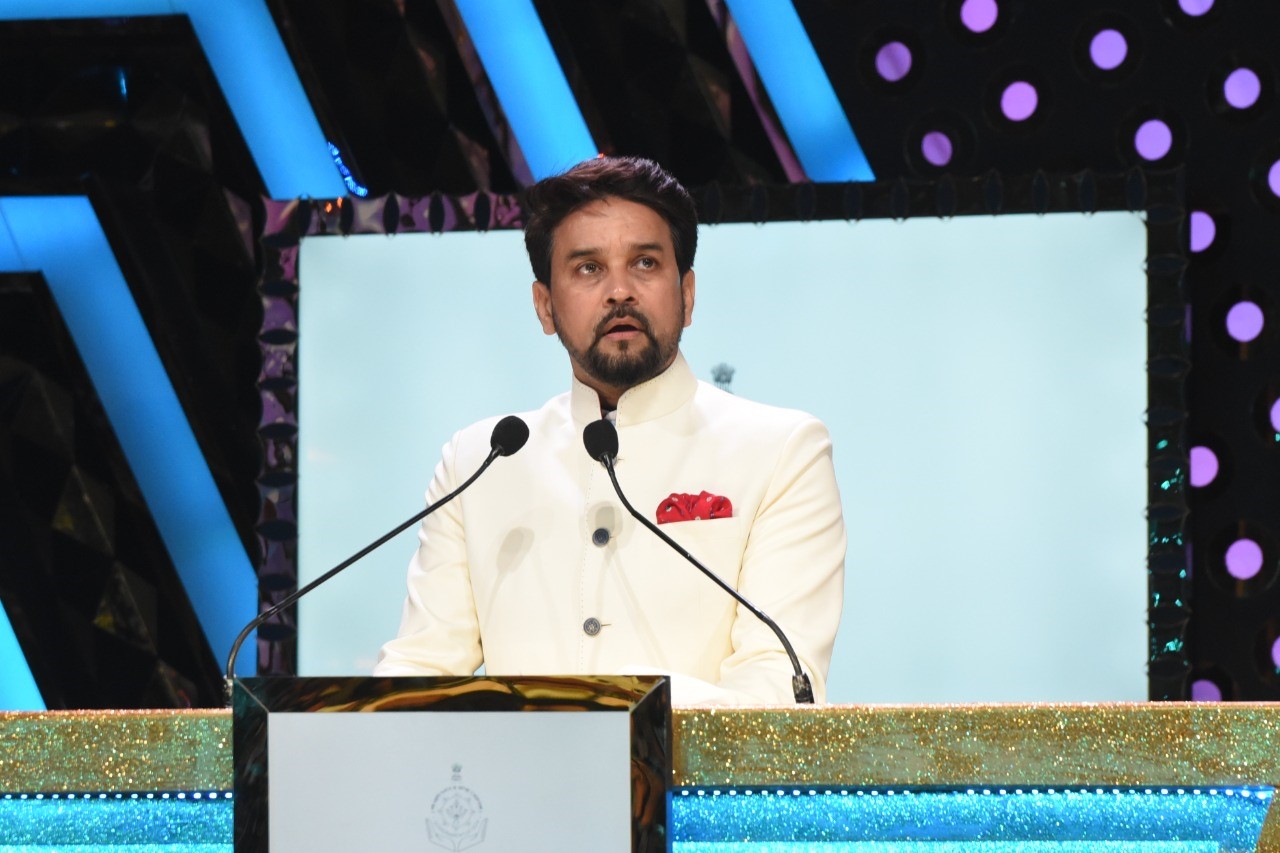 Extending an invitation to film enthusiasts to explore the country pavilions of Film Bazaar, the Union Minister said that more than 40 Pavilions will be showcased at the 15th edition of Film Bazaar. "For first time, IFFI will have a Technology Hub to showcase the latest innovations from the cinema world!"
This edition of #IFFI has arrived on shores of #Goa bringing best of international cinema along with special section such as cinema of world, international competitions, Unesco film sections of retrospectives, homages & tributes and children's film amongst others: Union Minister pic.twitter.com/WnjUqO0ZYM

— PIB India (@PIB_India) November 20, 2022
The Minister informed that an effort has been made to make the festival more inclusive and accessible for everyone. "Special provisions for Divyangjan Screenings have been arranged. Keeping in mind the accessibility needs of Divyangjan, the films in this section will be audio-visual-equipped, with embedded audio descriptions and subtitles. The Film & Television Institute of India will be conducting two special courses for the differently abled – one basic course on 'Smartphone Film Making' curated for autistic individuals and a basic course on 'Screen Acting' curated for wheelchair users."
"Our best chance to enjoy the finest of Indian and international cinema": Minister of State for I&B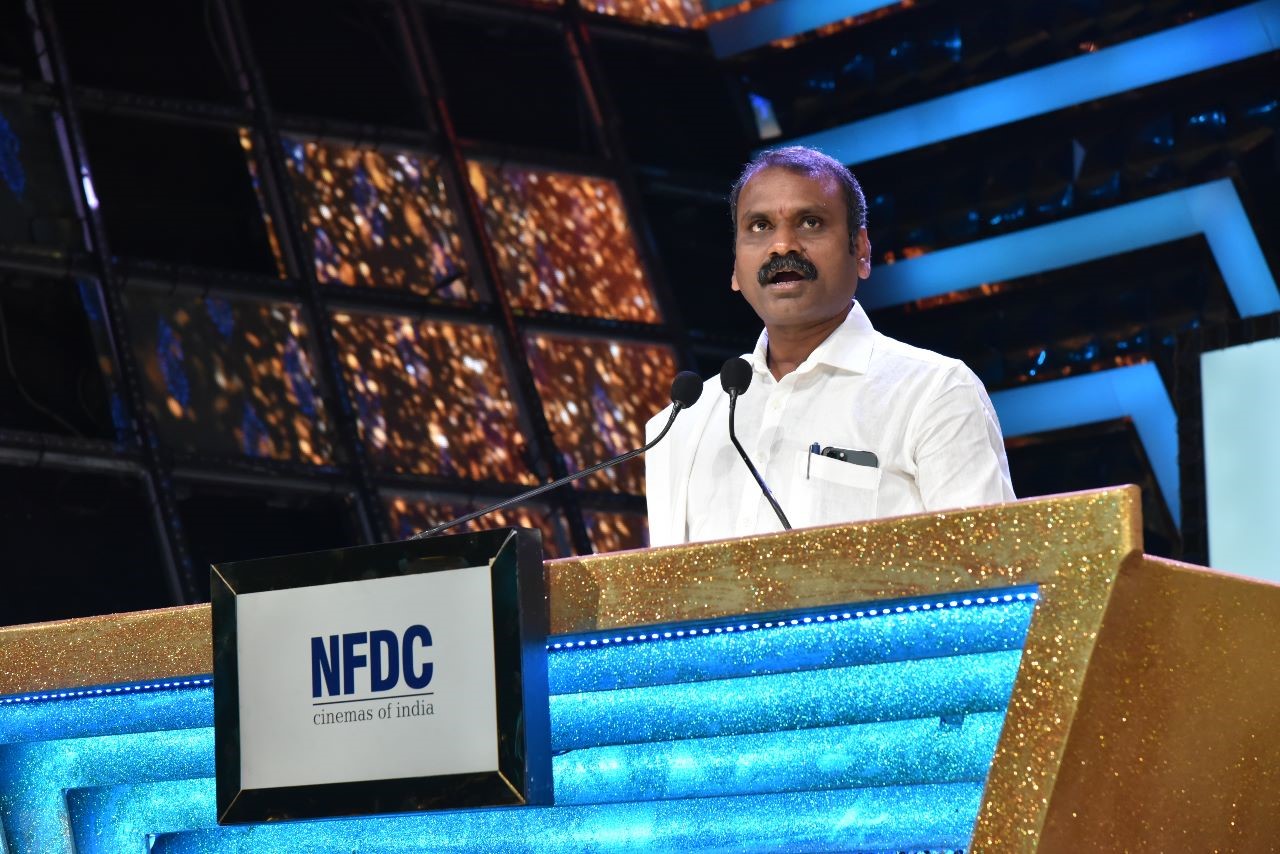 Union Minister of State for Information & Broadcasting Dr. L Murugan has said that film lovers from all across the world will get the best chance to enjoy the finest of cinema from India and the world. The Union Minister extended his wishes to Carlos Saura, the renowned Spanish director who has been conferred the Satyajit Ray Lifetime Award today. He also paid respects to the stalwarts of Indian art arena, including Lata Mangeshkar, Pandit Birju Maharaj, Tabassam and all artists India lost in the last year.
The Minister recalled the journey of Indian cinema over more than a century. "1913 was the year when India started its journey in the world of cinema, our movies picked threads from our rich history and language, whose influence today transcends beyond boundaries, beyond language barriers and beyond cultures. Dadasaheb Phalke, MGR, Shivaji Ganesan, Raj Kapoor, Satyajit Ray, M T Ramarao and many others have carried the film world over their shoulders. The journey started with Raja Harishchandra and travelled through various gems which became milestones and gave our cinema global recognition."
Welcome to IFFI, Asia's biggest film festival. Over the next eight days, film delegates from all across the world will enjoy the best of Indian and world cinema. Away from the side of COVID-19 pandemic, IFFI is back to its vibrant avatar.

– MoS @Murugan_MoS #IFFI53 pic.twitter.com/NX6K8XmsF8

— PIB India (@PIB_India) November 20, 2022
The Minister spoke of the power of IFFI in dissolving boundaries among cultures and peoples. "IFFI has been erasing boundaries in the world of art and film and allowing different film cultures to engage with each other and explore possibilities to collaborate. Our Prime Minister has described IFFI as the film festival which promotes synergy between delegates from different nations and societies, united by cinema. IFFI 53 has everything a true film lover wants, including the best of world cinema and various other events such as masterclasses."
The Minister said that the Union I&B Minister is leading the front to establish India as the content production hub of the world, through various initiatives such as incentives for coproduction agreements, streamlining single window film facilitation, incentives for film shooting and tapping huge AVGC potential.
"A platform to showcase our best, to imbibe the best"
Secretary, Ministry of Information & Broadcasting Apurva Chandra read out the message by Prime Minster Narendra Modi wishing all success for IFFI 53, for the gathering.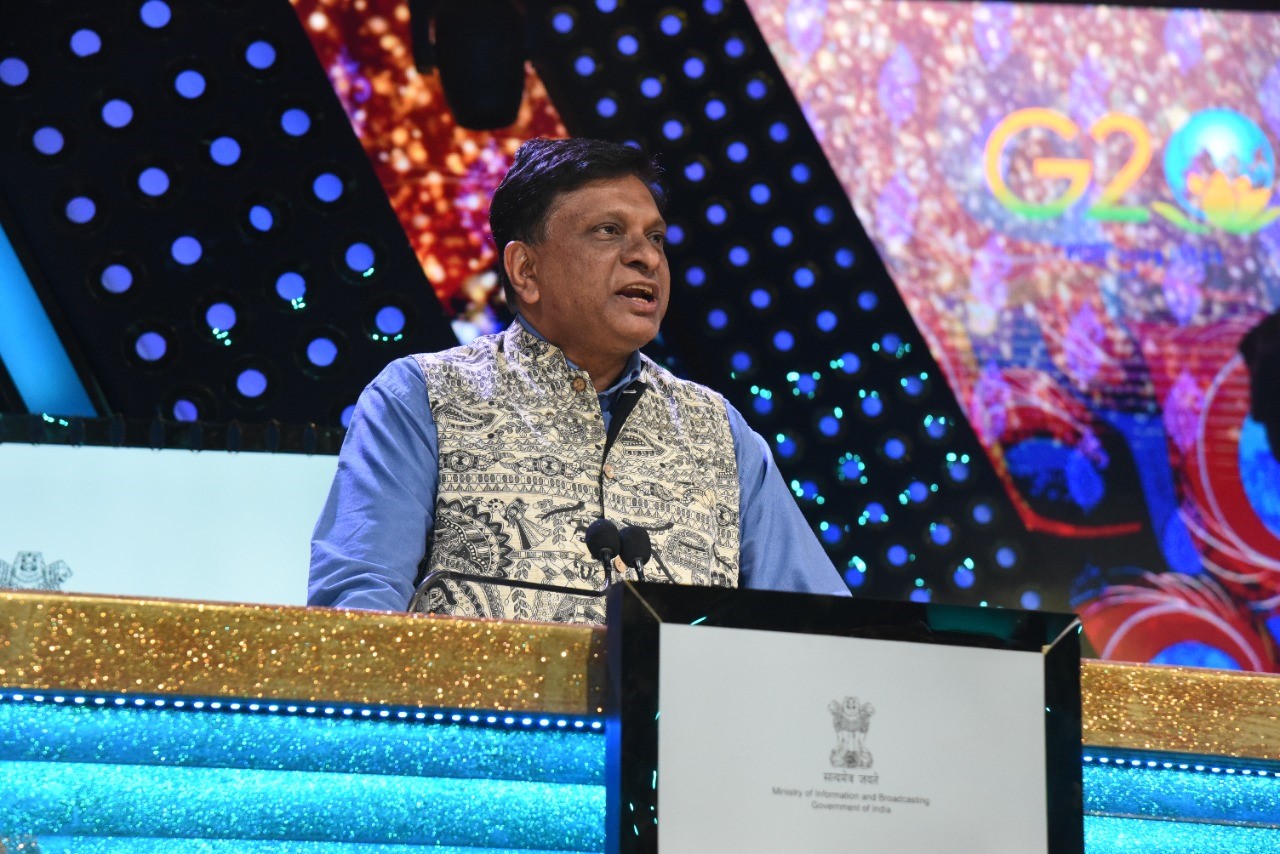 The Secretary exuded confidence that IFFI will facilitate deeper understanding and new learnings. He said IFFI is platform for Indian film industries to showcase its best before the world and also to imbibe the best practises in cinema from the rest of the world.
Festival Director Ravindra Bhakar delivered vote of thanks
Goa Chief Secretary Puneet Kumar Goel; IFFI Steering committee members Bobby Bedi, Hrishita Bhatt, Aishwarya Rajnikanth, Nikhil Mahajan, Prasoon Joshi, Ravi Kottarakara, Shoojit Sircar & Vani Tripathi and Technical Committee Chairman A K Bir were present at the opening ceremony.
The Opening Ceremony was jointly hosted by noted actors Aparakshit Khurana and Mrunal Thakur.  Celebrated film personalities including Pankaj Tripathi, Manoj Bajpayee, Prabhu Deva, Suneil Shetty, Ajay Devgan Paresh Rawal and V. Vijayendraprasad were felicitated during the function.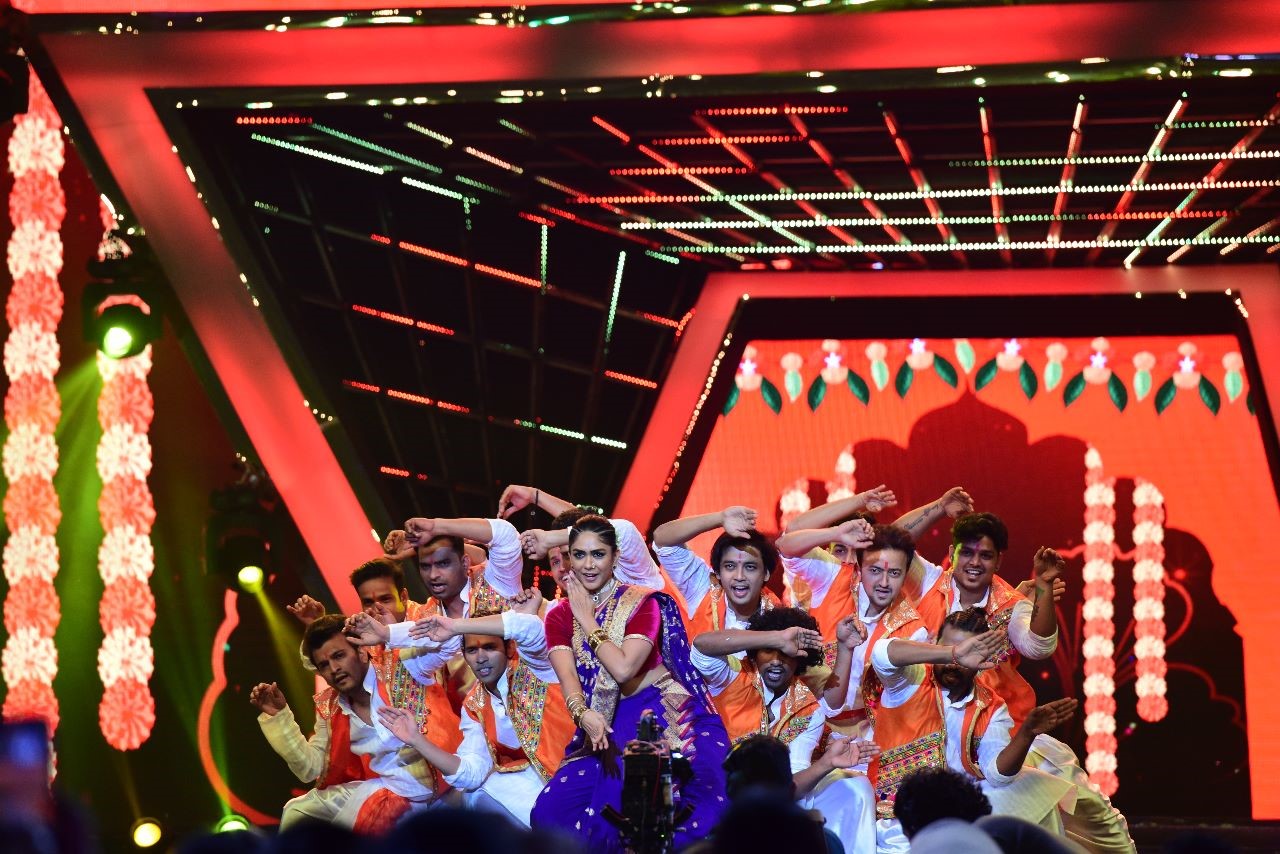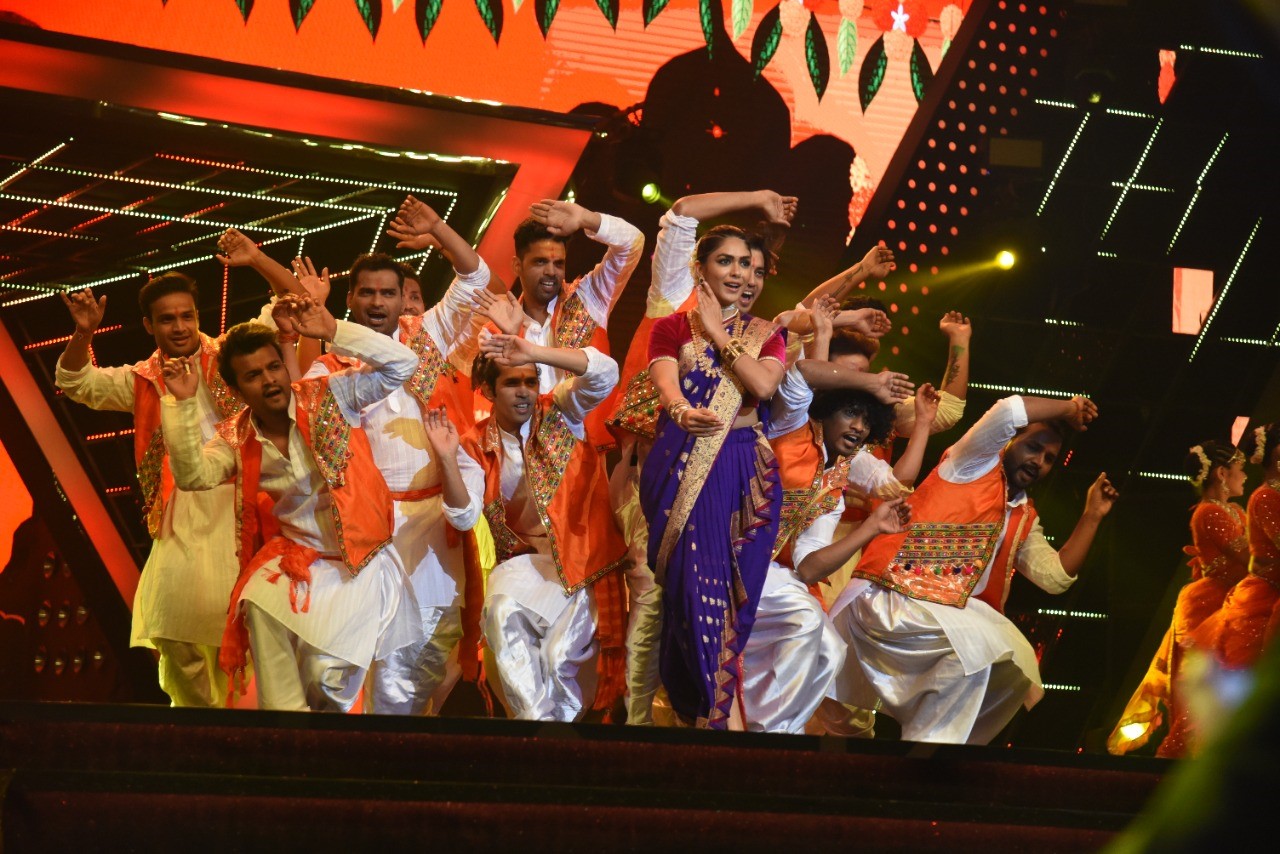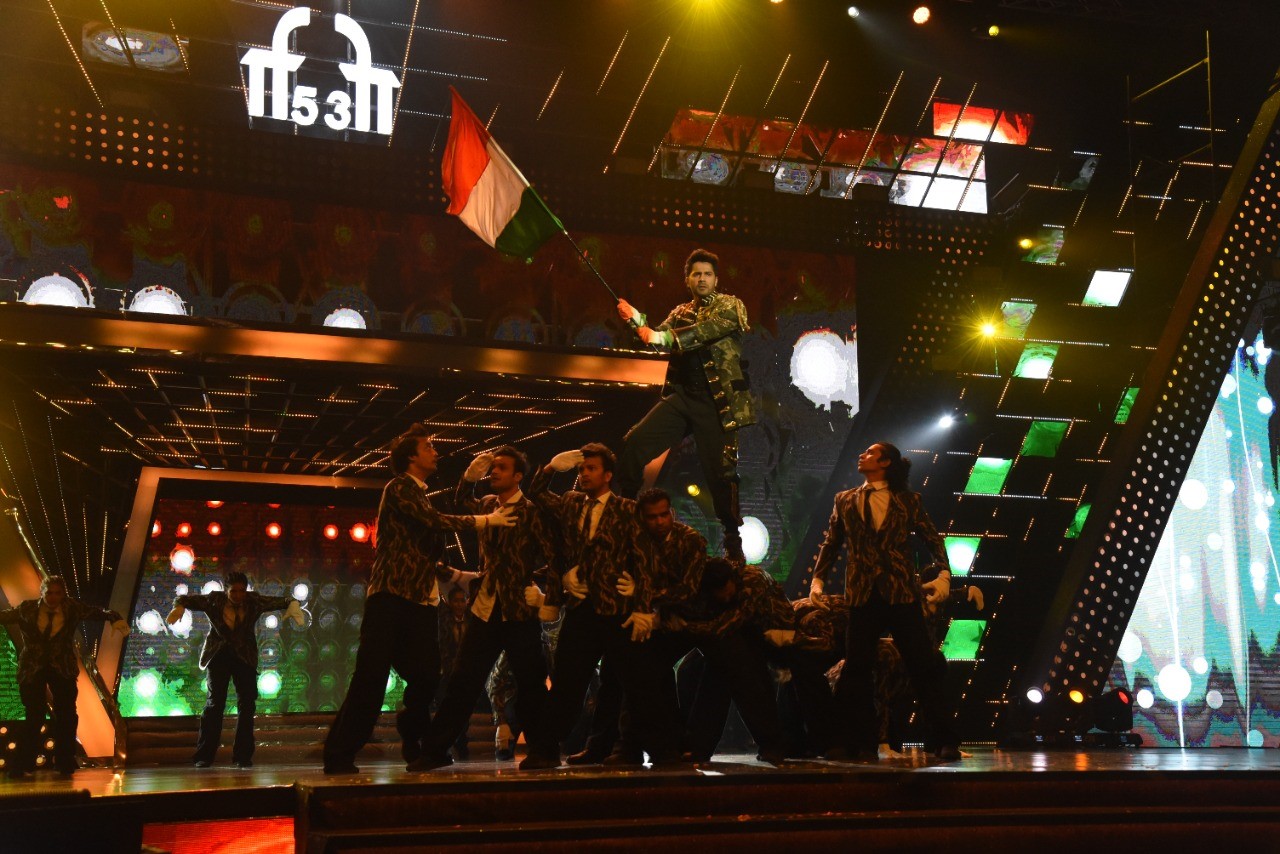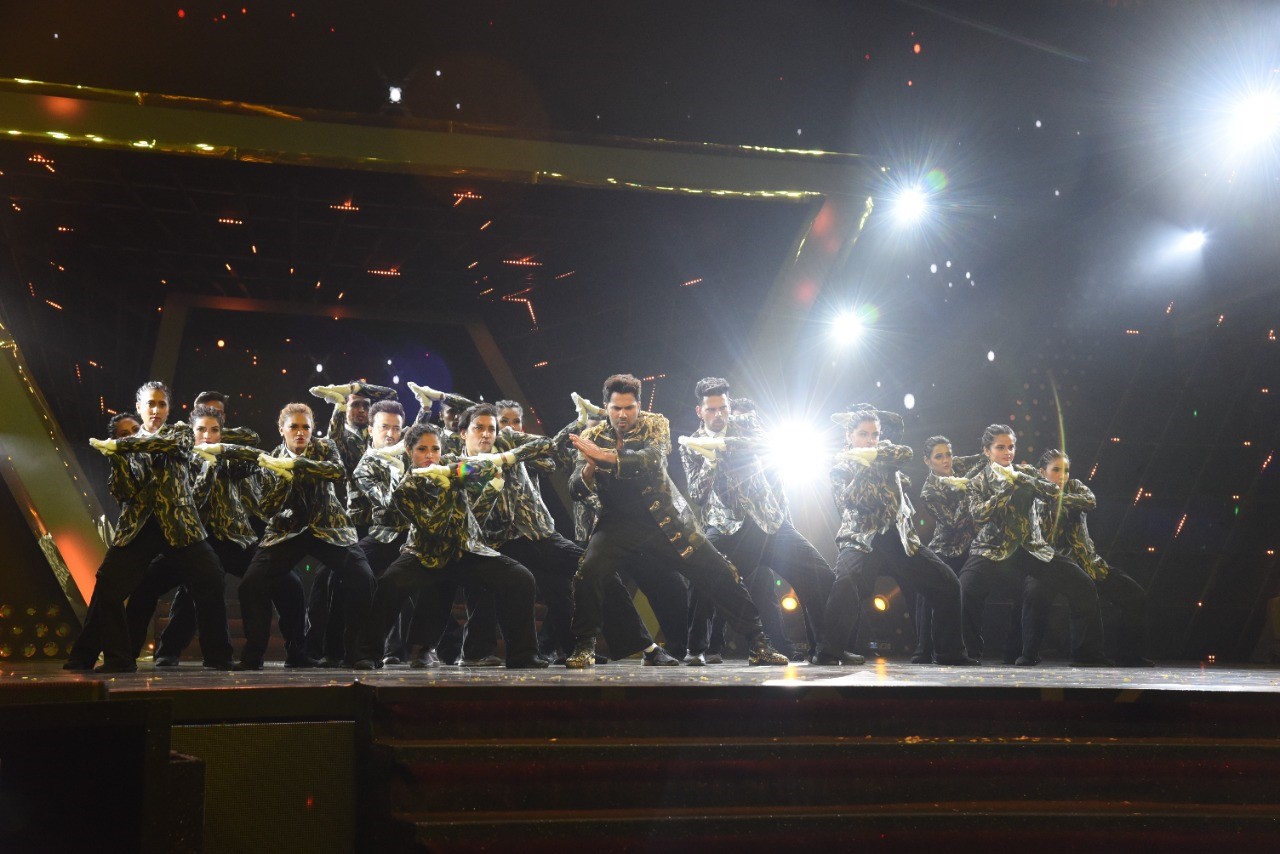 IFFI 53 opens with the world premiere of Austrian Director Dieter Berner's 'Alma and Oskar'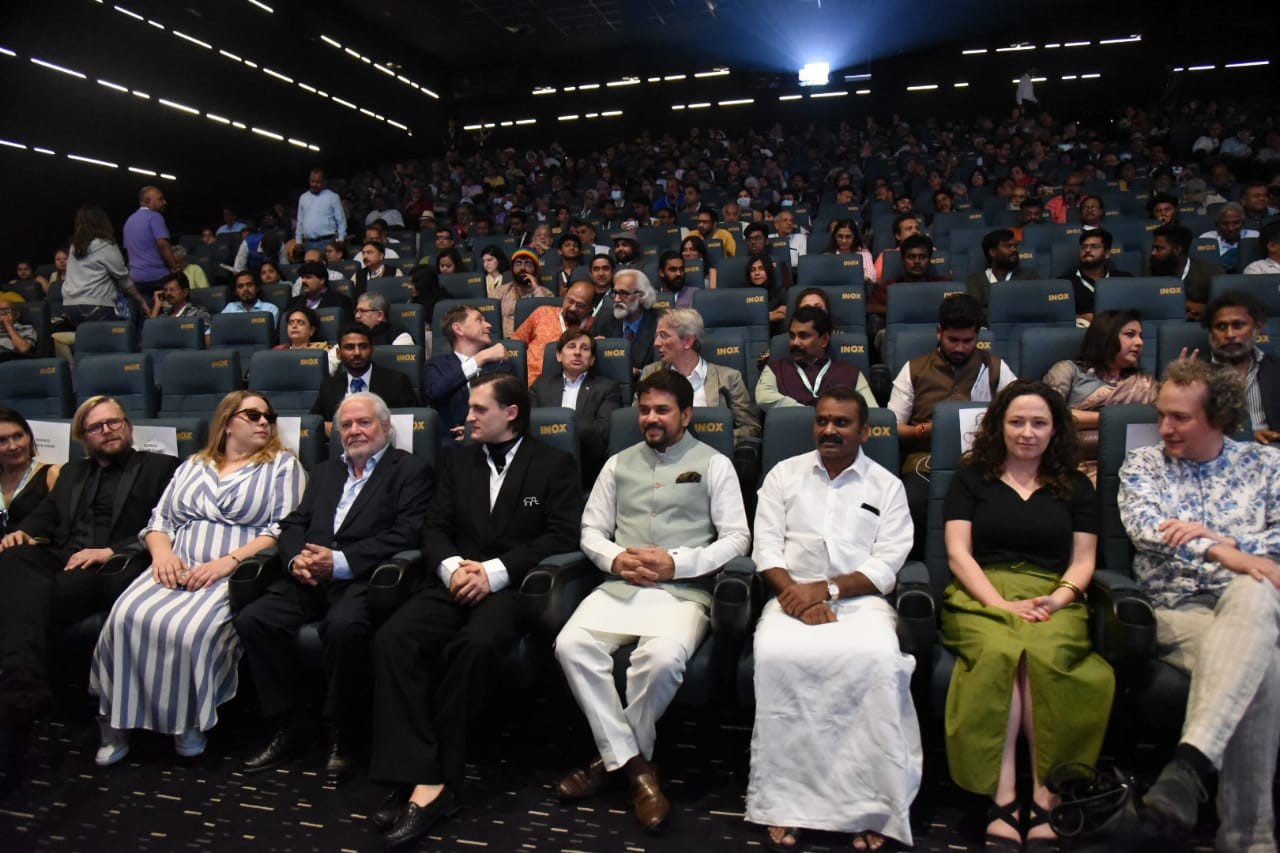 The festival opened today, before the opening ceremony, with the screening of Austrian Director Dieter Berner's passionate love story Alma and Oskar at INOX, Panjim.
Speaking at the screening, Director Dieter Berner observes that the film is about a famous Viennese woman, Alma Mahler, who was beautiful, courageous, challenged social conventions, and Oskar Kokoschka, who was an avant-garde playwright and an expressionist painter. They began an affair which brought them both to the brink of self-destruction, and left traces in the history of art.
Fixation, a 2022 film set in Germany, Canada and the USA, by Mercedes Bryce Morgan is the mid-fest film.
Polish film Krzysztof Zanussi's Perfect Number is the closing film.
The festival palette this year includes 280 films including 183 international films from 79 countries. 25 feature films and 19 non-feature films from India will be showcased in the 'Indian Panorama' while 183 films will be a part of international programming.
The festival presents a special section for Asha Parekh, the 52nd Dadasaheb Phalke Award winner, with the screening of three films, namely, Teesri Manzil, Do Badan and Kati Patang.
On the occasion of completion of 50 years of Manipuri Cinema, a specially curated package of five Feature and five Non-Feature films, curated by Manipur State Films Film Development Society, is being screened under Indian Panorama.
Indian Panorama
'Indian Panorama' will open with Prithvi Konanur's Kannada film Hadinelentu while The Show Must Go On by Divya Cowasji will flag off the non-feature film section. There will be special screenings of Pan Nalin's Chello Show — The Last Film Show, India's official entry to the Oscars in the Best Foreign Language category, and Madhur Bhandarkar's India Lockdown.
Homage Section: In Honour of the Greats of Yore
The 'Homage' section of IFFI 53 includes fifteen Indian and five international films. Tributes will be paid to Bharat Ratna Lata Mangeshkar, singer-composer Bappi Lahiri, Kathak maestro Pt. Birju Maharaj, actors Ramesh Deo and Maheshwari Amma, singer KK, director Tarun, Mr Nipon Das Assamese actor and theater artist, Majumder and singer Bhupinder Singh. Whereas in International section, Festival will pay homage to the genius of Bob Rafelson, Ivan Reitman, Peter Bogdanovich, Douglas Trumbell and Monica Vitti.
Film Bazaar
'Film Bazaar' will screen some of the finest films and filmmakers in various sections. For the first time, Pavilions will make an appearance at IFFI in line with major international markets like the Marche du Cannes. This year, there will be a total of 42 Pavilions. They will house the film offices of the various state governments, the participating countries, industry players and media units from the ministry. This will also be the first time when many restored classics will be available at 'The Viewing Room' where one would be able to buy the rights of these films and use them at film festivals across the globe.
Books to Box Office
A new Book Adaptation Program, Books to box office, has been introduced as an initiative to bridge the gap between good stories printed in books and good films that can be made by adapting books. Some of the best publishers are also expected to be present to sell the rights of the books that can be turned into on screen content.
Films to fit the palate of all
IFFI 53 will witness the premieres of several Gala Hindi films with their actors present to support and promote cinema. These include Paresh Rawal's The Storyteller, Ajay Devgn and Tabu's Drishyam 2, Varun Dhawan and Kriti Sanon's Bhediya and Yami Gautam's Lost. The upcoming Telugu film, Raymo, Deepti Naval and Kalki Koechlin's Goldfish and Randeep Hooda and Ileana D'Cruz's Tera Kya Hoga Lovely will also be premiered at IFFI, along with an episode of OTT shows like Vadhandhi, Khakee and Fauda Season 4.
The big draws will be films which have won multiple awards at prestigious film festivals around the world, like Cannes, Berlin, Toronto and Venice. Some are directed by or feature Oscar winners. These films include Decision to Leave by Park-Chan Wook and Ruben Ostlund's Triangle of Sadness, The Whale by Darren Oronofsky and Guillermo Del Toro's Pinocchio, Both Sides of the Blade by Claire Denis and Guy Davidi's Innocence, Saint Omer by Alice Diop and The Blue Caftan by Maryam Touzani.
Masterclasses' and 'In Conversation' Sessions
With 23 'Masterclasses' and 'In Conversation' sessions with eminent filmmakers and actors, it promises to be an exciting week. There will be a master class in screenwriting by V. Vijayendra Prasad, on editing by A. Sreekar Prasad and Anupam Kher will take a class in acting. A masterclass on ACES will have Oscar Academy experts, while the ones on animation will have Mark Osborne and Christian Jezdic. The 'In-conversation' sessions will be helmed by Asha Parekh, Prasoon Joshi, Aanand L Rai, R Balki and Nawazuddin Siddiqui among others.
***
PIB IFFI CAST AND CREW | Dheep / Shamila / Darshana | IFFI 53 – 50
Follow us on social media: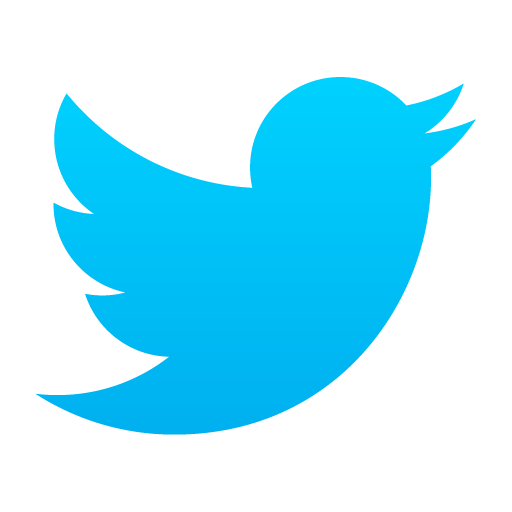 @PIBMumbai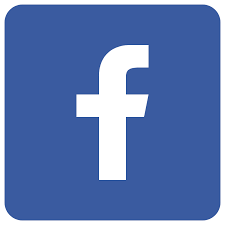 /PIBMumbai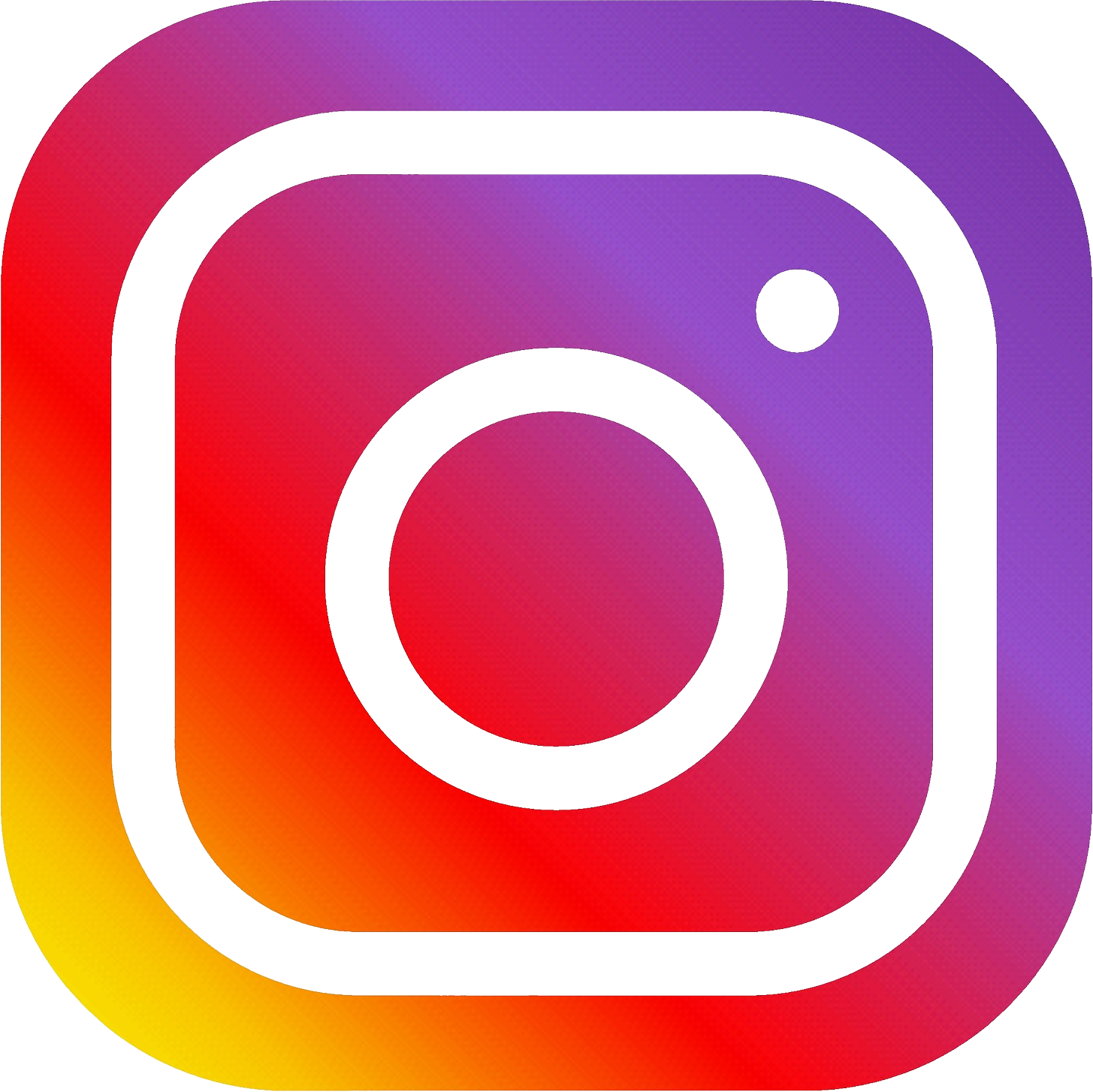 /pibmumbai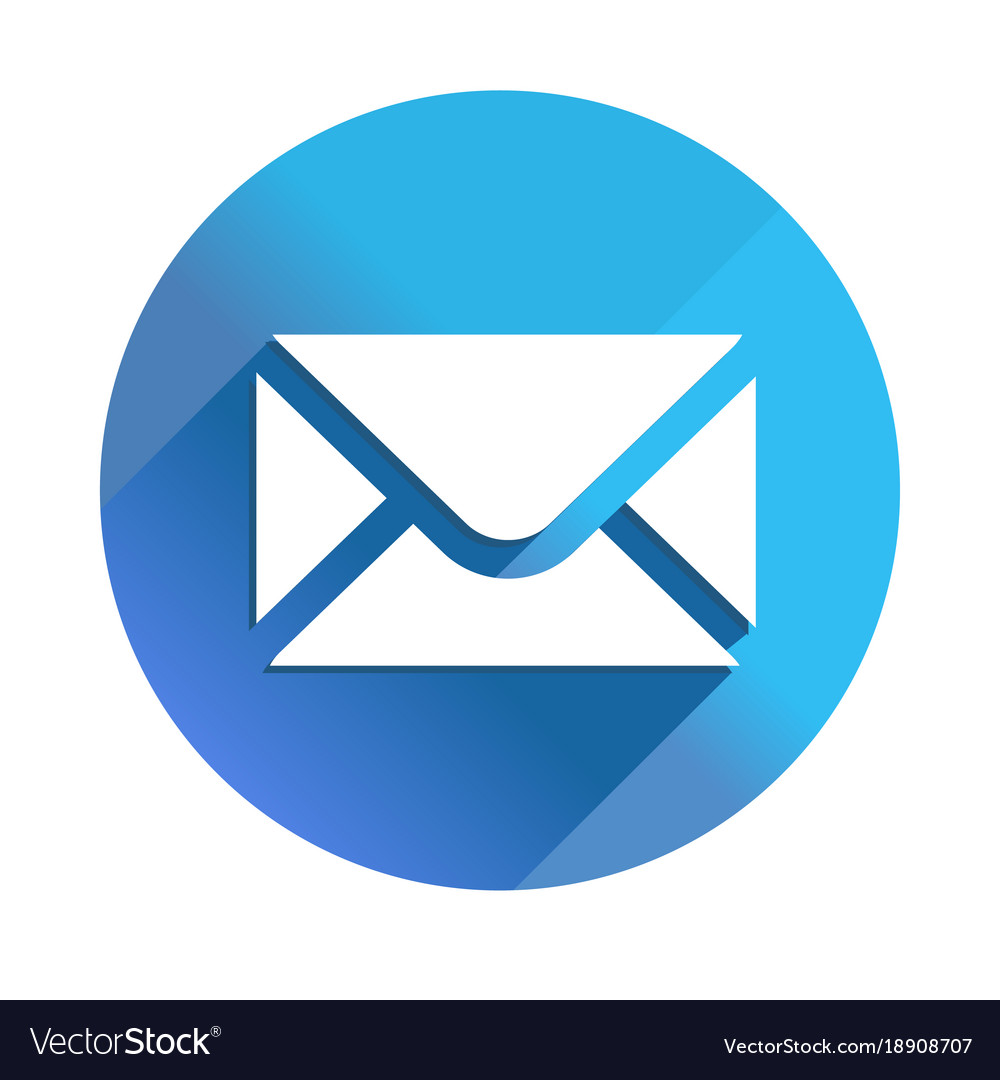 pibmumbai[at]gmail[dot]com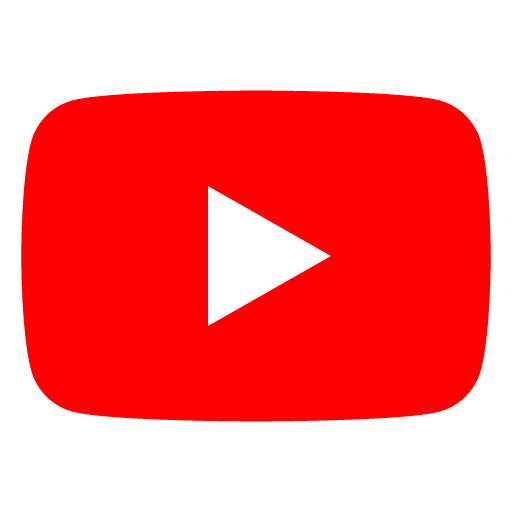 /PIBMumbai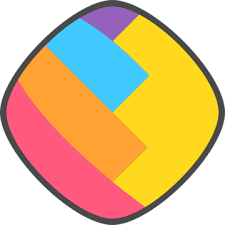 /pibmumbai