China broke into the world's top 20 most-innovative economies as Switzerland retained its number-one spot in the Global Innovation Index (GII) ranking published annually by Cornell University, INSEAD and the World Intellectual Property Organization (WIPO).
Now in its 11th edition, the GII is a detailed quantitative tool that helps global decision makers better understand how to stimulate the innovative activity that drives economic and human development. The GII ranks 126 economies based on 80 indicators, ranging from intellectual property filing rates to mobile-application creation, education spending and scientific and technical publications.
India's rank on the Global Innovation Index (GII) has improved from 60 in 2017 to 57 in 2018. India has been consistently climbing the GII ranking for the past two years.
Twenty economies comprise these 'innovation achievers' in 2018, three more than in 2017. The sub-Saharan Africa region boasts six innovation achievers, including Kenya, Rwanda and South Africa, while five economies hail from Eastern Europe. Indonesia, Malaysia, Thailand, and Viet Nam continue to move up the rankings, steering closer to regional powerhouses like China, Japan, Singapore, and Republic of Korea.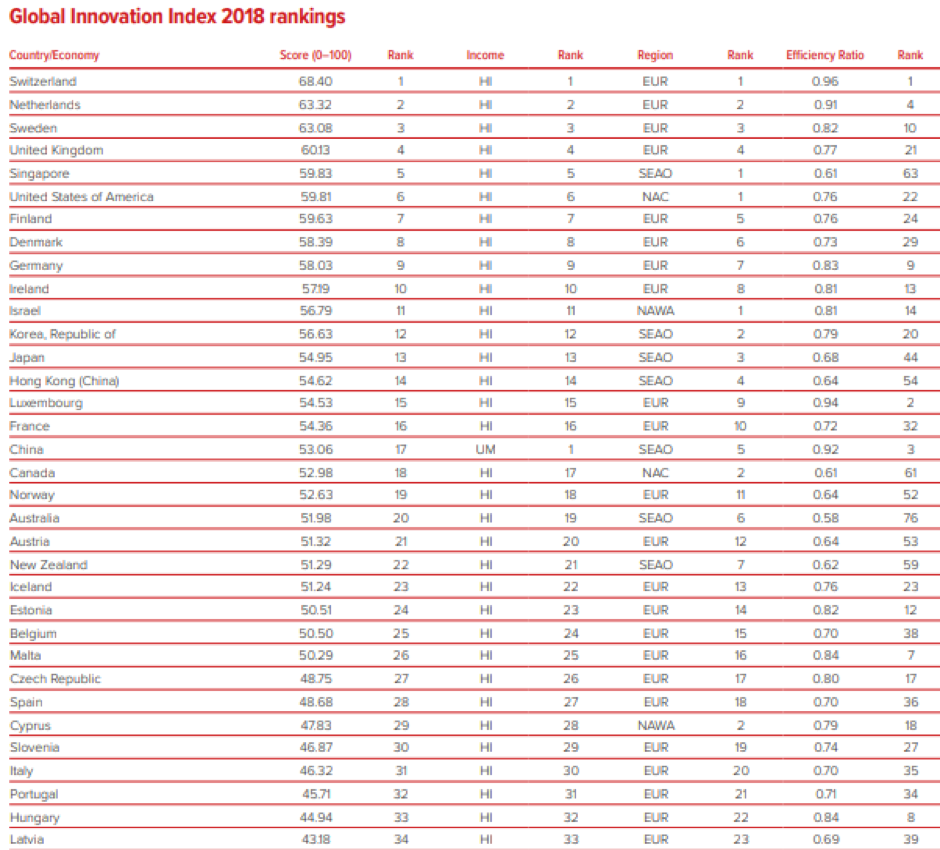 New findings of Global Innovation Index (GII):
An updated survey of "top science and technology clusters" around the world, adding scientific publishing to international patent applications to highlight areas of particularly intensive innovative activity. The areas around Tokyo-Yokohama and Shenzhen-Hong Kong lead the list, while the U.S. boasts the greatest number of hotspots with 26;
A new "IPC Green Inventory" that shows a worrying waning growth rate in environmentally friendly energy-related patenting, with green patent publishing rates peaking in 2012;
An expanded look at economies that innovate efficiently – translating investments in education, research and R&D expenditures into high-quality innovation outputs. Leaders are Switzerland, Luxembourg, China, the Netherlands, Ukraine, the Republic of Moldova, Malta, Hungary, Germany, and Sweden;
A new indicator, mobile-application "app" creation, with Cyprus, Finland and Lithuania as the global leaders in the development of mobile apps relative to GDP.
GII 2018 theme: "Energizing the World with Innovation"
Released jointly by WIPO, Cornell University, INSEAD and the 2018 GII Knowledge Partners, the Confederation of Indian Industry, PwC's Strategy& and the National Confederation of Industry (CNI) – Brazil and Brazilian Micro and Small Business Support Service (Sebrae)
The Global Innovation Index 2018 (GII), in its 11th edition this year, is co-published by Cornell University, INSEAD, and the World Intellectual Property Organization (WIPO, a specialized agency of the United Nations).
Published annually since 2007, the GII is now a leading benchmarking tool for business executives, policy makers and others seeking insight into the state of innovation around the world.
The GII 2018 is calculated as the average of two sub-indices. The Innovation Input Sub-Index gauges elements of the national economy which embody innovative activities grouped in five pillars: (1) Institutions, (2) Human capital and research, (3) Infrastructure, (4) Market sophistication, and (5) Business sophistication. The Innovation Output Sub-Index captures actual evidence of innovation results, divided in two pillars: (6) Knowledge and technology outputs and (7) Creative outputs.
CII is also a Knowledge partner in this report: The Confederation of Indian Industry (CII) is a non-government, not-for-profit, industry-led and industry-managed organization, playing a proactive role in India's development process. Founded in 1895, India's premier business association has around 9,000 members, from the private as well as public sectors, including SMEs and MNCs, and an indirect membership of over 300,000 enterprises from around 265 national and regional sectoral industry bodies.