Japan has offered to finance Mumbai-Ahmedabad high speed rail corridor estimated to cost about Rs 90,000 crore at an interest rate of less than one per cent.
Japan International Cooperation Agency (JICA) in its report submitted to the Railway Ministry has envisaged a reduction in the travel time on the 505-km long corridor between the two western cities to two hours from the existing period of over seven hours.
The bullet train is expected to run at speeds of around 300-350 km/hour. Though there are many countries offering the high-speed technology for the bullet train project, it is Japan which is offering both technology and funding together.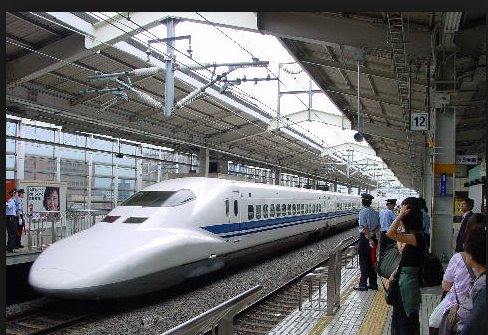 Last month, China won the contract to assess the feasibility of a high-speed train between Delhi and Mumbai, a 1,200-km route estimated to cost twice as much. No loan has yet been offered. The Chinese are also known to be studying the feasibility of building a similar train on the Chennai-New Delhi corridor
Japan's decision to give virtually free finance is part of its broader push back against China's involvement in infrastructure development in South Asia over the past several years.
The two projects are part of a "Diamond Qaudrilateral" of high speed trains over 10,000 km of track that India wants to set up connecting Delhi, Mumbai, Chennai and Calcutta.
Japan has offered to meet 80 per cent of the Mumbai-Ahmedabad project cost, on condition that India buys 30 per cent of equipment, including the coaches and locomotives, from Japanese firms.
Japan's International Cooperation Agency (JICA), which led the feasibility survey, said the journey time between Mumbai and Ahmedabad would be cut to two hours from seven. The route will require 11 new tunnels, including one undersea near Mumbai.
The proposal was currently being studied by the railway ministry and after which it would be circulated to concerned ministries for comments before being placed before the cabinet.
Junzo Yamamoto, Japan's state transport minister, was in New Delhi about a week back to woo Indians with Japan's offer. Sources said this followed instructions from Japanese Prime Minister Shinzo Abe to step up exports of transport systems to India and Southeast Asia.
Japanese companies are keen to collaborate with their Indian counterparts on the rail project.
JICA has also shown interest in the Calcutta-Delhi line, which, according to JICA, will cost much higher at Rs 2-3 lakh crore.
The Diamond Quadrilateral project, Prime Minister Narendra Modi's pet scheme, aims to drastically reduce the travel time between the metro cities with the introduction of the high-speed trains, which will run at about 350 kmph.
Read – IRCTC Launches E-Catering Service
Prime Minister Narendra Modi's visit to Japan saw the Japan pledging financial support for building infrastructure in India.
With Japan committing to fund bullet trains, the dream of running high-speed trains on Indian tracks is now a step closer. Modi's dream project got a big push after Japan expressed readiness to provide financial, technical and operational support to introduce bullet trains in India in a joint statement.
The first high-speed train is expected to run between Ahmedabad and Mumbai at an estimated cost of around Rs 60,000-70,000 crores.
As Japan is a pioneer in running superfast trains, the agreement is expected to help Modi achieve his dream of a bullet train for India running at a maximum of 300 km per hour.