Sartaj Aziz was removed from the post of National Security Advisor of Pakistan. In his place, Retired Lieutenant General Nasser Khan Janjua has been appointed as the new National Security Advisor (NSA) of Pakistan, signalling the powerful army's increasing grip on security affairs of the country and its dealings with India.
The Pakistan government notified the appointment of Janjua as the NSA, devesting the position from the mild-mannered Sartaj Aziz who will now concentrate on foreign affairs.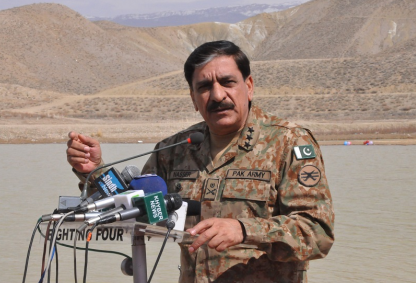 Janjua had retired earlier this month as chief of Southern Command which is based at Quetta in Balochistan province.
Till now, Aziz, 86, had been holding dual offices of NSA and Adviser on Foreign Affairs, with status of a federal minister. His appointment will increase army's hold on the security affairs of the country.
Gen. Janjua's appointment follows cooling relations between Pakistan and India, who were due to hold talks in August but cancelled after India said it wanted to limit the scope of the talks to Pakistan's support for militancy on Indian territory and Pakistan insisted on more wide-ranging discussions.
Two senior government officials said that Gen. Janjua was respected for his previous posting in Baluchistan, a poverty-stricken province with a raging separatist insurgency and widespread reports of human rights abuses by security forces.
Before that, Gen. Janjua was president of the National Defence University, the military's higher education institute and premier think-tank on national security matters.
He also worked on 'Azm-e-Nau,' a military preparedness exercise that had a particular focus on India.
The appointment of the new NSA will help Aziz to concentrate on diplomatic affairs, which were being ignored due to his hectic engagement as per demand of the dual offices.
Janjua's office will be based at the PM Secretariat instead of the Foreign Office as speculated earlier. His appointment will increase army's hold on the security affairs of the country.
Janjua's immediate task will be to concentrate on security ties with India in the east and Afghanistan in the west. He would lead any NSA-level talks with New Delhi if and when held in the light of Ufa declaration.
National Security Advisers of Pakistan
Major-General Ghulam Omar – March 1969 – December 1971
Major-General Rao Farman Ali – March 1985 – August 1988
Major-General Mahmud Ali Durrani – August 2008 – January 7, 2009
Sartaj Aziz – July 2013 – Oct 2015
Retired Lieutenant General Nasser Khan Janjua – Oct 2015 – till now.