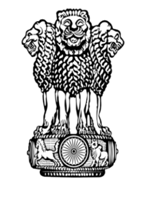 ·

Installation completed of Two High Flow Medical Oxygen Plants funded by PMCARES at AIIMS, New Delhi and RML Hospital
·

Oxygen Supply to COVID patients to begin from today
·

India becomes the fastest country to exceed 16 Crore cumulative vaccinations as the Nationwide Vaccination Drive expands
·

More than 6.7 Lakh beneficiaries of age group 18-44 Vaccinated under Phase-3 of Vaccination Drive
·

On a steady streak, over 3.38 Lakh Recoveries in the last 24 hours
·

Govt. of India has so far provided more than 17.02 crore vaccine doses to States/UTs Free of Cost
·

Over 36 Lakh doses in addition will be received by the States/UTs in the next 3 days
#Unite2FightCorona
#IndiaFightsCorona
PRESS INFORMATION BUREAU
MINISTRY OF INFORMATION AND BROADCASTING
GOVERNMENT OF INDIA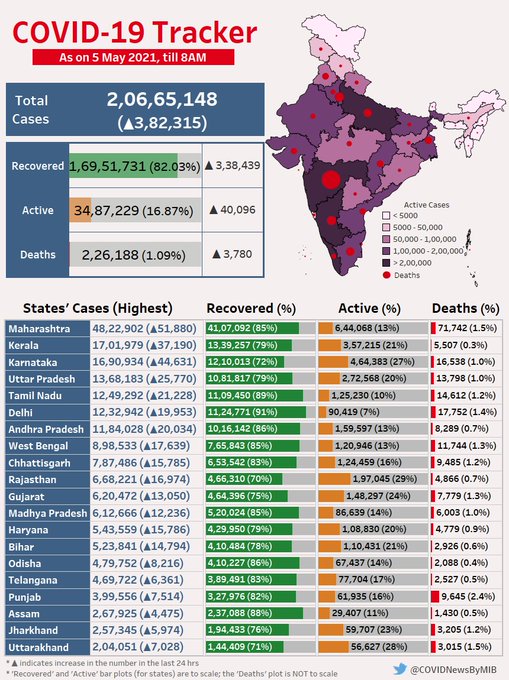 Installation of Two High Flow Medical Oxygen Plants funded by PMCARES at AIIMS, New Delhi and RML Hospital completed; Oxygen Supply to COVID patients to begin from today
In a significant development, two medical oxygen plants funded by PMCARES have been installed at AIIMS, New Delhi and RML Hospital within a week. Carried out on a war footing, the two plants were swiftly airlifted from Coimbatore and installed yesterday. Both the plants will start supply of oxygen by today evening.
In order to effectively address the high surge of Covid-19 cases in the country, PMCARES has allocated funds for the installation of 500 Medical Oxygen Plants across the country. These plants are planned to be set up within 3 months. In all, five high flow medical oxygen plants will be installed at AIIMS Trauma Centre, Dr Ram Manohar Lohia Hospital (RML), Safdarjung Hospital, Lady Hardinge Medical College, and AIIMS, Jhajjar, Haryana.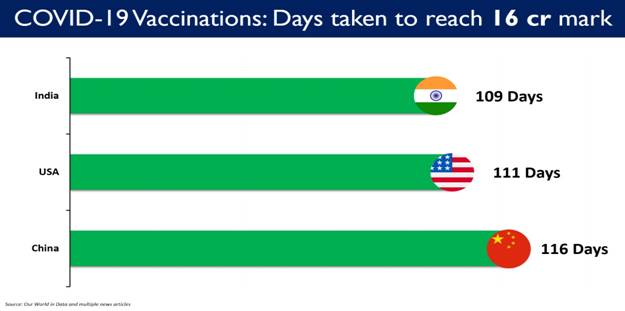 3,82,315 new cases were registered in the last 24 hours.Ten States including Maharashtra, Uttar Pradesh, Delhi, Karnataka,Kerala,Haryana, West Bengal, Tamil Nadu, Andhra Pradesh and Rajasthan report 70.91% of the new cases. The National Mortality Rate has been falling and currently stands at 1.09%.3,780 deaths were reported in the last 24 hours.
For details:https://www.pib.gov.in/PressReleasePage.aspx?PRID=1716089
Govt. of India has so far provided more than 17.02 crore vaccine doses to States/UTs Free of Cost
Implementation of the Liberalised and Accelerated Phase 3 Strategy of Covid-19 Vaccination has started from 1st May 2021. Registration for the new eligible population groups has commenced since 28th April. Potential beneficiaries can either register directly on the CoWIN portal (cowin.gov.in) or through the Aarogya Setu app.
The Government of India has so far provided nearly 17.02 crore vaccine doses (17,02,42,410) to States/UTs Free of Cost. Of this, the total consumption including wastages is 16,07,94,796 doses (as per data available at 8 am today).
More than 94.47 lakh COVID Vaccine doses (94,47,614) are still available with the States/UTs to be administered.
Further, more than 36 lakh (36,37,030) vaccine doses will be received in addition by the States/UTs within the next 3 days.
For details: https://www.pib.gov.in/PressReleasePage.aspx?PRID=1716069
PM praises healthcare workers and nurses for reducing vaccine waste
The Prime Minister, Shri Narendra Modi has praised healthcare workers and nurses for setting an example in reducing vaccine wastage.Quoting a tweet from the Chief Minister of Kerala, Pinarayi Vijayan, the Prime Minister tweeted:
"Good to see our healthcare workers and nurses set an example in reducing vaccine wastage. Reducing vaccine wastage is important in strengthening the fight against COVID-19."
For details: https://www.pib.gov.in/PressReleasePage.aspx?PRID=1716107
Cabinet approves allocation of additional foodgrain to NFSA Beneficiaries under Pradhan Mantri Garib Kalyan Anna Yojana (Phase III) for another period of two months – May and June, 2021
The Cabinet, chaired by Prime Minister Shri Narendra Modi, has given its ex-post facto approval to the following:
Allocation of additional foodgrain under Pradhan Mantri Garib Kalyan Anna Yojana Phase III- for another period of 2 months e. May to June, 2021 @ 5 kg per person per month free of cost for about 79.88 Crore beneficiaries covered under NFSA (AAY & PHH) including those covered under DBT.

The State/UT-wise allocation in terms of wheat/rice shall be decided by the Department of Food & Public Distribution on the basis of existing allocation ratio under NFSA. Also, the Department of Food and Public Distribution may decide on the extension of the lifting/distribution period under PMGKAY as per operational requirements keeping in view partial and local lockdown situations, and also arising out of adverse weather conditions like monsoon, cyclones, supply chain and Covid-induced constraints etc.
For details: https://www.pib.gov.in/PressReleasePage.aspx?PRID=1716090
MINISTRY OF HOME AFFAIRS (MHA) DRAWS ATTENTION OF STATES & UTs ON NEED TO HAVE PLAN OF ACTION TO ENSURE FIRE INCIDENTS DO NOT OCCUR IN HEALTH FACILITIES, PARTICULARLY COVID-19 FACILITIES
The Ministry of Home Affairs (MHA) has drawn the attention of State and Union Territory Governments towards the occurrence of fire incidents, caused by short-circuiting, in hospitals and nursing homes in the recent past.
In a communication today to Chief Secretaries of States and Administrators of Union Territories, the Union Home Secretary has said that in the context of recent fire incidents and particularly in view of the impending summer season it needs to be highlighted that either because of high temperature, lack of maintenance or high load on the internal wirings within the facilities, short circuiting takes place, leading to fire incidents and consequential loss of life and essential infrastructure.
For details: https://www.pib.gov.in/PressReleasePage.aspx?PRID=1716114
34 Oxygen Expresses complete their journey delivering more than 2067 MT LMO in 137 tankers
Overcoming all hurdles and finding new solutions, Indian Railways is continuing its journey of bringing relief by delivering Liquid Medical Oxygen(LMO) to various states across the country. So far, Indian Railways has delivered 2067MT (approx.) of LMO in 137 tankers to various states across the country.
34 Oxygen Expresses have already completed their journey so far.
For details:https://www.pib.gov.in/PressReleasePage.aspx?PRID=1716284
70,000 Isolation beds made available by Railways in more than 4400 Covid Care Coaches
The Railways has made available a fleet of more than 4400 Isolation Coaches with around 70,000 beds to serve as Isolation Units. These Isolation Coaches can be easily moved and positioned at places of demand on the Indian Railways network. Quick memorandum agreement of shared responsibilities and rapid action plans are being worked out by Railways with the respective District Authorities.
In the latest update, with the States of Nagaland and Gujarat seeking Isolation Coaches, the Railway has swiftly catered to their demand and positioned the coaches at Sabarmati, Chandlodiya and Dimapur respectively. Alongside adhering to Covid safety protocols, the Railways are also taking utmost efforts to devise ways to facilitate better work-convenience for the State medical personnel on duty. At some locations, the Railway authorities have also provided new logistical solutions like supported ramps on stair-cases for hassle-free transport of sick patients besides facilitative conveniences like make-shift tents, area segregation for better isolation on railway platforms that serve as freeway for movement of medical personnel and supplies in these Covid care facility. It may be pointed out that Railway personnel worked rapidly to rehabilitate some of the ramps on a war-footing.
For details:https://www.pib.gov.in/PressReleasePage.aspx?PRID=1716261
16.5 lakh vials of Remdesivir allocated between May 3 and May 9
Union Minister of Chemicals & Fertilisers Shri D.V Sadananda Gowda chaired a meeting to review availability of drugs for covid treatment and other essential drugs. Shri Gowda during the meeting appreciated the efforts of all seven manufacturers of Remdesivir for increasing the production capacity to 1.03 crore vials per month, up from 38 lakh vials per month a month ago. This increased capacity will augment domestic availability of the injection. He added that allocation of 16.5 lakh vials of Remdesivir has been made to all States for period between May 3 and May 9. Since April 21, a total allocation of 34.5 lakh vials has been made so far. Allocation to States is a dynamic process and efforts will be made to further enhance supply in the coming weeks.
 For details: https://www.pib.gov.in/PressReleasePage.aspx?PRID=1716165
Simplification of procedure for import of oxygen cylinders and cryogenic tankers/ containers
The Government of India has reviewed the existing procedure of registration and approval of global manufacturers for importing oxygen cylinders and cryogenic tankers/ containers by Petroleum and Explosive Safety Organization (PESO). In view of the COVID pandemic, PESO shall not carry out physical inspection of global manufacturers' production facilities before grant of such registration and approval.
For details: https://www.pib.gov.in/PressReleasePage.aspx?PRID=1716302
Covid-19 Vaccination camp organised at Guwahati Airport
The second covid vaccination camp, open for all above 18 years, has been organised at Lokpriya Gopinath Bordoloi International Airport (LGBI) Guwahati. The camp started on 3rd May 2021 and the vaccination is going on in the camp. Over 2000 people have been vaccinated and more are likely to get vaccinated tomorrow. Airports Authority of India in association with National Health Mission, Assam has organised this vaccination camp which was first for many young officers and staff working at Guwahati Airport. The vaccination camp was meant for all the working staff and was also opened for all dependent family members, employees of AAI, airlines, agencies, frontline staff and the stakeholders associated with the LGBI Airport, Guwahati.
For details:https://www.pib.gov.in/PressReleasePage.aspx?PRID=1716242
IMPORTANT TWEETS
For Mild/Asymptomatic #COVID19 cases, Home isolation is recommended. Step by step Illustrated Guidelines on Home isolation may be accessed here:https://t.co/WMiMFtdRoU @PMOIndia @drharshvardhan @AshwiniKChoubey @PIB_India @mygovindia @COVIDNewsByMIB

— Ministry of Health (@MoHFW_INDIA) May 5, 2021
Pics of an IAF IL-76 transport aircraft in Singapore today. The IL-76 is picking up 352 empty oxygen cylinders for Delhi. This MHA coordinated exercise will help in increasing oxygen availability amid the current COVID19 surge in Delhi.@HMOIndia @PIB_India @DDNewslive @ANI pic.twitter.com/eWcyOjuVPU

— Spokesperson, Ministry of Home Affairs (@PIBHomeAffairs) May 5, 2021
Continuing its air effort to bring more cryo oxygen containers home in the wake of 2nd Covid 19 wave, yet another IL 76 aircraft reached Bangkok this afternoon. loaded with 3 cryo containers & will reach Panagarh Airbase. MHA and IAF are working together for these airlifts. pic.twitter.com/yFgH9bOYnC

— Spokesperson, Ministry of Home Affairs (@PIBHomeAffairs) May 5, 2021
Ministry of Corporate Affairs clarifies that spending of CSR funds directly or through pooling of resources for 'creating health infrastructure for COVID care are eligible CSR activities.

For more details , read circular dt 5th May, 2021 ?
(1/2)#Unite2FightCorona pic.twitter.com/CdKqfcFuH4

— Ministry of Finance (@FinMinIndia) May 5, 2021
Zonal Customs Nodal officers for clearance of COVID19 related equipments or medicaments.#Unite2FightCorona pic.twitter.com/N4FmAOZTxJ

— CBIC (@cbic_india) May 5, 2021
#Unite2FightCorona
✅#COVID19 महामारी के इस कठिन समय में बच्चों को चिंता, भय,अकेलेपन जैसी समस्याओं से निपटने में भावनात्मक व मनोवैज्ञानिक सहयोग प्रदान करने के लिए #सम्वेदना टेली-काउंसलिंग सर्विस का उपयोग करें

✅टेली-काउंसलिंग के लिए डायल करें
? :- 1800-121-2830@MinistryWCD pic.twitter.com/OVJIVh45Oh

— PIB WCD (@PIBWCD) May 5, 2021
New Mangalore Port receives @IndianNavy's INS TALWAR, carrying 40 MTs of Liquid Medical Oxygen filled in cryogenic containers donated by the Kingdom of Bahrain.@NewMngPort is handling the #Oxygen cargo on priority basis

Thank you Bahrain ?? #IndiaFightsCOVID19 pic.twitter.com/r10RD7LAoe

— Mansukh Mandaviya (@mansukhmandviya) May 5, 2021
Import of Oxygen Concentrators for personal use included in exempted category list https://t.co/EbrvyIVbDd

— PIB_Commerce (@CommercePib) May 5, 2021
INPUTS FROM PIB FIELD OFFICES
Maharashtra: Maharashtra Health Minister Rajesh Tope on Tuesday said 15 districts, including Mumbai and Thane, are showing a decline in daily COVID-19 cases, but other districts are still exhibiting an upward trend in the state. In view of the increasing number of patients in Kolhapur, it has been decided to impose strict lockdown for the next 10 days starting from tomorrow.The Maharashtra government and the BMC has written two separate letters to the Centre highlighting their daily oxygen requirement.
 
Gujarat: Gujarat recorded 13,050 new cases yesterday. Gujarat government has put 7 more cities – under night curfew from tomorrow. These cities are Deesa, Ankleshwar, Vapi, Modasa, Radhanpur, Kadi and Visangar.Now, total 36 cities of the state are under 8 pm to 6 am curfew from 6th to 12th May. Meanwhile, after suspending vaccination for 45 plus age group for a day, Ahmedabad Municipal Corporation has announced to resume it from today. Meanwhile, Railway has deployed 19 isolation coaches at Sabarmati and Chandlodia in Ahmedabad.
 
Rajasthan: Chief Secretary Niranjan Arya said that due to the coordinated efforts of the State Government, oxygen availability in the state was getting better. He informed that the number of tankers transporting oxygen has increased from 22 to 38 and delivery of oxygen concentrators had also started.Nearly after a month, there has been a dip in daily infections for the third consecutive day on Tuesday. From 18,298 and 17,296 cases, respectively, over the past two days, the state recorded 16,974 new cases on the day. A total of 154 people also died in the state on Tuesday.
Madhya Pradesh: Madhya Pradesh reported 12,236 fresh COVID cases yesterday taking the tally to 6,12,666. The vaccination of people aged between 18 and 44 years of age is also being held in all the districts of the state from today. The state's positivity rate has come down to 19.1 percent. Active cases in the state stands at 86,639 while 11,249 people recovered from the infection yesterday. Deputy Director State IEC Bureau, informed that vaccination will be done in a phased manner throughout the state as per the availability of vaccines. Vaccination will be done on Monday, Wednesday, Thursday, and Saturday from 9 am to 5 pm.
Chhattisgarh: In Chhattisgarh, the lockdown has been extended in all 28 districts for ten days to break the chain of the spread of COVID infection. The state government has made two categories of the districts on the basis of number of corona infection cases. In the first category, there are 26 districts, where the pace of corona infection has not slowed down. These include all seven districts of tribal Bastar division.
The lockdown will continue vigorously in these districts. In the bordering districts of the state, along with strict monitoring of people coming from other states, health check-ups will be done.While addressing the virtual meeting of mitanins and health workers from Bastar and Sarguja division,Chief Minister has directed all the District Collectors to ensure free of cost availability of masks and hand sanitizer for mitanins and health workers.
Goa: Prime Minister Modi has asked Goa govt to carry out oxygen audit of the state informed CM Pramod Sawant today. As per PM's instruction he has given instructions to the administration to carry out the oxygen audit of entire state of Goa with detailed information related to Goa's present and future requirement, amount generated and imported, patient wise usage, measures for minimizing leakage and misuse, additional sources which can be tapped, possibility of re-commissioning non-working plants etc.Goa govt issued order listing fresh restrictions to be enforced till May 10. The order has prohibited restaurants and shops selling non-essential items.
 Kerala: CM Pinarayi Vijayan has sought Centre's help for allocating at least 1,000 metric tonnes of imported liquefied medical oxygen to the state. As the state's single day Covid-19 surge crossed over 37,000 yesterday, Oxygen beds and ventilators are getting filled up. IC Units and ventilators are full in government hospitals. 85% of the Covid beds are full in private hospitals. The state expert committee has warned that the number of Covid patients in the state is likely to go up or remain static in the next two weeks. The average TPR of last one week is 25.19. Four lakh doses of Covisheild vaccine has arrived in the state. 63,558 people took vaccine yesterday. So far, altogether 75,91,524 people have been vaccinated in the state. Out of this, 61,15,207 were first dose and 14,76,317 second dose.
Tamil Nadu:TN received about 75,000 doses of Covaxin and as many as 20,000 vials of Covishield on Tuesday. Four days after officially deferring the drive, the State opened up vaccination registration for people aged 18-44 years from Tuesday; but govt facilities are yet to give slots. At least 13 patients died at Chengalpattu Government Hospital in Chengalpattu, Tamil Nadu on Tuesday night; an inquiry is underway to ascertain the cause of the deaths. Ahead of the new restrictions that are to be imposed across the State from Thursday, local residents expressed hope that the new measures would help curb the rising number of pandemic cases in the city. Tamil Nadu recorded 21,228 positive cases of Covid-19 on Tuesday, bringing the state tally to 12,49,292. The state recorded 144 deaths on Tuesday, putting the state toll at 14,612. The state vaccinated 65,684 people yesterday. Till date 61,88,845 have been vaccinated across the State, of which 47,30,022 received first dose and 14,58,823 received second dose.
Karnataka:New Cases Reported: 44631; Total Active Cases: 464363; New Covid Deaths: 292; Total Covid Deaths: 16538. Around 36,344 were vaccinated yesterday with a total of 99,36,0048 have been vaccinated in the state till now. The state government has postponed the second PU exam in the wake of the corona infection, and has decided to promote the first PU students without exam. The Southwestern Railway's Bangalore Division has given 10,082 doses of vaccine to its staff and officers so far. Covid Care Centers (CCC) are being set up by the Air Force and BMRCL. The state cabinet has decided to treat media personnel working during the Covid times as frontline workers and give free vaccine.
Andhra Pradesh:The State reported 20,034 new Covid-19 cases after testing 1,15,784 samples with 82 deaths, while 12,207 got discharged during the last 24 hours. A total of 67,42,700 doses of Covid vaccine have been administered in the state as on yesterday, which include 51,98,955 first dose and 15,43,745 second doses.  The state is received another five lakh doses of Covishied vaccine yesterday from Serum Institute of India, Pune.  Principal Secretary, Health, stated that the State will receive 9 lakh vaccine doses by May 15, and priority will be given to complete vaccination of those who already took the first dose.  Govt has decided to complete inoculation of beneficiaries of above 45 years first owing to limited availability of Covid vaccine in the State. Owing to partial curfew in force from today in the state, all public transport including APSRTC buses and interstate services will be suspended from noon.  Meanwhile, the State forest department has announced the closure of all zoo parks.
Telangana:   A total of 47,481 people of all categories received first dose and 18,070 second dose of Covid vaccine yesterday in the state. Now, the cumulative number of people received first dose in the state stands at 42,24,880 and second dose at 6,55,455. Meanwhile, as many as 6,361 new daily cases and 51 deaths were reported in the state yesterday taking the total number of positive cases in the state to 4,69,722 and fatalities to 2,527. Now, the number of Active Cases in the state stands at 77,704. The State Government has decided to permit private hospitals in the state to carry out the Covid vaccination drive for the people aged above 45 years. But these hospitals will have to procure vaccines on their own directly from the Pharma companies. The State Government has not yet decided on the third phase of vaccination programme to inoculate the people aged between 18 and 44 years.
Assam: Assam has recorded 4475 new COVID-19 cases on Tuesday. Giving an update on the COVID situation in the state, Assam Health Minister Himanta Biswa Sarma tweeted that 41 deaths have been recorded and Kamrup Metropolitan in Guwahati registered highest 1417 COVID cases. The positivity rate stands at 8.14%.
Amid a shortage of vaccines, the State Health Department plans to roll out the third phase of the COVID-19 immunization drive for the age group 18-44 in the districts from May 7. Health Minister Himanta Biswa Sarma has sounded an alert saying that the COVID-19 situation across the State is turning critical with the numbers of both the positive cases and deaths increasing. Curfew will be imposed from 6 pm to 5 am and all shops, business establishments as well as offices will close down at 2 pm from May 5, according to a new order issued by the Assam State Disaster Management Authority.
Manipur: In Manipur, the highest single day surge of 432 COVID-19 positive cases recorded with two more deaths.Additional restrictions have been imposed in Greater Imphal areas. Movement of vehicles banned even between 6 am and 10 am in order to contain the spread of COVID-19.To help the State fight COVID-19, eleven institutions have been identified for setting up as Community Home Isolation Centres (CHICs) in Imphal West district.
Meghalaya: The state on Tuesday recorded an all-time high of 339 fresh cases taking the active tally past the 2,000-mark.Asked if the government would plan more stringent measures to contain the spread of the virus, Deputy Chief Minister Prestone Tynsong said that the government was reviewing the situation every day.
He also announced that the Meghalaya government will vaccinate everyone aged 18-44 years for free,.Meghalaya has not yet started it although the enrollment of beneficiaries is underway.
Nagaland: The State registered the highest single day spike of COVID-19 cases with 266 and 3 fatalities on Tuesday. Active cases are 1798 while tally goes up to 14,717.
A total of 2,16,761 doses of COVID vaccine have have been administered to 1,71,207 beneficiaries in Nagaland so far. Of them, 51,004 are frontline workers, 14,919 health professionals and 1,05,284 persons above 45 yrs and senior citizens.
New containment restrictions come into force in Dimapur, Kohima from 7 pm today. Dimapur to go for odd-even vehicle rule.
Newly set up oxygen plants at Naga Hospital Authority, Kohima to be functional within 2 days. Plant will generate 4,32,000 litres of oxygen per day.
Tripura: Total of 271 new COVID-19 positive cases registered in the last 24 hours and of which 172 are from the west Tripura district. As of today active cases for the state stands at 1,666. Tripura CM informed that 4 Lakhs vaccine doses to arrive soon.
Sikkim: The 56 vaccination sites open across the State administered a total of 2,417 vaccine doses on Tuesday. With this, the number of doses administered
in Sikkim now stands at 2,10,281.Sikkim's COVID-19 death-toll has gone up to 150, Daily cases stay above 230.There are new 1,930 active cases of Coronavirus in Sikkim. Of these, 10 patients are admitted in the ICU facility of STNM Hospital. One more death was recorded in the State during the same 24 hours, taking the State's official death toll to 151.
Punjab: The total number of patients tested Positive is 399556. Number of active cases is 61935. Total Deaths reported is 9645. Total COVID-19 Vaccinated with 1st dose (Healthcare + Frontline Workers) is 686286. Total COVID-19 Vaccinated with 2nd dose (Healthcare + Frontline Workers) is 197832. Total above 45 Vaccinated with 1st dose is 2377998. Total above 45 Vaccinated with 2nd dose is 246446.
Haryana: Total Number of Samples found positive till date is 543559. Total active COVID-19 patients is 108830. Number of deaths is 4779. Cumulative number of people vaccinated till date is 3971532.
Chandigarh: Total Lab confirmed COVID-19 cases is 45976. Total number of Active Cases is 8170. Total number of COVID-19 deaths till date is 518.
Himachal Pradesh: Total number of patients tested COVID positive till date is 110945. Total number of Active Cases is 23572. Total deaths reported till date is 1647.
********
 MV/AP