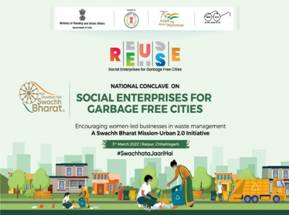 Swachh Bharat Mission-Urban 2.0 (SBM-U 2.0), under the aegis of the Ministry of Housing and Urban Affairs (MoHUA), organized the National conclave on 'Social Enterprises for Garbage Free Cities: Encouraging Women Entrepreneurs in Waste management'on Thursday in Raipur, in collaboration with the Government of Chhattisgarh,as a run-up to International Women's Day. The event, which saw participation from nearly 100 delegates, including senior bureaucrats and staff from 19 States and their ULBs, sector partners, and representatives of women-led waste management enterprises from across the country, was attended by dignitaries including Shiv Kumar Daharia, Minister for Urban Development, Chhattisgarh, AijazDheebar, Mayor of Raipur Municipal Corporation, Manoj Joshi, Secretary, MoHUA, Amitabh Jain, Chief Secretary, Chhattisgarh, AlarmelMangai D, Secretary, Urban Development, Chhattisgarh, andRoopa Mishra, Joint Secretary and National Mission Director, SBM-U 2.0.
The event was streamed live on https://youtu.be/5TP1rjZGFA8.The event was also attended by nearly 100 'swachchatadidis'–members of women Self-help groups from across Chhattisgarh who are empowered to handle the entire decentralized Solid Waste management chain across the State -from door to door collection of segregated waste, collection of user charges, to transporting the collected waste to local solid and liquid source management (SLRM) centres for further sorting, processing, recycling and final disposal. Additionally, lakhs of viewers across cities attended the event on virtual mode.  
Shri Shiv Kumar Daharia  in his address, emphasized that swachhatadidis were mainly instrumental for bringing in massive behavior change around waste management among citizens which has resulted in the pre-eminent position attained by Chhattisgarh as the cleanest city in the country for 3 successive years under SBM-U.The Mayor of Raipur, while highlighting various waste management initiatives such as setting up women-run bartan banks across all 10 zones, as well as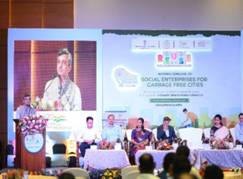 garbage clinics, nekikidiwarsetc, also made special mention of the exemplary work done by safaikarmacharis in Raipur during the pandemic period, and going beyond their designated duties to attend to infected households.Addressing delegates and participants at the event, Secretary MoHUA said that there was a need for all cities across the country to learn from the Chhattisgarh model of waste managementand replicate it in their areas.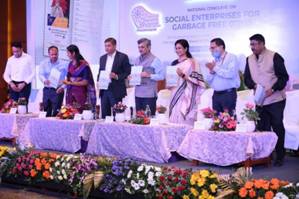 The event saw the launch of the National Capacity Building Framework for Garbage Free Cities by SBM-U 2.0, which is expected to serve as a blueprint for capacity building, skill development and knowledge management initiatives for States and ULBs under SBM-U 2.0. The conclave itself was a first-of-its-kind event by SBM-U 2.0 in collaboration with one of the lighthouse States of SBM-U, to encourage and promote peer learning and knowledge sharing as part of the Mission's capacity building initiatives. National Mission Director, SBM-U MoHUA Roopa Mishra presented a comprehensive overview of the framework, highlighting the 3-pillared approach that would be taken, viz. (i) Capacity Strengthening of State and Municipal Cadres through human resource assessments and training needs assessments, short-term and long term trainings, webinars, peer learning and e-learnings, (ii)Capacity Augmentation through specialized Human Resources, in the form of program management units and city managers, and(iii) Ecosystem Strengthening, through strengthening of existing Central Public Health & Environmental Engineering Organisation (CPHEEO), involving swachhata knowledge partners, swachhatamargdarshaks, and setting up Centres of excellence with Chair Professorship.She also highlighted that for the first time, skilling of sanitation workers will be taken up in a focused manner in collaboration with sister ministries and entities. The National Capacity Building Framework may be accessed online on:
https://sbmurban.org/storage/app/media/pdf/National%20Capacity%20Building%20Framework%20%20SBM-U%202.0.pdf.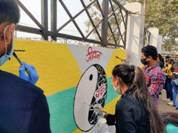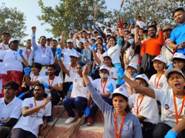 The day-long event began with a cleanliness drive at the Mahabodhighat along with NSS, NCC cadets, and representatives of local NGOs. This was followed by a visit to the famed Solid & Liquid Resource Management (SLRM) centre at Patan, with integrated facilities, including managing waste for stray animals, and resource recovery, where participants performed shramdaan,  segregating dry waste into smaller categories. Participants also visited Kumhari for inspecting a Fecal Sludge Treatment plant set up on a remediated dumpsite location.
The key highlight of the day was a series of presentations from women-led waste management enterprises. These included HasiruDala, a Bangalore-based organization working with waste pickers, Pune's Red Dot campaign by SWaCH co-operative working to spread awareness regarding menstrual health, Gurugram's SAAHAS NGO working on source segregation of waste, SHE teams from Tiruchirappalli, Tamil Nadu engaged in operating and maintaining community toilets in slums, and transgender teams from Cuttack operating and managing end to end sanitation facilities – from community toilets to fecal sludge treatment plants. This was followed by a heartwarming fireside chatby swachhata ambassador VeenaSendrewith a few SwachhataDidis, who described how their lives had transformed for the better through their involvement in the sanitation and waste management activities. As a fitting tribute to the undying dedication of these Swachhata Champions, swachhatadidis from 5 divisions were felicitated by the dignitaries. 
For regular updates, please follow the Swachh Bharat Mission's official website and social media properties: Website: www.swachhbharaturban.gov.in
Facebook: Swachh Bharat Mission – Urban | Twitter:  @SwachhBharatGov/ Instagram: sbm_urban |Youtube: Swachh Bharat Urban        
 ****
YB