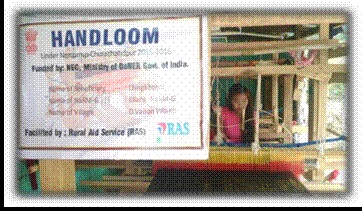 NERCORMP, Churachandpur district, Manipur
Ms.Lhingkhohoi, 43 years old, from D. Vaison village and an active member of Ellang NaRMG promoted under the NERCORMPIII project. She lives with her husband and fivechildren. She belongs to the poorest household in the village. Although most of the households are engaged in agriculture, she earns her living by weaving and is able to support her family. However, since funds are required to purchase raw materials, continuing work after a weaving cycle is a major challenge. In addition, the loom was old and the work could not progress as expected. Because of this special reason, she couldn't stick to her job and gradually switched to farming like the others.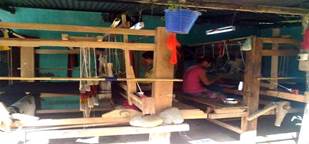 When the NERCORMP project started, she intervened in her village in 2014, she was chosen as the beneficiary of the hand loom because of her skills and past experience. The project supported her Rs 15,000 /. Through NaRMG to restart its loom business. With the money she received, she bought a new loom and accessories. Currently, she actively participatesof her businesses without any financial hindrance and can also save money to support her business. She can earn around Rs. 7,000 /in year month out of from her business and with the surplus she earns she can feed her two kids going to school and also buy a new gas stove and almirah. She is very grateful and can now manage her family better, and the work can support her.
***
MG/RNM/SB