[CURTAIN RAISER]
The Union Minister of Jal Shakti, Shri Gajendra Singh Shekhawat, will chair a Regional Conference of Ministers of the Public Health Engineering Department (PHED), rural water supply and sanitation departmentof the North-Eastern States on28th February, 2022 at Guwahati, Assam. The regional conference will focus on important issues pertaining to implementation of Jal Jeevan Mission and Swachh Bharat Mission (Grameen). The meeting can be viewed on the following link: https://youtu.be/N2Wo8QLA6jA
The Union Minister will be setting the roadmap for the North-Eastern States, keeping in line with the guidance received from the Prime Minister, Shri Narendra Modi, during the Webinar on 'Post Union Budget 2022 – Leaving No Citizen Behind' held on 23 February, where he had said, "a clear roadmap must be built so that States/ UTs can achieve the target within the stipulated timeframe. Priority should be given to North-Eastern border States, hilly region and aspirational districts."
Difficult terrain, heavy rain and snowfall coupled with erratic supply of construction material greatly impacts the progress of the mission work in the border regions of the north-east. Reaffirming the commitment towards public health and well-being of the people living in rural areas, the Union Budget 2022-23 fund allocation for JJM has been increased from Rs 45,000 crore in 2021-22 to Rs 60,000 crore in 2022-23.  For SBM(G) Rs.7,192 crore have been allocated in the Budget 2022-23.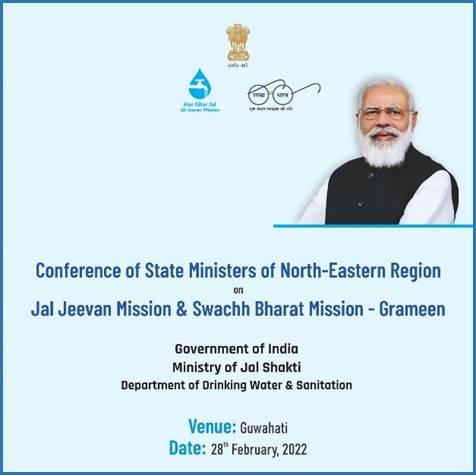 Har Ghar Jal is a flagship programme of the Government of India being implemented in partnership with States/ UTs, aims at providing tap water connection to every rural household in the country by 2024.Manipur, Meghalaya and Sikkim aim to achieve Har Ghar Jal in 2022. The deadline set by Arunachal Pradesh, Mizoram, Tripura and Nagaland is 2023; Assam aims to meet the goal in 2024.  Swachh Bharat Mission-Grameen (SBM-G) is another flagship programme being implemented by Ministry of Jal Shakti.  All the States in the country achieved Open Defecation Free status by 2nd October, 2019, when villages across India had declared themselves ODF. In its second phase,SBM-G is focusing on ODF sustainability and to achieve solid and liquid waste management in all villages by 2024-25 i.e., to transform the villages to ODF Plus. The Secretary DDWS, Smt. Vini Mahajan, will set the agenda of the conference which will focus on important issues pertaining to implementation of both these programmes.
Since the announcement ofJal Jeevan Mission on 15thAugust 2019, significant progress is made across the country and as on date more than 9 Crore rural households are provided with tap water connections. Despite disruptions and lockdown in the wake of Covid-19 pandemic, today, more than 100 districts in the country have become Har Ghar Jal.
There are total of 43,668 villages in the North-East of which 6,798 have become Har Ghar Jal. So far, under the programme, 30,196 Village Water and Sanitation Committees (VWSCs) have been constituted and 31,811 Village Action Plans (VAPs) have been developed. As many as 197 Implementing Support Agencies (ISAs) are engaged by the NE States for awareness creation, community mobilization, hand holding of village communities, etc. There are 14 Aspirational districts in the region, where 18.79 lakh households are provided with tap water connections. Out of 68,936 Anganwadi Centres in the region, 35,944 (52%) now have tap water connection. There are 71,814 schools in NE and as on date 48,724 (68%) have access to potable tap water for drinking, cooking mid-day meal, handwashing and use in toilets.
Further, water supply infrastructure is planned for covering the remaining villages under the 'Har Ghar Jal' programme. Jal Jeevan Mission aims to skill-up local village youth as mason, plumber, pump operator, fitter, technician, electrician, etc. to support village water schemes in construction, repair and maintenance activities. It will also boost the rural economy and check people's migration from villages for livelihood.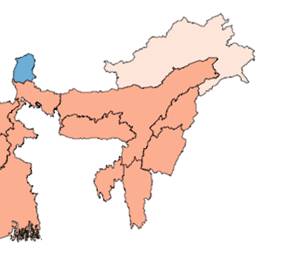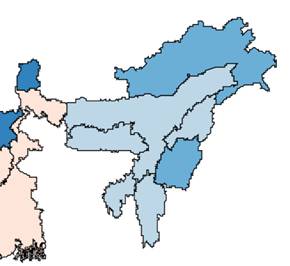 Situation as on 15th August 2019                            Situation as on 28th February 2022
Following Prime Minister Shri Narendra Modi's vision of "SabkaSaath, Sabka Vikas, Sabka Vishwas aurSabkaPrayas", 100 districts, 1,150 blocks, 67,071 gram panchayats and 1,38,655 villages have become 'Har Ghar Jal'. Three States – Goa, Telangana and Haryana and three UTs – A&N Islands, D&N Haveli & Daman & Diu and Puducherry have provided 100% tap water coverage. Other States are fast moving and are close to achieve the cent percent coverage shortly. Of these Punjab stands at 99%, Himachal Pradesh at 93%, Gujarat at 92% and Bihar at 90%. All these have set 2022 as the deadline to reach every rural home with tap water.    
Under SBM(G), NE States have done good work on sanitation. Achievement of ODF status has resulted in substantial health gains for people.  The resources under SBM(G) are being used to support construction of individual toilets for the new households and community sanitary complexes for households without the space for toilet construction and floating population; grey water management systems; solid waste management, including door-to-door collection of waste.  SBM (G) is also working to shun the Single Use Plastics and safe disposal of faecal sludge.  Attainment of solid and liquid waste management will help people realise sustainable health and hygiene benefits.
*****
BY/AS