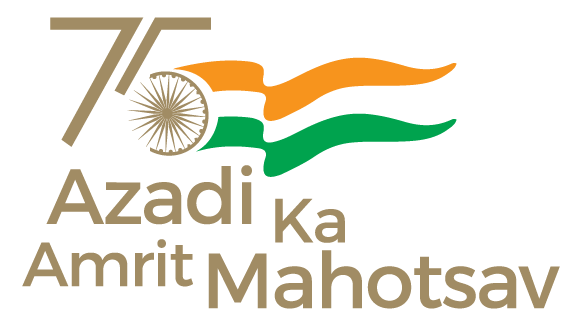 Vigyanika, a Science Literature Festival is going to be organised during 22 & 23 January, 2023 in the IndianInternational Science Festival (IISF), MANIT, Bhopal. The venue of this Vigyanika event is the Auditorium, Mechanical Engineering Department, Maulana Azad National Institute of Technology, Bhopal. "Science Literature Festival" is being organised as part of the 8th India International Science Festival (IISF).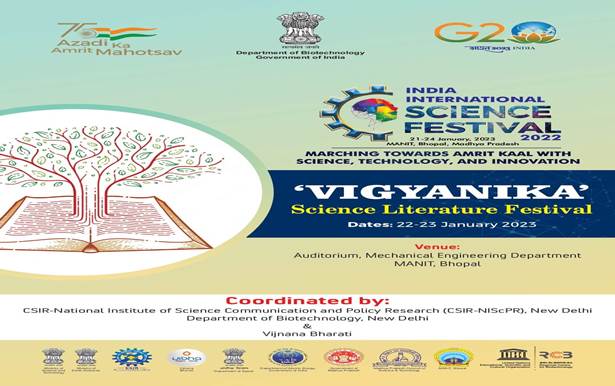 Vigyanika, a Science Literature Festival is going to be organised during 22 & 23 January, 2023 in the IndianInternational Science Festival (IISF) at MANIT, Bhopal
The inaugural will also have eminent personalities including Dr. N. Kalaiselvi, Secretary, DSIR & Director General, CSIR, Dr. Shekhar C. Mande, President, Vijnana Bharati & Former Director General, CSIR and Prof. Ranjana Aggarwal, Director, CSIR-NIScPR.
The annual India International Science Festival, which is in its 8th edition this time, showcases and celebrates the fruits of science and technology. IISF aims to engage the public with science and demonstrate how science, technology, engineering and mathematics (STEM) provide solutions to improve our lives. This year's IISF is being coordinated and organised by the Ministry of Earth Sciences, Ministry of Science & Technology and Vijnana Bharati.
Since the launch of IISF in 2015, the "Science Literature Festival" has emerged as one of the well-attended events. Aligned to the larger objective of IISF, the Vigyanika will showcase India's rich legacy of promoting science & inculcating scientific temper among the public through multilingual scientific literature, science poetry, science drama and folk art. Vigyanika seeks to promote discussions and deliberations on challenges and future roadmap for effective communication of scientific knowledge.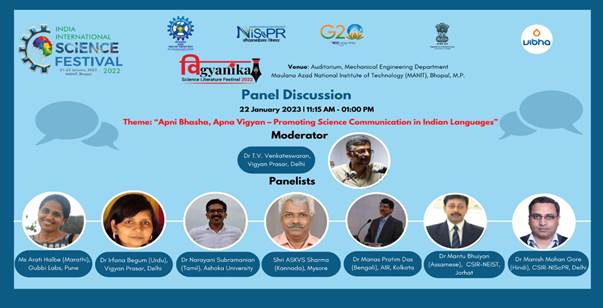 Panel discussions and scientific sessions on various science-society related topics will be organised during the Vigyanika event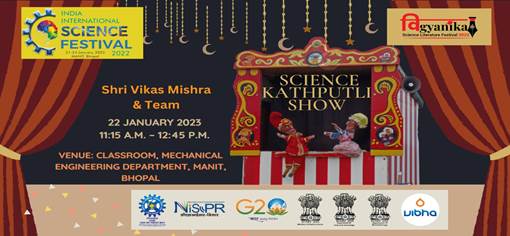 Science puppet show will also be a centre of attraction in Vigyanika event
As India is celebrating Azadi ka Amrit Mahotsav to mark 75 years of Indian independence, Vigyanika will also commemorate the Amrit Kaal aligned with science and technology in India through discussions. India is also going through the Presidency phase of the G20 and Indian Institute of Science is the Secretariat for Science 20 (S20). S20 will address the scientific aspects such as climate change, food security and health. One keynote address and one special talk aimed at S20 have been organised in Vigyanika event. Vigyanika will have six sessions, including keynote lectures, panel discussions, and interactions with authors, depiction of scientific ideas through drama & folk dance, and Vigyan Kavi Sammelan. One science drama on Galileo will also be performed by the Shadow Cultural & Social Welfare Society, Bhopal. About 40 eminent scientists, science communicators, authors, science leaders, and policy makers are set to take the stage at Vigyanika.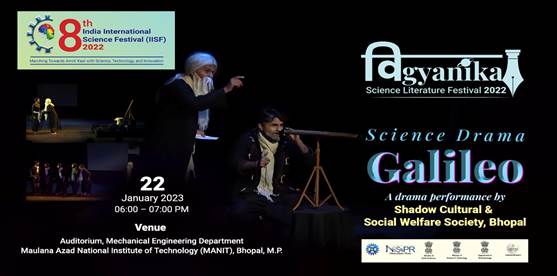 A science drama on Galileo will be performed in Vigyanika event at IISF, Bhopal by a local theatre group
About 300 science writers, communicators, artists, journalists, young and budding authors, researchers, college students, children, science enthusiasts, science policymakers and citizens are expected to participate in Vigyanika event.
For school children from Bhopal, an on-the-spot painting & drawing competition on the theme "India@100 — My Country, My Vision" has been planned. Other innovative online competitions include Short Play Video Making and National Blog Writing. Mentalism Show by Shri Harish Yadav, Mentalist, Magician & Science Communicator, Jaipur, Rajasthan and Science Kathputli Show by Shri Vikas Mishra & Team have also been scheduled on 22 January 2023 at Bhopal.
The CSIR-National Institute of Science Communication and Policy Research (CSIR-NIScPR), New Delhi, Department of Biotechnology (DBT), Govt. of India and Vijnana Bharati are coordinating Vigyanika.
<><><><><>
SNC/RR