A gurdwara in Dubai broke the world record for serving free breakfast to the maximum number of people from diverse nationalities.
Gurdwara Guru Nanak Darbar entered the Guinness World Record for serving continental breakfast titled "Breakfast for Diversity" to 600 persons from 101 countries in an hour-long event in Jebel Ali in Dubai.
The schoolchildren, government officials and diplomats attended the event while Indian Ambassador to the UAE Navdeep Singh Suri was the chief guest.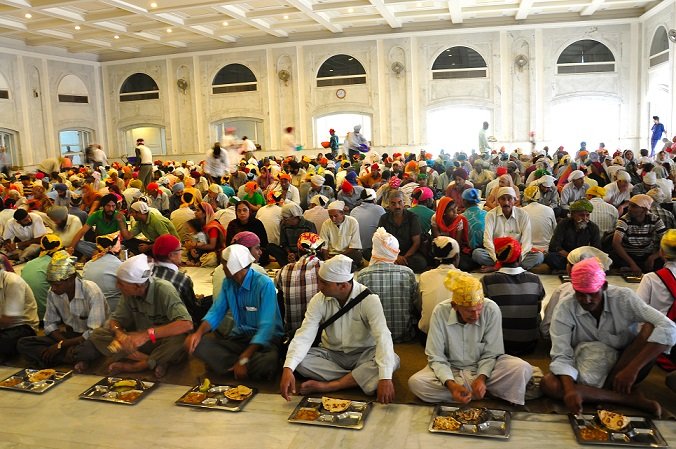 The officials from the Guinness Book of World Records confirmed that the gurdwara (Sikh temple) broke the previous record of 55 nationalities having a continental breakfast, organised by Nutella at the Milan Expo in Italy in 2015.
The gurdwara, which is known for serving free meals to all visitors through its community kitchen, caters to over 50,000 Sikh devotees in the United Arab Emirates.
"Sikhism has always embraced diversity as it has been part of our faith and belief, that we are all human beings to be treated with respect," Surender Kandhari, chairman of the Gurdwara Guru Nanak Darbar temple informed.
Talal Omar, Guinness World Records MENA manager, said: "We are proud to support the Gurdwara Guru Nanak Darbar in breaking a fantastic record that brings together people of multi-faiths." "We encourage record breaking activities that encourage all human efforts, particularly those that bring people together".
Sikhs are very popular all over the world for their bravery, generosity and their will to serve their society and country. One example to justify all this is the Langar tradition practiced in Sikhism.
In Sikhism the practice of the langar, or free kitchen have been adopted by the first Sikh Guru, Guru Nanak. It was designed to uphold the principle of equality between all people regardless of religion, caste, colour, creed, age, gender or social status, a revolutionary concept in the caste-ordered society of 16th-century India where Sikhism began.
In addition to the ideals of equality, the tradition of langar expresses the ethics of sharing, community, inclusiveness and oneness of all humankind. "…the Light of God is in all hearts."