Following steps have been taken by Union government to ensure consumer protection and consumer awareness: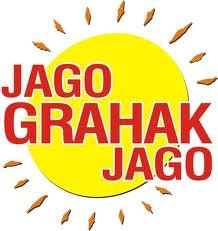 1. Consumer Protection Bill 2015 that seeks to simplify and strengthen consumer grievance redressal procedure introduced in the Parliament this year.
2. Setting up of a Central Protection Authority which will have powers to recall products and initiate class suit against defaulting companies, including e-retailers proposed.
3. E-filing and time bound admission of complaints in consumer courts is another important provision made in the Bill.
4. The Government adopted six points joint action plan for consumer awareness and protection. This will include:
(i) Jointly developing and implementing industry standard for grievance redressal
(ii) All Members of the Industry Associations to partner with the National Consumer Helpline and State Consumer Helplines
(iii) Launching of joint awareness campaigns
(iv) Earmarking of CSR funds for consumer welfare activities
(v) Developing a self-regulation code
(vi) Action against fake, sub-standard, counterfeit products
It would be launched on the World Consumer rights day on March 15 this year.
5. Joint campaign organised with Heath, Financial Services and other departments for greater consumer awareness. During the year the Department of Consumer Affairs intensified its multimedia campaign under the banner of Jago Grahak Jago, with special emphasis on rural area.
6. An Inter-Ministerial Monitoring Committee constituted for key sectors that matters to consumers viz Agriculture, Food, Healthcare, Housing, Financial Services and Transport, to facilitate policy coherence and coordinated action on consumer.
7. To tackle the menace of misleading advertisement, a dedicated portal www.gama.gov launched. It enables consumers to register their grievances against misleading advertisements in six key sectors viz. food and agriculture, heath, education, real estate, transport and financial services. The complaints lodged are taken up with the relevant authorities or the sector regulators and the consumer is informed after the action taken.
8. To provide a host of consumer services under one roof, Grahak Suvidha Kendras launched in six locations: Ahmadabad, Bangalore, Jaipur, Kolkata, Patna and Delhi on March 18, 2015. Such centres will be set up in every State in a phased manner. They will provide guidance to consumers regarding consumer laws, rights of the consumers, procedure of approaching Consumer Courts and various other consumer related issues including quality assurance and safety of products.