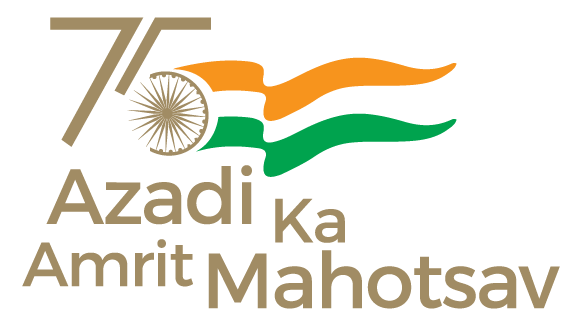 The Chief Minister of Madhya Pradesh Shri Shivraj Singh Chauhan and Union Minister for Science & Technology,  Dr Jitendra Singh today jointly inaugurated India International Science Festival, IISF-2022 in Bhopal with the theme, "Marching towards Amrit Kaal with Science Technology and Innovation".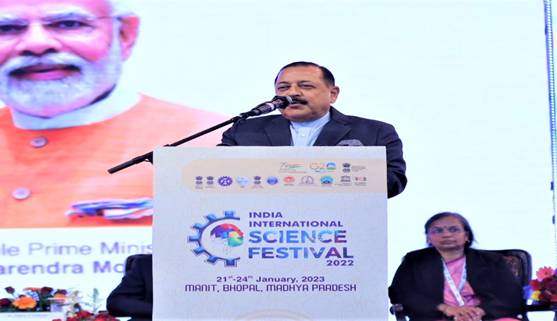 Shri  Om Prakash Sakhlecha, Minister for Science & Technology, Government of Madhya Pradesh, Prof. Ajay Sood, Principal Scientific Advisor, Government of India, Dr. Rajesh Gokhale, Secretary Department of Bio Technology, Government of India, Dr. N. Kalaiselvi, Secretary, DSIR, Dr. Sudhir Bhaduria, Secretary General, Vigyan Bharati, Dr. Sanjay Mishra, Senior Scientist, DBT, Shri Nikunj Shrivastava, Principal Secretary, Department of Science and Technology, MP and other senior officials of Government of India and Government of Madhya Pradesh joined the inaugural Event.
In his address Shri Shivraj Singh Chouhan said that 2600 Start-ups came up in Madhya Pradesh alone in one year and it is not only confined to city of Indore but even tier-2 and tier-3 cities are dotted with successful start-ups. He called upon the students and entrepreneurs from Madhya Pradesh to develop a zeal for innovations.
In his keynote address Dr. Jitendra Singh said that the India is preparing for a Quantum jump in Quantum Technology, which will define the future Science with practical solutions for world 's pressing problems.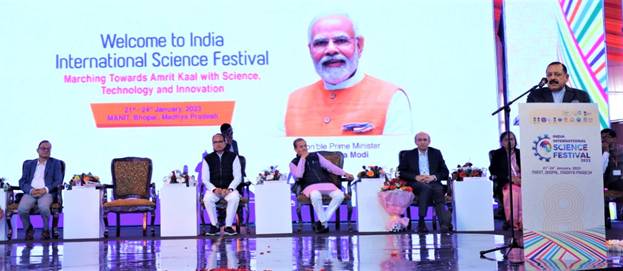 Dr. Jitendra Singh said that IISF Bhopal is happening, when India has assumed the G20 Presidency in 2023, where it will be showcasing not only the multi pronged developmental dimensions but also India's universally recognize Soft Power. He said that at the behest of Prime Minister Narendra Modi the United Nations has declared 2023 as International Year of Millets. The Minister also informed the India will also be chairing Shanghai Cooperation Organization (SCO) meet in 2023, thus demonstrating India's rising stature in International Forum.
Dr. Jitendra Singh said the pathbreaking decisions of Prime Minister Narendra Modi like unlocking of Space Sector in June 2020, liberalization of Drone technologies, cabinet approval for geospatial guidelines and the recent green hydrogen mission worth Rs 20000 crore have open new vistas for India's rapid developmental march in the Amrit kaal.
The Minister said that "Technology and Innovations" are going to be the Torchbearers of 2047 Economy of India whet it will celebrate 100 years of its independence.
Dr. Jitendra Singh said that after the space sector was throne open  for private participation in June 2020, about 120 Deep Tech space start-ups have come up India in two years. He said that the  Space Start-ups are not only sending rockets into space but also involved in areas like satellite buildings , debris management and many more daily life utilities.
Dr. Jitendra Singh said that the todays Science has entered every household as not only relates to the economy of India or the Youth but is deeply intertwined with future of India. He also underline Inclusive Engagement and noted with pride that women scientist are taking  a lead in major Science and Technology missions including the Gaganyan project.

Science and Technology Minister of  Madhya Pradesh Shri Om Prakash Sakhlecha informed that there would be 15 important event in four-days science festival in Bhopal, like the Student Science Village where 2500 students will be participating and getting expose to new technologies and innovations. He said apart from Mega Start-ups Expo, 1500 young scientist will brainstorm on emerging technology in all areas including Biotechnology.
Shri Sakhlecha said that innovations will define the New India in the Amrit Kaal and both the Government of India and Madhya Pradesh Government are giving full support to the Start-ups and the industries to grow further.
Prof. Ajay Sood, Principal Scientific Advisor, Government of India told the gathering that the Science is not a static subject but growing each day with new breakthrough. He said that in every progress there is an input of  Science, Technology and Innovations.
Prof. Sood said that India has graduated to 41st rank from 86 in the Innovation Index within a very short span of time. He said with the launch of semi conductor mission, India's economy is going to get a booster dose. He underlined that we have to make efforts for making Circular Economy part of the everyday life and take efforts for increasing activities on Waste to Wealth program.
Dr. Rajesh Gokhale, Secretary Department of Bio Technology in his address said that all future challenges can only be dealt with universal scientific interventions as the Covid crisis has amply demonstrated. He said that DBT is taking a concerted efforts to promote the Biotech start-ups in India with global ramifications.
Dr. Sudhir Bhaduria, Secretary General, Vigyan Bharati said that whether it is Yoga, Ayurveda or Architecture or Astronomy India's might is recognised by the world. He said that the Vigyan Bharati is working with the Science Ministries and Science Department of universities and collages in India to promote the modern scientific outlook and thinking for the benefit of the country and the entire humanity.
Dr Bhaduria said the world is watching with amazement that how India is sending 104 satellites in one go or launching the cheapest Mars Mission. He said that India's time has come to occupy the Global High Table with a leading position.
Some of the important Prime Speakers and Experts who are taking part in IISF, Bhopal are Dr. Krishna Ella, CMD, Bharat Biotech, Dr. Archana Sharma, CERN,Geneva, Shri S.Somanath, Chairman, ISRO, Sh. Anand Deshpande, Founder & CMD Persistent Systems, Prof. A. P. Dimri, Director, DST-IIG, Dr. Anil Bhardwaj, Director, PRL, Prof. AmitavaPatra, Director, INST Mohali, Prof. Tapas Chakraborty, Director IACS.
Face-to-Face with New Frontiers in Science will be a platform for cordial interaction and short discussion-based sessions of students/ researchers with people par excellence in various disciplines of S&T. This will certainly inspire students to pursue science and research in his/ her career.
Dr. Krishna Ella, CMD, Bharat Biotech, will lead the session titled "Powering Atma Nirbhar Bharat through Science and Entrepreneurship", while Sh. Anand Deshpande, Founder & CMD Persistent Systems will Chair the Session on "Technological Advancements in Data Science and India's leadership in Digital Transformation".
Dr. Archana Sharma, CERN,Geneva will be the Key Speaker on"Journey of a scientist in Unlocking secrets of the universe" , while ISRO Chairman will Chair the Session on "Marching towards Amrit Kaal with Technological Strides in Frontiers of Space".
 The themes selected for the Young Scientist Conference are Frontier areas of Science Research, Pandemic Challenges, impacts and research in vaccine development, Water resources, conservation, recycling and purification, Biodiversity, Environment & Climate Change, Food and Energy Security for Self-Reliant India.
New Age technologies show (22-24 January) aims to promote innovation in cutting-edge technologies such as Artificial Intelligence Machine Learning, Cyber Security, Block Chain, Digital Currency Industry, 4.0, 5G/6G, Quantum Computing, Semiconductor Chip Design, Drone Technologies, Green Energies, Space Technologies, Sensor Technologies, Systems and Synthetic Biology.
There will be NATS Exhibition/ Innovation Showcase [100], where Students will showcase the engineered prototypes and products in various cutting-edge areas.
**********
PP/SNC/PG