Current Affairs November 28, 2015
Following are the Summary of Important Current Affairs. You can read all these current affairs in detail in our Monthly Current Affairs PDF Magazine:
NATIONAL CURRENT AFFAIRS
LOK SABHA ADOPTS RESOLUTION TO UPHOLD CONSTITUTION
The Lok Sabha affirmed its commitment to the principles and ideals of the Constitution and resolved to uphold its sanctity and supremacy. In a resolution moved by Speaker Sumitra Mahajan, the House also said that it respected the Constitutional institutions their freedom and authority.
ONLINE PAYMENT FOR LPG CYLINDER
For the first time in the country, paying for your gas cylinder is set to go online. Through this, a consumer will be able to pay for LPG cylinders online in just a few steps. Irrespective of the company one is registered with, a consumer can also create a login id at mylpg.in where online card payment will be available. This can be done through its mobile application as well.
PILOT PROJECT FOR GREENBELT ALONG NATIONAL HIGHWAYS
NHAI has approved a pilot project submitted by National Environmental Engineering Research Institute (NEERI), Nagpur for undertaking scientific studies on designing greenbelts along national highways. The project will be implemented on a 5 km stretch on NH-7 between Jam and Hinganghat in Nagpur region at an estimated cost of Rs.11.80 crore. Around 20,000 trees of scientifically chosen species are proposed to be planted on both sides of this stretch in multiple rows.
SCIENCE AND TECHNOLOGY CURRENT AFFAIRS
2 SATELLITES TO LAUNCH IN MARCH 2016
The Satish Dhawan Space Centre, ISRO's rocket launching centre at Sriharikota, is set for a landmark event in March 2016 when two satellites will be launched in one month for the first time. The last two of the seven-satellite constellation, comprising the Indian Regional Navigation Satellite System (IRNSS), were scheduled to be launched from the SHAR by PSLV rockets in March. The fifth satellite would be placed in orbit in January. Once all the seven satellites are in place, the constellation will be subjected to orbit tests before being released for public use. With a long line-up of launches ahead, 2016 promises to be the busiest year at the SHAR.
NEW 'SMART GLASS' DEVELOPED FOR SMARTPHONE
Scientists have designed a "smart glass" that may substantially slash the energy required to power a smartphone. The touchscreen material, invented by Bodie Technologies, a University of Oxford spin-off company, uses electrical pulses to create vivid, hi-tech displays that require no power and can be viewed clearly, even in direct sunlight. These 'nano-pixels' can be electrically switched 'on and off' at will, creating the coloured dots that would form the building blocks of an extremely high-resolution display technology.
CAMEL PROTEIN TO FIGHT INFECTIONS
In latest research, scientist said the anti-bacterial properties in protein obtained from camel and pork loin can be used in the treatment of human infections. The potent anti-bacterial properties of proteins from the "innate immune system" of animal species like camel can be used for therapeutic use in humans.
INDIA SUCCESSFULLY TEST-FIRES AGNI-I MISSILE
India successfully test-fired the indigenously built nuclear-capable Agni-I missile, capable of hitting a target at a distance of 700 km, from Integrated Test Range (ITR) at Abdul Kalam Island (Wheeler Island) off the Odisha coast. The missile, which has already been inducted into the armed forces, has proved its excellent performance in terms of range, accuracy and lethality. Weighing 12 tonnes, the 15-metre-long Agni-I is designed to carry a payload of more than one tonne. Its strike range can be extended by reducing the payload.
LRSAM SUCCESSFULLY FLIGHT-TESTED
Long Range Surface to Air Missile (LRSAM) Barak-8, jointly designed and developed by IAI, Israel and DRDO, has been successfully flight tested from an Israeli Naval Platform. LRSAM will be inducted into Indian Naval Ships (P-15A). The LRSAM programme consists of Missiles, MFSTAR (Radar), Weapon Control System, Vertical Launcher unit and Two- way data link.
CHINA LAUNCHES REMOTE SENSING SATELLITE
China has successfully launched a remote sensing satellite named Yaogan-29 by a Long March-4C rocket from Taiyuan in the country's northern Shanxi province. This is the 219th mission for the Long March rocket family. China had launched the first "Yaogan" series satellite, Yaogan-1, in 2006.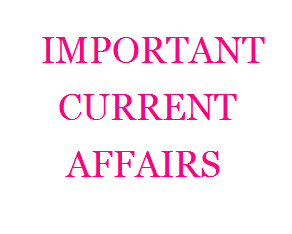 STATES CURRENT AFFAIRS
SUNDARBANS BECOME SEPARATE DISTRICT
Chief Minister Mamata Banerjee announced that the Sundarbans region would become a separate district in 2016. Sundarbans will be the 21st district of the State. The archipelago comprises 104 islands (of the Indian side of the delta) of which 54 are inhabited. Along with a population of five million, Sundarbans are also home to about 76 tigers and a huge variety of fauna and flora found in the mangrove forests.
14 STATES FOR REVOCATION OF NO DETENTION POLICY
The Human Resource Development (HRD) ministry has got a response from 14 States in the matter till now and barring Karnataka, all the others have favoured revoking the no detention policy. There has been a view among some states that because of the no-detention policy, students tend to not take their exams seriously, and later it becomes difficult for them in Classes IX and X.
AHMEDABAD METRO GETS JAPANESE FUNDING
Japanese government signed a confirmation agreement with Government of India to fund the Ahmedabad Metro Rail Project phase-1 to the tune of ₹5,968 crore. The first tranche, amounting to ₹4,456 crore, will be released in the next financial year. Known as MEGA (Metro-Link Express for Gandhinagar and Ahmedabad), the project will promote integration with city's existing mass transit systems like AMTS, BRTS, Railways and other modes of public transit system.
HIMACHAL PRADESH SETS UP ANTI-CORRUPTION HELPLINE
The vigilance and anti corruption bureau in Himachal Pradesh has launched the anti-corruption toll-free helpline. Any case of corruption can be reported on the telephone numbers 0177-2629893. People can also use 1064 as the helpline for anti-corruption complaints in the state.
PERSONS IN NEWS
NEW PUNJAB CONGRESS CHIEF
The Congress appointed Captain Amarinder Singh the president of its Punjab unit, following the resignation of Pratap Singh Bajwa from the post. The party high command reshuffled two more positions, inducting MLA Sardar Lal Singh as the senior vice-president and Ambika Soni as chairperson of the campaign committee for the 2017 Assembly elections.
GEELANI ELECTED LIFE-TIME CHIEF OF HURRIYAT
Syed Ali Shah Geelani was elected life-time chairman of the Hurriyat faction. Two senior leaders — Shabir Ahmad Shah and Nayeem Ahmad Khan — who left the Hurriyat led by Mirwaiz Umar Farooq, have been given key positions in the party. Shah has been made secretary- general.
CANDIDATES FOR RBI DEPUTY GOVERNOR POST
Government appointed panel will interview candidates next month for the post of Deputy Governor of the Reserve Bank of India as the term of Urjit Patel expires in January
Two of the RBI's Executive Directors, Michael D Patra and Deepak Mohanty, have been called for the interview, apart from Mr. Patel, who is eligible for reappointment.
The RBI has provision for 12 Executive Directors. A Deputy Governor can be appointed for a maximum of five years or till the age of 62, whichever is earlier.
AWARDS AND HONOURS
BIHAR PAVILION BAGS GOLD MEDAL
The Bihar Pavilion at The India International Trade Fair was awarded a gold medal for implementing the Swachh Bharat Mission on the closing day of the 35th IITF. This year, South Africa bagged the gold medal followed by South Korea with silver, while Egypt achieved the Jury recommendation in the foreign participation category. While Afghanistan was the 'Partner Country', Bangladesh was the 'Focus Country' for the event. 'Digital India' will be the theme for the next fair. This year's theme was 'Make in India'.
IIMM HONOURS HAL CHAIRMAN
The Indian Institute of Materials Management (IIMM) has conferred Chief Executive Officer of the Year Award -2015 in the Central Public Sector category to T Suvarna Raju, CMD, HAL. The award is in recognition of Raju's achievements, contribution to the industry and the materials management profession.
GURGAON POLICE AND BHOPAL TRAFFIC POLICE GETS AWARD
Gurgaon Police and Bhopal Traffic Police have jointly won the Ministry of Urban Development's Urban Mobility India Award for the year 2015 for "Best Initiative for Improved Road Safety". Karnataka State Road Transport Corporation was honoured for organizing city bus services in small and medium towns in the state. Rajkot Municipal Corporation's Bi-cycle Sharing Project has won the Best Non-Motorised Transport System Award. 'Best Intelligent Transport System Project' Award was presented to 'Computerised Duty Schedules' of BEST, Mumbai.
JUDICIAL CURRENT AFFAIRS
SET UP MORE MONITORING STATIONS: HC
The Delhi High Court asked the Union government regarding compliance of its earlier directions for setting up more monitoring stations in the Capital to measure air quality and formulating an action plan to tackle the issue of air pollution in the city and the National Capital Region (NCR).
INTERNATIONAL CURRENT AFFAIRS
ANTI-BLOCKADE PROTESTS IN NEPAL
Thousands of students held hands, waved banners and chanted slogans in Nepal's capital to protest against a border blockade that has caused severe shortages of fuel and an increase in food prices. For weeks, members of the Madhesi ethnic community protesting Nepal's new Constitution have blocked the main southern border point with India, preventing fuel and other essential items from entering the country.
GREECE AND LENDERS AGREE ON NEW SET OF REFORMS
The Euro Zone group of deputy finance ministers, known as the Euro Working Group – of which Greece is also a member – approved a new list of 13 measures Athens must vote into law by December 11, to receive a €1-billion aid tranche next month. Greece will have to set up an independent general secretariat for state revenues, take steps to privatise its power grid operator, or propose alternative plans to boost competition and set up a task force to prepare a new privatisation fund.
CANADA GIVE UN $750,000 FOR REFUGEE RELIEF
Canada's Liberal government has announced a US$750, 000 (CA$100 million) contribution to the United Nations High Commissioner for Refugees to help fleeing Syrians, fulfilling a campaign promise from its recent federal election.
COMMONWEALTH SETS UP $1 BILLION GREEN FINANCE FACILITY
Maltese Prime Minister Joseph Muscat unveiled a new $1 billion Commonwealth Green Finance Facility to support environmental projects within the 53-nation bloc as the race against climate change intensifies. The $1 billion (950-million-euro) facility would be capitalised initially through sovereign contributions and then through so-called green bonds, and is expected to be fully operational by the end of 2016.
CURRENT AFFAIRS – ECONOMY AND CORPORATE
GOLD BOND SCHEME GETS RS.246 CR
The government's Sovereign Gold Bond Scheme has received 63000 applications for 917 kgs gold amounting to Rs 246 cr in first tranche. Under the Gold Bond Scheme, the government will issue bonds in lieu of the purchase of actual gold. While the scheme document recommends an indicative interest rate of two per cent, the actual rate will be determined by the market.
GOVERNMENT TO CLOSE SICK PSUS
The government plans to close down two more sick state-owned companies, a unit of HMT and Tyre Corporation of India Ltd. (TCIL). The Union Cabinet's in-principle approval is already in place for closing down sick units including HMT Watches, HMT Chinar Watches, HMT Bearings, Hindustan Cables and Tungabhadra Steel Products.
HSBC TO CLOSE INDIA PRIVATE BANKING BUSINESS
HSBC Holdings Plc has decided to shut its India private banking operations after a strategic review. The private banking customers will be given the option to be a client of HSBC Premier – its global retail banking and wealth management proposition. HSBC India reported 12 per cent dip in pre-tax profit for the January-June period at $335 million due to a fall in the merchant banking, retail banking and wealth businesses.
SEBI ISSUES FORMAT FOR FINANCIAL RESULTS DISCLOSURE
SEBI issued a format for companies, which have listed their debt securities and non-cumulative redeemable preference shares on the exchanges, for disclosing financial results. The listed companies need to submit the half yearly financial results, year-to-date figures details for the current fiscal along with comparative figures for the year ago period. All figures should be in lakh. Under the format, firms will have to disclose about net sales, net profit, expenditures, exceptional items, paid-up capital, earnings per share, among others.
UNITED BREWERIES FINED ₹15 LAKH
SEBI has fined United Breweries (Holdings) ₹15 lakh for delay in disclosing creation and invocation of encumbrance (pledge) within the stipulated seven-day period. The penalty has to be paid within 45 days. The regulator concluded that UBHL had violated three sections of the Substantial Acquisition of Shares and Takeover Regulations as it had failed to make the disclosures regarding the "invocation of pledge" that took place on February 15, 2012, and March 24 & 26, 2012, and also failed to make disclosures regarding the "creation of pledges" of shares that took place on March 26, 2012.
BHARAT FORGE TO SET UP ₹500-CR DEFENCE FACILITY
Bharat Forge of the Kalyani Group will be investing about ₹500 crore in setting up a defence systems facility in association with a joint venture partner.
APOLLO HOSPITALS, VARIAN MEDICAL INK PACT
Varian Medical Systems has signed an educational partnership with Apollo Hospitals Group to train radiation technologists. As per the partnership, Varian will deploy its Access to Care programme by leveraging the existing Apollo knowledge network that comprises several educational entities in the healthcare space in India.
INDIA TO LAUNCH FUND FOR RENEWABLE ENERGY
Piyush Goyal Minister for Power, Coal and New & Renewable Energy informed that India proposes to launch a $1-billion equity fund, with seed capital from public sector units, to support renewable energy companies.
CBDT SIGNS ADVANCE PRICING AGREEMENTS
The Central Board of Direct Taxes (CBDT) has entered into 11 more unilateral advance pricing agreements (APAs). These APAs were signed with Indian subsidiaries of foreign companies operating in various segments of the economy like investment advisory services, engineering design services, marine products, contract Research & Development, software development services, IT enabled services and cargo handling support services. With this round of signing, CBDT has so far entered into 31 APAs (30 unilateral and one bilateral).
RBI RELAXES NORMS FOR AIRCRAFT, HELICOPTER IMPORTS
Reserve Bank of India said banks can allow advance remittances for imports once the company has approval from the Directorate General of Civil Aviation (DGCA). With the latest notification, the RBI has done away with the earlier requirement whereby approval of the Civil Aviation Ministry was compulsory for advance remittances.
INVESTMENT BOARD CLEARS 3 FDI PROPOSALS
The foreign investment promotion board on Friday cleared three FDI proposals worth Rs 160 crore. Proposals of ScaleneWorks People Solutions LLP, GVK Biosciences and Singapore based GMS Pharma got cleared.
IMPORTANT REPORTS AND FINDINGS
SEXUAL HARASSMENT CASES DOUBLE IN 2014
According to the National Commission for Women, a third of India corporations and a fourth of global companies surveyed in the country were not compliant with Sexual Harassment Act 2013 and the number of sexual harassment complaints at workplace more than doubled to 526 in 2014.
1 IN 4 LISTED PSUS DO NOT HAVE INDEPENDENT DIRECTORS: REPORT
As many as 25 per cent of the listed public sector companies have no independent directors on the board, reveals the India Board Report 2015-16, published by Hunt Partners in association with AZB & Partners and PwC. The lowest representation of independent directors was in listed public sector companies (40 per cent) in 2011-12, which declined further to 37 per cent in 2014.
REPORT "INDIA ENERGY OUTLOOK" RELEASED
The International Energy Agency has released a report "India Energy Outlook". Its main findings are:
By 2040, India's energy demand will be close to that of the United States, even though demand per capita will still remain 40% below the world average.
The estimated investment which will be required in India's energy sector till 2040 is of the order of US$ 2.8 trillion.
The report projects that India's oil import dependence will increase above 90% by 2040.
The oil market is expected to rebalance at US$ 80/barrel by 2020, and likely to further increase thereafter.
Developing Asian countries, including China and India, account for almost 50% of rise in global gas demand & 75% of the increase in LNG imports. Yet, gas will face competition from coal and renewables.
INDIA TO BE THIRD LARGEST AVIATION MARKET BY 2026: STUDY
India will also be the third fastest aviation market in terms of new passenger addition, behind only China and US, the report by The International Air Transport Association (IATA) said. India will have 275 million new passengers for a total of 378 million till 2034. China is expected to have 758 million new passengers for a total of 1.196 billion, while the US will have 523 million new passengers for a total of 1.156 billion.
ADOLESCENT DEATHS FROM AIDS TRIPLED: UNICEF
The number of adolescents dying from AIDS has tripled over the last 15 years, most of them having acquired the disease when they were infants, according to figures released by UNICEF. AIDS is the number one cause of death among adolescents aged 10 to 19 in Africa and the second leading cause of death among adolescents globally, the United Nations children's agency said in its latest statistical update.
SPORTS CURRENT AFFAIRS
ANJU BOBBY GEORGE BECOMES KSSC PRESIDENT
Ace athlete Anju Bobby George has been nominated as president of the Kerala State Sports Council (KSSC), which has been reconstituted by the Government. Anju, 38, who has been decorated with the Padma Shri, Rajiv Gandhi Khel Ratna and the Arjuna award, will be the youngest president of the KSSC, founded in 1954, and the second woman to hold the post after Padmini Thomas, who was appointed to the post in 2011.
WORLD ATHLETES OF THE YEAR
The International Association of Athletics Federations (IAAF) has named American decathlete Ashton Eaton and Ethiopian middle-distance runner Genzebe Dibaba as world athletes of the year.
RUSSIA ACCEPT "FULL" DOPING BAN
According to International Association of Athletics Federations (IAAF), Russia have accepted their "full suspension" from world athletics over widespread doping without even requesting a hearing. The most severe punishment ever meted out by the IAAF was made formal at a meeting of the world body's governing council in Monaco.
INDIA AND WORLD CURRENT AFFAIRS
SAARC REGIONAL WORKSHOP ON "DISASTER RISK REDUCTION"
A day-long SAARC Regional Workshop on Sharing Best Practices on "Disaster Risk Reduction" was inaugurated in Delhi. The aim of the Regional workshop is to provide a platform to member countries for sharing best practices in the field of disaster risk reduction, experience sharing on Nepal Earthquake April 2015 as well as deliberating upon the outcomes of the South Asian Annual Disaster Management Exercise (SAADMEx -2015).