Current Affairs November 29, 2015
Current Affairs occupy primary place in any competitive exam. No candidate can afford to take current affairs section lightly in this era of stiff competition where lakhs of candidates appear for few number of posts. In order to get success in any competitive exam, one needs to have excellent grip of the current affairs along with other sections.
We therefore brings Daily Current Affairs, which are the summary of the Current Affairs which we cover in our Current Affairs Magazine. You can get our Current Affairs Magazine to read these current affairs in detail.
IN-PRINCIPLE APPROVAL FOR IMPORT OF AIRCRAFTS TO DGCA
The Ministry of Civil Aviation has decided to delegate the power to grant initial NOC/ In-principle approval for import or acquisition of aircrafts to the Directorate General of Civil Aviation (DGCA). As per the existing procedure, Scheduled Operators and Regional Scheduled Operators have to seek such approval from the Ministry of Civil Aviation. The delegation of power is being done in order to simplify procedures as compliance of various Civil Aviation Requirements (CAR) are regulated by the DGCA.
HOME MINISTER INAUGURATES 110TH ANNUAL SESSION OF PHD CHAMBER
The Union Home Minister Rajnath Singh inaugurated the 110th Annual Session of PHD Chamber of Commerce and Industry by lighting a lamp. The Annual Session is being organized on the theme: 'Transforming India – Together We Can & We Will'.
ICFT-UNESCO FELLINI AWARD 2015
International Film Festival India (IFFI) 2015 in collaboration with the International Council for Film, Television and Audiovisual Communication (ICFT), Paris will present a special ICFT prize consisting of the UNESCO Fellini Medal, awarded to a film, which reflects the ideals promoted by UNESCO.
THE INDIAN RAILWAY ACCOUNTS SERVICE (IRAS) HOLDS ITS IRAS DAY
The Indian Railway Accounts Service (IRAS) of Indian Railways held its IRAS day on November 28, 2015 at Maneckshaw Center, New Delhi. Way back in November 1920, the British Parliament constituted the Acworth committee to study the finances of railways in India. As a recommendation of this committee a separate accounts service, the Indian Railways Accounts Service was constituted. Hence, IRAS day is celebrated every year in November.
NOTIFICATION ISSUED FOR BS-V AND BS-VI NORMS
The Ministry of Road Transport & Highways has decided to implement BS –V norms from 01.04.2019. BS-VI norms, which aim at substantial reduction in NOx/4C levels will be implemented from 01.04.2021. This reflects a firm commitment to play a major role in reducing vehicular emissions.
INDIA RE-ELECTED AS MEMBER OF INTERNATIONAL MARITIME COUNCIL
India has been re-elected unopposed to the Council of the International Maritime Organization [IMO] under Category "B" at the 29th session of the Assembly of the IMO held in London on 27 November, 2015. India has been one of the earliest members of the IMO, having ratified its Convention and joined it as a member-state in the year 1959. India has had the privilege of being elected to and serving the Council of the IMO, ever since it started functioning, and till date, except for two years for the period 1983-1984.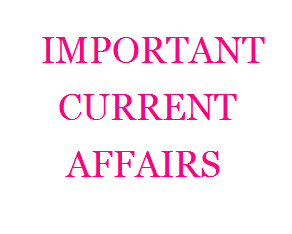 MIG-27 TO BE PHASED OUT IN THE NEXT COUPLE OF YEARS
All the MIG-27 fighter jets, which have not been upgraded, will be phased out in the next couple of years and there are plans to introduce Rafale and Tejas, Air Chief Marshal Arup Raha informed.
KERALA START-UP MISSION OFFERS FELLOWSHIP
The state-run Kerala Start-up Mission (KSUM) has invited applications from young graduates to the 12 month's Technology Innovation Fellowship Programme (TIFP), a flagship programme launched by the state government to equip technology leaders to spread DIY (Do It Yourself) culture. Selected candidates will get an opportunity to work closely with KSUM's initiatives like Start-up Boot Camps and Fablabs.
BCAS ACHIEVES FULL IMPLEMENTATION OF ICAO RECOMMENDATIONS
The Bureau of Civil Aviation Security, BCAS has fully met the target of implementation of security norms prescribed by the UN oversight body, ICAO (International Civil Aviation Organisation). The ICAO team recently conducted audit of Indian civil aviation security and security at Delhi airport in October, 2015 across nine audit areas including legislative and regulatory architecture, performance of security personnel, security training, etc. They have noted that effective implementation of aviation security in India stands at 99.23 %.
PRESIDENT AWARDS STANDARDS TO 18 SQUADRON AND 22 SQUADRON
President of India has awarded the prestigious President's Standard to No 18 Squadron and No 22 Squadron at a grand ceremonial parade at Air Force Station Hasimara. The President's Standard is awarded to operational Units based on their past record and achievements during peace as well as hostilities.
129TH NDA COURSE AT THE NATIONAL DEFENCE ACADEMY
Admiral R K Dhowan, Chief of Naval Staff, reviewed the passing out parade of 129th Course of NDA on 28th Nov 15. A total of 338 cadets graduated from the Academy as they passed through the portals of the prestigious Khetrapal Parade Ground. It included 229 cadets from the Army 40 cadets from the Navy and 69 cadets from the Airforce.
ECIL SIGNS PACT WITH ISRO ARM
The Electronics Corporation of India Limited (ECIL, Hyderabad) has entered into a Memorandum of Understanding with the Ahmedabad-based ISRO arm Space Application Centre (SAC) to develop multi- band composite feed systems used in earth stations.
JC BOSE FELLOWSHIP FOR IICT SCIENTISTS
Indian Institute of Chemical Technology (CSIR-IICT) Director S Chandrasekhar and his colleague G Narahari Sastry have been selected for the J C Bose National Fellowship by the Department of Science and Technology. The award comes with a research grant of Rs. 10 lakh per year, in addition to a monthly special fellowship, for a period of five years initially.
IRAN OFFERS 50 OIL PROJECTS TO FOREIGN INVESTORS
Iran offered about 50 oil and gas projects to be developed by foreign investors with local partners under a new scheme it hopes will initially generate $25 billion in investments. Iran reached a deal with world powers in July, under which sanctions will be lifted in return for it scaling down its nuclear programme. Iran's output is down one million barrels per day at 2.7 million bpd since the start of 2012 when sanctions were imposed.
COMMONWEALTH LEADERS AGREE TO SET UP CLIMATE CHANGE HUB
Commonwealth leaders have agreed to set up a climate change hub to facilitate access to funds for the small and poor countries, a decision which is in sync with India's demand for providing adequate financial resources to developing nations to reduce green house gas emissions. The decision to set up the hub by Commonwealth, a bloc of 53 countries, came days before world leaders meet at the crucial climate change summit in Paris eyeing an ambitious goal of significantly limiting global warming.
SUU KYI LAYS DOWN LAW ON PARTY DISCIPLINE TO NEW MYANMAR MPS
Aung San Suu Kyi has warned newly minted MPs she will not tolerate poor discipline or wrongdoing, party members, as Myanmar's democracy champion began marshalling her opposition for government amid sky-high expectations. Suu Kyi's National League for Democracy party took nearly 80 per cent of contested seats in the November 8 election, promising change after decades of corrosive and corrupt army control of the country. But she cannot be president under the junta-scripted constitution.
THOUSANDS MARCH ON CLIMATE CHANGE IN MANILA, BRISBANE
Thousands turned out for climate change marches in Manila and Brisbane, as a part of a weekend of action across the globe to demand results from next week's historic Paris summit. Religious clergy, students and activists marched through the Philippine capital calling for curbs on emissions to mute the impact of climate change, which is blamed for a spike in typhoons and extreme weather that has wreaked havoc on the nation.
CLIMATE DEAL SHOULD NOT BE LEGALLY BINDING: USA AND CANADA
Canada backed the US approach to major climate change talks in Paris, saying any carbon reduction targets agreed at the negotiations should not be legally binding.
CIPLA INKS INVESTMENT PACT WITH FIL CAPITAL INVESTMENTS
Cipla has inked an investment agreement with FIL Capital Investments (Mauritius) II Ltd for its consumer healthcare business. Cipla Health Ltd and FIL Capital Investments (Mauritius) II Ltd have on November 27 signed an investment agreement.
I-T DEPT LAUNCHES UPGRADED WEBSITE FOR TAXPAYERS
The Income Tax department has launched an upgraded version of its official web portal featuring better links for taxpayer services and grievance redressal. The new website – www.incometaxindia.gov.in – features a special link for 'taxpayer services' on the main page and it subsequently navigates the user to all important works that a person needs to get done from the tax department like getting a new PAN card, filing e-returns, checking refunds and registering grievances.
DELHI LAWMAKERS TO GET BIG PAY HIKE
The Aam Aadmi Party (AAP) government approved a hike in salary and allowances of Delhi legislators. In October, a three-member committee headed by former Secretary General of Lok Sabha PDT Achary had recommended two-and-half-fold hike in salary from current Rs. 88,000 per month to Rs. 2.10 lakh.
WORLD CHAMPION HANDED FOUR-YEAR DOPING BAN
Kenya's two-time cross-country world champion Emily Chebet received a four-year ban for doping offences.
PV SINDHU REACHES MACAU OPEN FINAL
PV Sindhu entered the finals of the Macau Open with a hard-fought win over Japan's Akane Yamaguchi in the semi-finals.
CUBANS PROTEST NEW ECUADOR VISA REGULATION
Hundreds of Cubans protested at the Ecuadorean embassy in Cuba, a day after the Andean nation announced they would need visas to enter the country as of Dec. 1. The Cubans waved their passports and plane tickets and said they were angry because they had already bought tickets under the previous no-visa policy of Ecuador and wanted passage or their money back.
IAAF CLEARS PAULA RADCLIFFE
Marathon champion Paula Radcliffe says she is relieved to have been vindicated after the IAAF and the UK Anti-Doping agency (UKAD) found her innocent of blood doping.
CHRISTMAS TREE SETS RECORD
An Australian set his third Christmas-themed world record in as many years by illuminating a tree in downtown Canberra with 518,838 twinkling lights. Guinness World Records confirmed that David Richards had broken the record for the most lights on an artificial Christmas tree that had been held for five years by Universal Studios Japan in Osaka.
RAVICHANDRAN ASHWIN REWRITES RECORDS
Ravichandran Ashwin picked up his 15th five-wicket haul and his fourth ten-wicket haul in just his 31st Test to help India clinch a series win over South Africa after 11 years.
SCIENTISTS LINK MOON'S TILT AND EARTH'S GOLD
The moon's orbit is askew, and two planetary scientists believe that they have come up with a good reason. Intriguingly, their idea also explains why gold and platinum are found in the Earth's crust, well within diggable reach. The moon is believed to have formed out of a giant cataclysmic collision early in the history of the solar system when an interplanetary interloper the size of Mars slammed into Earth and lofted a ring of debris circling over the Equator. The debris coalesced into the moon. At its birth, the moon was quite close to the Earth, probably within 20,000 miles. Because of the tidal pulls between the Earth and moon, the moon's orbit has slowly been spiraling outward ever since, and as it does, Earth's pull diminishes, and the pull of the sun becomes more dominant.
ALBANIA, INDIA SIGN AGREEMENT ON DIPLOMATIC PASSPORT HOLDERS
Albania and India have signed an agreement on the removal of visa requirements for diplomatic and service passport holders between the two countries. The agreement will enable businesses from both sides to have freer movement, thus allowing more frequent communication and cooperation.
BILL GATES TO JOIN MODI, OBAMA IN CLEAN TECH INITIATIVE
Microsoft co-founder Bill Gates will launch a multi-billion-dollar clean energy research and development initiative on the opening day of the UN climate change summit in Paris. Gates and a group of developing and developed countries will launch the Clean Tech Initiative, in which countries will commit to doubling their clean energy technology research and development budgets by 2020 and private investors will boost their own investments in the sector.
FOOTBALLER ADITI CHAUHAN FACES DEPORTATION
Indian woman footballer Aditi Chauhan, who plays for English side West Ham United Ladies as a goalkeeper, is facing deportation as she cannot renew her visa due to rules and regulations of the Football Association (FA). Aditi, 22, made history by becoming the first woman from the Indian national team to play in the English League four months ago.
NICO ROSBERG BEATS LEWIS HAMILTON TO POLE
It was a sixth successive pole for Nico Rosberg as the 30-year-old German pipped his British Mercedes team-mate Lewis Hamilton by almost four tenths of a second at the Abu Dhabi Grand Prix qualifying session.
NASA TO RESUME CARGO FLIGHTS TO ISS FROM US SOIL
In a bid to resume Nasa's commercial supply efforts to the orbiting international laboratory, the first flight of Orbital ATK's enhanced Cygnus spacecraft will carry more than 7,000 pounds of equipment and experiments to the International Space Station (ISS). The 20.5-foot-tall, cylindrical Cygnus has been loaded for flight and will soon be bolted inside a protective fairing for its targeted launch date from Kennedy Space Center in Florida on December 3.
SOUTH KOREA FINES VOLKSWAGEN
The emissions scandal that rocked automotive conglomerate Volkswagen AG, just dealt another blow to the carmaker as South Korea became the only other country besides the United States to take action against them. Volkswagen Korea has been fined 14.1 billion Won (81.7 crore) for cheating the country's own emissions test.
ANIL KHANNA RE-ELECTED AS ASIAN TENNIS FEDERATION CHIEF
Anil Khanna has been re-elected as the Asian Tennis Federation president for another four-year years. Khanna is also the head of All India Tennis Federation (AITA).
NSA SHUT DOWN BULK PHONE SURVEILLANCE PROGRAMME
The US National Security Agency will end its daily vacuuming of millions of Americans' phone records on 30 Nov and replace the practice with more tightly targeted surveillance methods. As required by law, the NSA will end its wide-ranging surveillance programme and expects to have the new, scaled-back system in place by then.
PHILIPPINES GOES SUPERSONIC
The Philippines took delivery of two South Korean-made FA-50 aircraft, marking the country's return to supersonic fighter jet status after almost a decade, amid growing tensions with China. The two new aircraft are the first of an order of 12. The two fighters, flown from Seoul by South Korean pilots, were met in Philippine airspace by two S211 jets which escorted them to the former US airbase of Clark.
NORTH KOREA TESTED SUBMARINE-LAUNCHED MISSILE
North Korea appeared to conduct a submarine-launched ballistic missile test but it ended in failure with no indication that the missile successfully ejected from the vessel and took off. The test, follows a test-launch in May of a submarine-launched ballistic missile (SLBM), which Pyongyang boasted as a success but has not been independently verified.
BELGIUM HONOURS BR AMBEDKAR
Belgium's most prestigious and oldest university, KU Leuven (KUL) marked India's Constitution Day as an honour to BR Ambedkar with a big audience of international relations and law students on federalism in India.
RUSSIA ORDERS SANCTIONS AGAINST TURKEY
Russian President Vladimir Putin called for sanctions against Turkey, following the downing this week by Turkey of a Russian warplane. The decree includes a ban on some goods and forbids extensions of labor contracts for Turks working in Russia as of Jan1.
ISRAEL OPEN 1ST DIPLOMATIC MISSION IN UAE
Israel is soon going to open its first diplomatic mission in Abu Dhabi, the United Arab Emirates (UAE), a stepping-stone in Israel's relationship with the Arab world.
2015 CHOGM (SUMMIT)
The upcoming Commonwealth Heads of Government Meeting (CHOGM), themed "Commonwealth — Adding Global Value", is being held in Valletta, the capital city of Malta. The Commonwealth is a voluntary association of 53 independent states with a combined population of 2.2 billion. It emerged in 1949 after the decolonization of the British Empire. Symbolically headed by Queen Elizabeth II, the Commonwealth includes some of the world's largest, smallest, richest and poorest nations.
Read these Current Affairs in detail in our Current Affairs Magazine.