Preservation of food items is a pre-requisite for food security. The seasonal nature of production and the long and unmanageable distances between the production and consumption centres and the rising gap between demand and supply have posed great challenges to conventional techniques of food preservation and thereby to food security.
The hot and humid climate of the country is quite favourable to the growth of numerous insects and micro organisms which destroy stored crops and cause spoilage of food.
What is radiation processing of food ?
Radiation processing of food involves the controlled application of energy from ionizing radiations such as gamma rays, electrons and X-rays for food preservation. Gamma rays and X-rays are short wavelength radiations of the electromagnetic spectrum which includes radiowaves, microwaves, infrared, visible and ultra violet light. Gamma rays are emitted by radioisotopes such as Cobalt-60 and Caesium-137 while electrons and X-rays are generated by machines using electricity.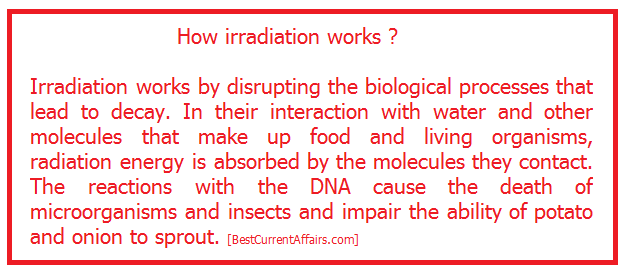 Government of India has cleared several commodities under new Atomic Energy (Radiation Processing of Food & Allied Products) Rules 2012 in Food Safety and Standards (Food Products Standards and Food Additives) Regulations, 2011 for preservation through irradiation.
A major facility in the Government sector catering to irradiation of fresh horticultural produce is the KRUSHAK facility at Lasalgaon, Nashik District, Maharashtra State, India. The facility has been used for irradiating mangoes for export to USA since 2007.
Radiation processing plant at Vashi, Navi Mumbai, under the Department of Atomic Energy, has been processing spices and dry ingredients for microbial decontamination since the year 2000.
With the objective of arresting post-harvest losses of horticulture & non-horticulture produce, Ministry of Food Processing Industries is operating a scheme for Cold Chain, Value Addition and Preservation Infrastructure for grant of financial assistance for setting up inter alia, irradiation facilities by individuals or group of entrepreneurs, cooperative societies, Self Help Group etc.
The energy involved in irradiation is not strong enough to cause changes at the atomic level, and since the food is never in contact with a radioactive source, the food cannot become radioactive. Several extensive reviews of toxicological data by regulatory and health organizations, have determined that food irradiated at doses below 10 kGy is safe.
In fact, food is safer after being irradiated because the process destroys harmful bacteria that may be present.
Numerous published research studies have tried to identify problems resulting from eating irradiated foods but failed to disclose any health risks. Several of these studies were long term, multi-generation feeding studies, involving several species of test animals.
A joint study group of FAO/IAEA/WHO in 1997 evaluated data on wholesomeness of food irradiated with doses above 10 kGy and recommended that food irradiated with any dose to achieve technical objectives is safe and nutritionally adequate.
No upper limit, therefore, needs to be imposed as long as food is irradiated based on prevailing good manufacturing practices.
Among the legislations that govern food irradiation in the country, The Atomic Energy (Control of Irradiation of Food) Rules 1991, the primary legislation that regulates food irradiation was amended and the notification issued recently in June 2012.
A generic class-based approval has been approved for increasing the product range for radiation processing. It will provide year long availability of feedstock for irradiation plants and improve their economic viability.
Irradiation of food is also governed under the Food Safety and Standards Act, 2006 and the Regulations issued thereunder.