In continuation with the series of Joint Exercise between India and Sri Lanka to build Military to Military co-operation and interoperability, Exercise MITRA SHAKTI-2015 will be conducted shortly at Pune with the scheduled arrival of the Sri Lankan contingent at Aundh Camp on 29 September 2015. This will be the third joint training exercise between the two Armies.
The aim of the joint training is to share the best military practices and promoting healthy military to military relations between the two Armies and developing joint strategies by sharing expertise of conducting operations.
The idea is to tap the rich repository of experience of each other and extract maximum learning value from the joint training. Forming part of different levels of the military to military engagement across the entire spectrum of operations, this exercise will enrich the two contingents in further honing basic military skills.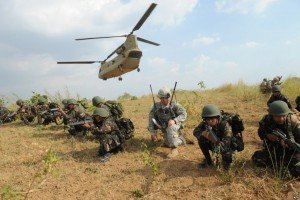 The exercise is planned for a duration of 14 days with the basic objective of enhancing confidence and trust between the two militaries, which are often called upon to engage in anti terrorism operations including those under the UN mandate.
The conduct of Joint Military Exercise is also an important step to uphold the values of Peace, Prosperity and Stability in the region.
Senior military observers of both the countries will be attending the Final Tactical Exercise scheduled to be held at Aundh Military Station on 10 and 11 Oct 2015.
Exercise MITRA SHAKTI-2015 will contribute immensely in developing mutual understanding and respect for each other's military.