The Government is taking various measures for bringing investments to the country like opening up Foreign Direct Investment in many sectors; carrying out FDI related reforms and liberalization and improving ease of doing business in the country.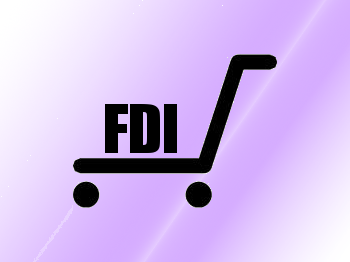 Some of the recent initiatives are listed below:
1. 100% FDI under the automatic route has been allowed in the specified rail infrastructure projects.
2. Investment made by NRIs, PIOs and OCIs under Schedule 4 of FEMA (Transfer or Issue of Security by Persons Resident Outside India) Regulations on non-repatriation basis is now deemed to be domestic investment at par with the investment made by residents.
3. The special dispensation of NRIs has also been extended to companies, trusts and partnership firms, which are incorporated outside India and are owned and controlled by NRIs.
4. 100% FDI under automatic route for manufacturing of medical devices has been permitted.
5. FDI Policy on Insurance sector reviewed to increase the sectoral cap of foreign investment from 26% to 49% with foreign investment up to 26% to be under automatic route. Similar changes have also been brought in the FDI Policy on Pension Sector.
6. In order to provide simplicity to the FDI policy and bring clarity on application of conditionalities and approval requirements across various sectors, different kinds of foreign investments have been made fungible under one composite cap.
7. FDI up to 100% through automatic route has been allowed in White Label ATM Operations.
8. Reforms in FDI Policy on Constructions Development sector include:
a) Removal of conditions of area restriction of floor area of 20,000 sq. mtrs in construction development projects and minimum capitalization of US $ 5 million to be brought in within the period of six months of the commencement of business.
b) Exit and repatriation of foreign investment is now permitted after a lock-in-period of three years. Transfer of stake from one non-resident to another non-resident, without repatriation of investment is also neither to be subjected to any lock-in period nor to any government approval.
c) Exit is permitted at any time if project or trunk infrastructure is completed before the lock-in period.
d) 100% FDI under automatic route is permitted in completed projects for operation and management of townships, malls/ shopping complexes and business centres.
9. Foreign investment up to 49% in defence sector has been permitted under automatic route along with specified conditions. Further portfolio investment and investment by FVCIs has been allowed up to permitted automatic route level of 49%. The foreign investment in access of 49% has been allowed on case to case basis with Government approval in case of access to modern and 'state-of-art' technology related manufacturing.
10. FDI policy on Broadcasting sector has also been amended as under:
Sector/Activity
New Cap and Route
(1)Teleports(setting up of up-linking HUBs/Teleports);

(2)Direct to Home (DTH);

(3)Cable Networks (Multi System operators (MSOs) operating at National or State or District level and undertaking upgradation of networks towards digitalization and addressability);

(4)Mobile TV;

(5)Headend-in-the Sky Broadcasting Service(HITS)

100%

(Up to 49% -Automatic route

Beyond 49% – under Government route)

Cable Networks (Other MSOs not undertaking upgradation of networks towards digitalization and addressability and Local Cable Operators (LCOs))
Broadcasting Content Services
Terrestrial Broadcasting FM (FM Radio),
49%

Government route

Up-linking of 'News & Current Affairs' TV Channels
Up-linking of Non-'News & Current Affairs' TV Channels
100%

Automatic route

Down-linking of TV Channels
11. Government has decided to introduce full fungibility of foreign investment in Banking-Private sector. Accordingly, FIIs/FPIs/QFIs, following due procedure, can now invest up to sectoral limit of 74%, provided that there is no change of control and management of the investee company.
12. Government has opened certain plantation activities namely; coffee, rubber, cardamom, palm oil tree and olive oil tree plantations for 100% foreign investment under automatic route.
13. It has been decided that a manufacturer will be permitted to sell its product through wholesale and/or retail, including through e-commerce under automatic route.
14. Government has reviewed single brand retail trading (SBRT) FDI policy to provide that sourcing of 30% of the value of goods purchased would be reckoned from the opening of first store. In case of 'state-of-art' and 'cutting-edge technology' sourcing norms can be relaxed subject to Government approval. Further, an entity operating SBRT through brick and mortar stores has been permitted to undertake e-commerce activities as well.
15. Indian brands are equally eligible for FDI to undertake SBRT. In this regard, it has been decided that certain conditions of the FDI policy on the sector namely; products to be sold under the same brand internationally and investment by non-resident entity/ entities as the brand owner or under legally tenable agreement with the brand owner, will not be made applicable in case of FDI in Indian brands.
16. 100% FDI is now permitted under automatic route in Duty Free Shops located and operated in the Customs bonded areas.
17. FDI policy on wholesale cash & carry activities has been reviewed to provide that a single entity will be permitted to undertake both the activities of SBRT and wholesale.
18. 100% FDI is now permitted under the automatic route in Limited Liability Partnerships (LLP) operating in sectors/activities where 100% FDI is allowed, through the automatic route and there are no FDI-linked performance conditions. Further, the terms 'ownership and 'control' with reference to LLPs have also been defined.
19. Regional Air Transport Service (RSOP) has been opened for foreign investment up to 49% under automatic route. Further, foreign equity cap of activities of Non-Scheduled Air Transport Service, Ground Handling Services have been increased from 74% to 100% under the automatic route.
20. Foreign investment cap on Satellites- establishment and operation has now been raised from 74% to 100% under the government route.
21. Foreign investment cap on Credit Information Companies has now been increased from 74% to 100% under the automatic route.
22. Government has decided that for infusion of foreign investment into an Indian company which does not have any operations and also does not have any downstream investments, Government approval would not be required, for undertaking activities which are under automatic route and without FDI-linked performance conditions.
23. FDI policy on establishment and ownership or control of the Indian company in sectors/activities with caps requiring Government approval has been reviewed to provide that approval of the Government will be required if the company concerned is operating in sectors/ activities which are under Government approval route rather than capped sectors. Further no approval of the Government is required for investment in automatic route sectors by way of swap of shares.
24. Certain conditions of FDI policy on Agriculture and Animal Husbandry, and Mining and mineral separation of titanium bearing minerals and ores, its value addition and integrated activities have been simplified.
25. In order to achieve faster approvals on most of the proposals, the Government has decided to raise threshold limit for approval by FIPB to Rs 5000 crore.
26. Further, Finance Minister in its Budget Speech on 29.2.2016 has announced that 100% FDI will be allowed through FIPB route in marketing of food           products produced and manufactured in India. This will benefit farmers, give impetus to food processing industry and create vast employment opportunities.